AshSwap and Ember Parnership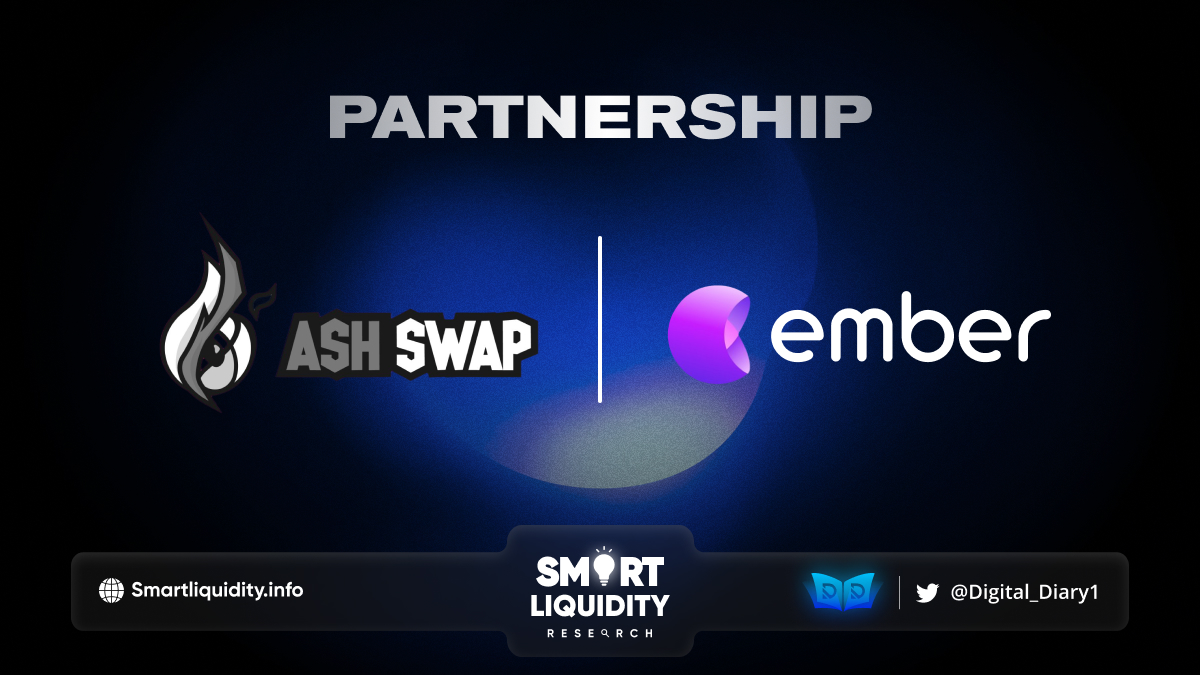 alsoAshSwap is thrilled to announce its partnership with Ember with a view for Ember to power their future NFT collection and allow AshSwap's community to tap into the world of renting, borrowing, and sharing NFTs.
About the Partnership
As Ember is setting out to re-invent the way NFTs exist within finance, gaming & entertainment, a partnership with AshSwap makes great sense. AshSwap is a DeFi project at their core, which also recognizes the importance of GameFi elements for user acquisition and onboarding. To build upon these avenues, AshSwap will be exploring the realms of NFTs to elevate AshSwap's user experience. And also Ember's sharing economy makes for an exciting playground. To enable this exploration as they look to bring support to Elrond's thriving NFT and Gaming ecosystem.
"There is clear synergy in our principles and those of Ember and we are excited to partner to take both AshSwap and NFTs in the Elrond ecosystem to the next level. Our partnership with Ember means that our AshSwap community will be able to easily transact, share, and leverage their AshSwap NFTs to access and utilize their utilities when we introduce them to our ecosystem. By introducing the ability to share NFTs, Ember solves problems of NFT liquidity and accessibility which will benefit our community immensely"
Neil Nguyen, Founder & CEO, AshSwap
By joining forces with Ember, AshSwap will benefit from deepened NFT liquidity and will be able to use Ember to add heightened utility to their NFTs, as well as the ability to utilize Ember's payment plans and subscription based NFT models, with a view to make the economy of AshSwap's NFTs more scalable, shareable & sustainable for their community.
With AshSwap's support and endorsement of Ember's services to their community of 23,000+, Ember is stepping into the Elrond ecosystem. And also is set to welcome in a wave of DeFi users. Who will be able to benefit from Ember's sharing economy to leverage AshSwap's NFT incentives.
The rebirth of the NFT economy
Ember is incredibly excited to share the revolution and also to re-invent the way in which NFTs are transacted. Cultivating new opportunities, possibilities and utilities for NFTs through the sharing economy that they are introducing.
"AshSwap are an exciting DeFi project that have aligned interests with Ember in onboarding the next wave of users into the world of Cryptocurrency, and have exciting applications for NFTs within their roadmap to Gamify and Govern their ecosystem. Ember is excited to partner with AshSwap to power their NFT utility. And also enable a liquid NFT economy, and welcomes AshSwap's community of 23,000+ to join Ember's sharing economy of NFTs."
Greg Chapman, COO, Ember Protocol
By partnering with AshSwap, they are demonstrating the broadness of the applications of Ember's sharing economy. And also making a strong statement about their mission to change the landscape of NFTs across every network. By taking their first steps to revolutionize the way NFTs work for AshSwap; who are also set to be a powerhouse within Elrond's ecosystem.
About AshSwap
AshSwap is the first decentralized exchange built on the Elrond blockchain that allows users to trade between stable assets with high volume and small slippage. As Elrond grows to become the infrastructure of DeFi, more types of stablecoins will flow in. And also the users will need a place to swap them.
About Ember
Ember is the sharing economy for all NFTs; enabling every type and standard of NFT to be rented, leased, shared & borrowed across multiple chains. Ember operates in a fully decentralized and trustless way, with zero-collateral, zero-KYC, and also zero barriers to access.
SOURCE: MEDIUM