Naoris Protocol Partners with Synapse Network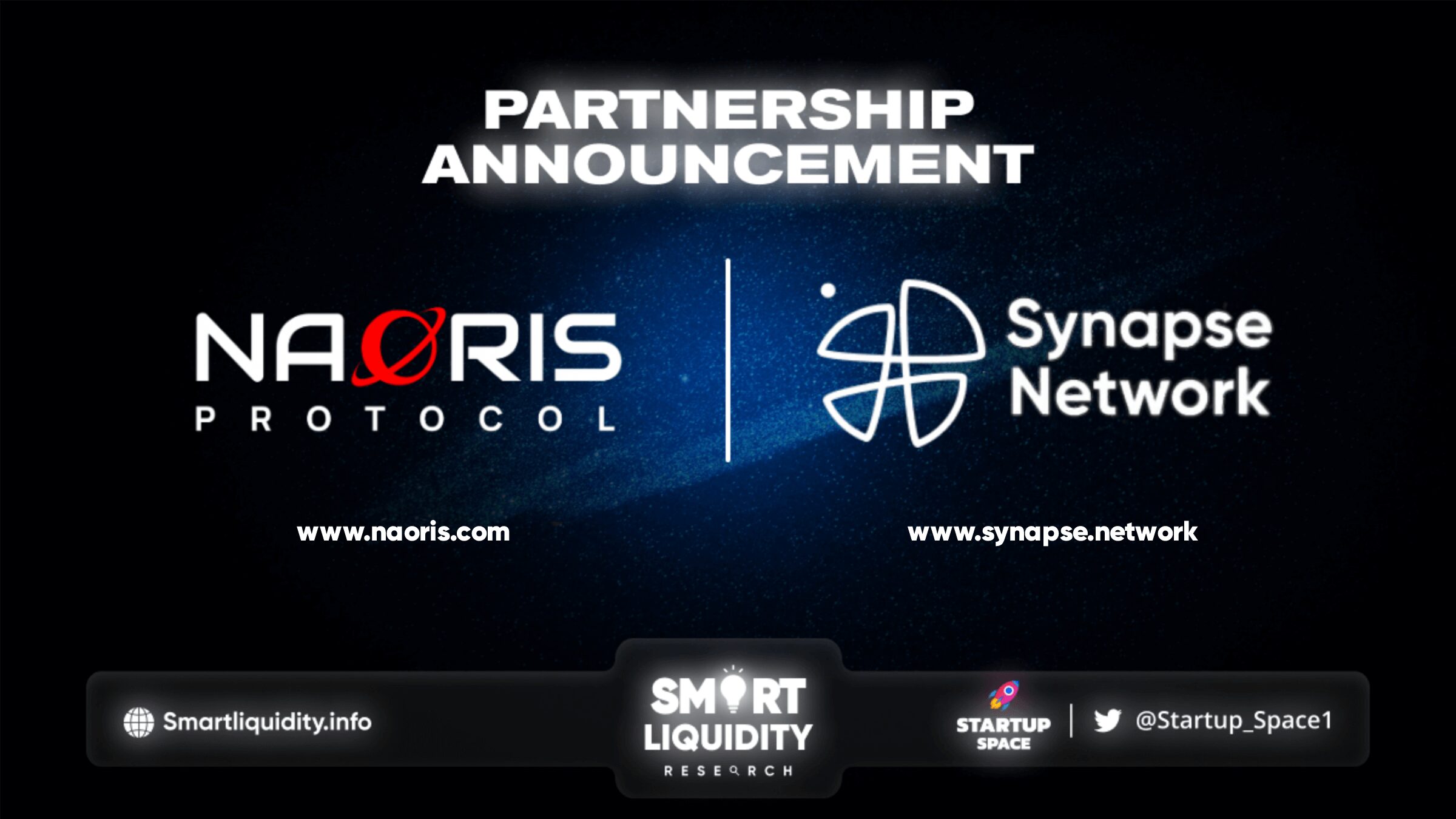 Naoris Protocol has partners with Synapse Network, the bridge between blockchain ecospheres, brands and investors.
Synapse Network is a fully functional solution aimed at bridging the gap between investors and exceptional projects. It has evolved to provide participants with early access to investment opportunities in upcoming projects.
One of its core offerings is a cross-chain launchpad to jumpstart businesses by offering customizable solutions ranging from anti-bot and scaling solutions to tokenomics models… Harnessing the full power of decentralized assets and cross-chain technology, the Synapse ecosystem enables participants to enter the previously inaccessible world of fundraising, granting them the opportunity to get involved in promising startups with minimum capital requirements.
Alongside the value of this connection, the network also offers its full backing, providing funds, connecting with VCs and aiding users through an extensive network of tech partners.
Naoris Protocol is scaling the Decentralized Cybersecurity Mesh to protect every device in the digital world, allowing networks to defend themselves from cyber-attacks using disruptive Swarm AI and Blockchain technology. Naoris Protocol is designed to reduce cyber security risks and costs significantly, addressing the staggering $10 trillion global opportunity, which is the projected cost of cybercrime by 2025.
By converting traditionally untrusted network devices into a swarm of cyber-trusted validator nodes, Naoris Protocol makes networks stronger as they grow, not weaker. Powered by a tokenized cyber-secure machine-to-machine economy, single points of failure are converted into multiple points of defence that identify risks in real-time under consensus. Naoris Protocol is also complementary — traditional cyber tools can operate freely without being in competition.
What is the purpose of this partnership?
The two teams are ready to launch a joint tech development initiative designed to boost security for Synapse Network and ecosystem users and also to increase community engagement to elevate the visibility of both brands in the crypto community.
Naoris Protocol provides web3 companies with a cyber-secure and validation layer across all devices within their infrastructure by integrating its radical and contrarian Decentralized CyberSecurity Mesh. In addition, Naoris Protocol offers real-time smart contract audits. Here are some examples:
Threat vulnerability mitigation for Devices
Account Hijacking risks at the node, user, and exchange levels
API tampering risks
DOS/DDOS
Internal threats in exchanges, oracles, protocols, bridges
Update poisoning
Advanced Persistent Threat risks
Sniffing attacks, Keylogging attacks against wallets and servers of any kind
Evil maid attack through hardware or firmware tampering
Identity and Access Management vulnerabilities on nodes, users, oracles, bridges, servers
Threat vulnerability mitigation for Smart Contract
Consensus attacks, direct and side-channel against miners/block-producers, sidechains, or shards
Wallet Vulnerabilities, tampering, code injection attacks, others
Code injection attacks, crypto-jacking, namely malware in miners or validators
Cascading events started by any of the above that trigger serious risks such as but not limited to, survivability events or 51% attacks, among others
Michał Domarecki, Co-Founder and CEO of Synapse Network says
"There are many synergies between Naoris Protocol and Synapse and we are excited to explore all the benefits that it will bring to our platform. There is still a wide gap between crypto and traditional markets, and one of the factors that slow adoption is security. Naoris Protocol is a welcome addition to our already robust security strategy and we believe that we will both benefit from the insights the partnership will provide. "
David Carvalho, CEO, and Founder of Naoris Protocol says "Partnering with Synapse Network and its extended ecosystem is a great opportunity for Naoris Protocol to support their amazing work in bringing cross-chain investment opportunities to the masses, a process we want to help make more secure and trusted."
About Synapse Network
Synapse Network is developing a cross-chain investment and start-up acceleration ecosystem based on blockchain technology. Its aim is to give everybody an equal chance to contribute to great upcoming projects in their early stages. They are bridging the gap between the traditional & crypto market.
About Naoris Protocol
Naoris Protocol is the Decentralized CyberSecurity Mesh for the hyper-connected world. Our disruptive design pattern makes networks safer as they grow, not weaker, by turning each connected device into a trusted validator node. A robust Blockchain protocol that every company can use to protect against the escalating levels of cyber threat.
Devices are rewarded for trusted behavior fostering a secure environment. Participants earn $CYBER staking rewards for securing the network.
SOURCE
https://medium.com/naoris-protocol/naoris-protocol-partners-with-synapse-network-the-cross-chain-investment-and-start-up-acceleration-5d7cb8bec63c