Fandora Network Partnership with 5KM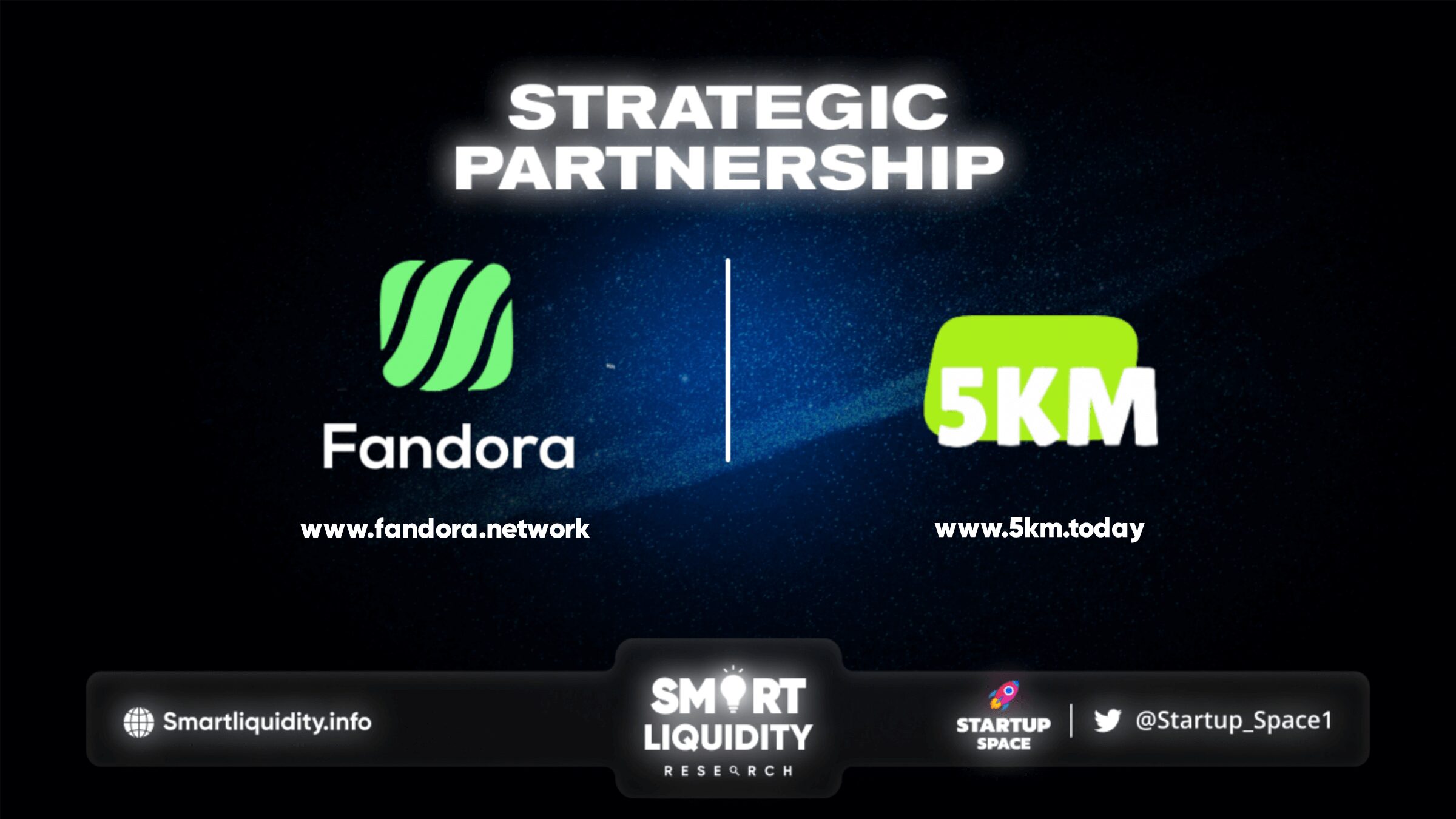 Fandora Network is excited to announce strategic partnership with 5KM, a Web3 lifestyle APP & Community founded in 2014.
Overview of 5km.Today
5KM is a Web3 lifestyle APP & Community
It is evolved from the 10km lifestyle app founded in 2014. In the fast-growing era of 4th Industry, issues like human sub-health and global warming pose the hugest challenges so far to human beings. They aim to create a decentralized sports community, encouraging people to love sports, enjoy a healthy lifestyle, or go out and be a plogger for environmental protection.
5KM has a built-in Game-fi to improve people's lifestyles following the core concept of rewarding sports persons.
In the app, users can wear NFTs of sports equipment such as sneakers to earn relevant token incentives by walking, jogging, running in groups, etc.
5KM is committed to linking Web3 to inspire everyone to do sports, promoting a healthy lifestyle, and taking practical actions against global warming.
About Fandora Network
Fandora Network is a POS Blockchain designed to build an ecosystem that caters to the community of sports and entertainment fans, providing a special infrastructure that allows developers to grow on-chain Sports and Entertainment products. The project was born to address the inherent issues of community ownership and voting rights, the issue of copyright, the profit-sharing economy, and the connection between the fan community and celebrities.
Their philosophy is based on the four principles of blockchain technology: Security, Integrity, Inclusive, and Decentralization. To build solid foundations, we build the latest ecosystems with the desire to have Fan Community as a strong financial circle, provide value, build the link, and share profits with the most passionate ones in the community.
Their main idea is to distribute Tokenomic with strict financial principles to build a loyal, engaged community by providing members with incentives to interact with Fandora Network. New crypto attendees will also be able to learn about blockchain technology and how to set up, maintain, and grow digital assets by using them to invest in Fandora ecosystem products. At that, members will become part of Fan Network and have the same rights as shareholders when holding FAN tokens. The Validators will help expand the network to attract more products and talented developers, thereby growing the liquidity and forming strong link of the Fandora Network community itself.
About 5KM
5KM is a Web3 lifestyle APP & Community It is evolved from the 10km lifestyle app founded in 2014.
SOURCE
https://medium.com/@Fandora_Network/fandora-network-stagetic-partnership-with-5km-today-8e63a92330b5