Frutti Dino Has Integrated Chainlink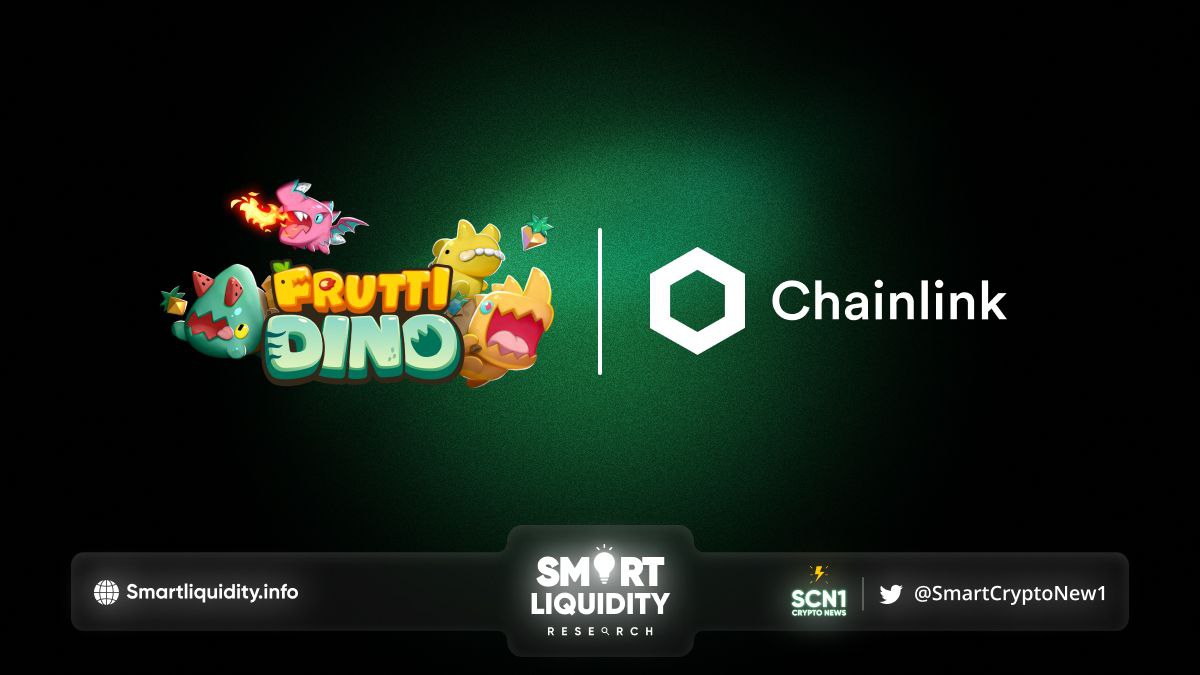 Frutti Dino has integrated Chainlink VRF on the BNB Chain mainnet to help randomly select winners for a Halloween Giveaway. Frutti Dino is a 3D NFT gaming project developed by Monoverse.
By integrating the industry-leading decentralized oracle network, Frutti now has access to a tamper-proof and auditable source of randomness. It is also needed to select winners of the Halloween event held by Frutti Dino. Ultimately this creates a more exciting and transparent user experience. As users have higher assurances that event winners are selected using a provably fair random number generator.
Monoverse is a blockchain game developer with offices in the US, Thailand, as well as South Korea. It is now developing two related gaming projects. The first is Frutti Dino Stories, a Web2 mobile game, which features a novel "MAP" (Minting after Play) approach and is launching at the end of this year. Moreover, With the MAP approach, users can acquire ownership of in-game characters they have raised by minting NFTs of their characters and transferring these NFTs into Frutti Dino, an NFT-based P2E game.
Frutti Dino features PvE and PvP gaming modes and is expected to launch early next year. In Frutti Dino, users can use the NFT-based dino characters to play and earn rewards.
Moreover, in order to help ensure that winners are selected in a transparent and fair manner, Frutti Dino needs access to a secure random number generator (RNG) that any user could independently audit. However, RNG solutions for smart contracts require several security considerations to prevent manipulation and ensure system integrity.
For instance, RNG solutions derived from blockchain data like block hashes can be exploited by miners/validators, while off-chain RNG solutions derived from off-chain APIs are opaque and don't provide users with definitive proof about the integrity of the process.
How Does Chainlink VRF Work?
Chainlink VRF works by combining block data that is still unknown. When the request is made with the oracle node's pre-committed private key to generate both a random number and a cryptographic proof. Furthermore, the Frutti Dino smart contract will only accept the random number input if it has a valid cryptographic proof, and the cryptographic proof can only be generated if the VRF process is tamper-proof.
In addition, this provides its users with automated and verifiable assurances directly on-chain. The winner selection is provably fair, outside entities, or the Frutti Dino team.
"At Frutti Dino, we always focus on delivering secure and entertaining user experiences. Chainlink is the industry standard for oracle services and VRF has been used in many major NFT projects as a verifiable randomness source. The developer-friendly services provided by Chainlink help ensure that the Halloween winner was selected using a provably random number, generated through a process that is truly transparent and auditable" — Jayden Lee, CEO of Monoverse.
ABOUT Chainlink
Chainlink is the industry-standard Web3 services platform. It has enabled trillions of dollars in transaction volume across DeFi, insurance, gaming, NFTs, and other major industries.
ABOUT Frutti Dino
Frutti Dino is a 3D NFT gaming project developed by Monoverse. It is a blockchain game developer with offices in South Korea, the USA, and Thailand. Developing two game projects, Monoverse always strives to develop a game. Its users can enjoy playing while earning rewards at the same time.
RESOURCES