Crypto Market Capitalization Beginner Guide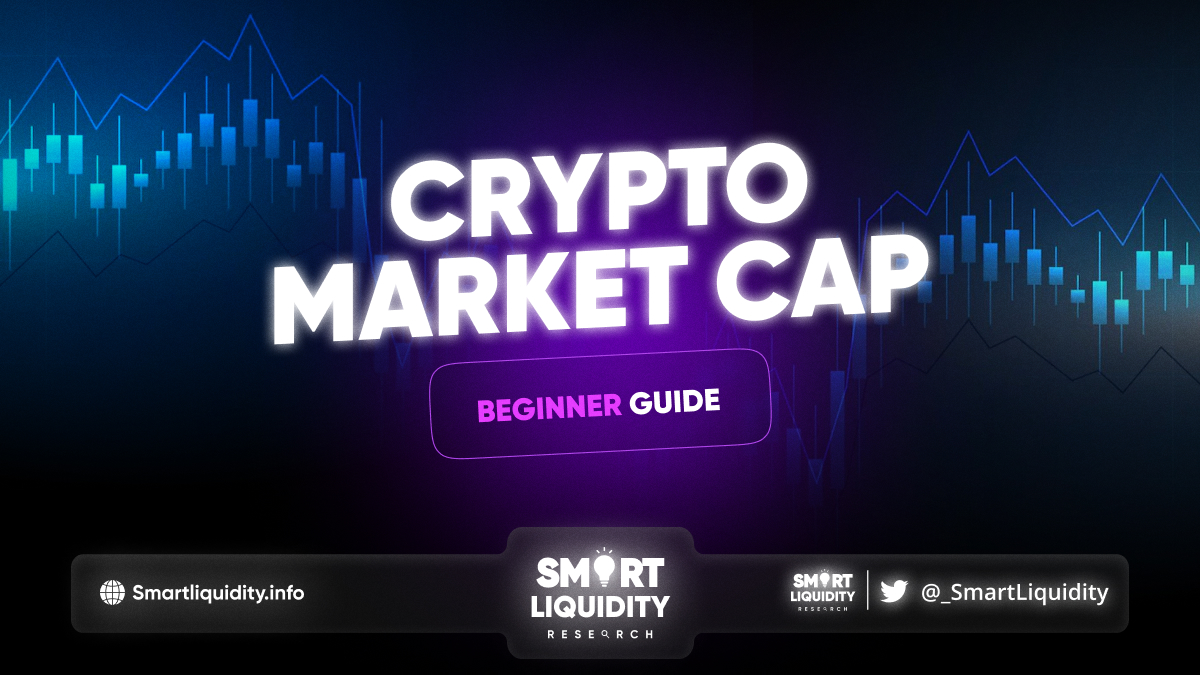 A cryptocurrency's market capitalization is the monetary worth of all existing tokens. Multiplying the price of one coin by the overall amount of coins currently in circulation yields this figure.
What Is The Crypto Market Cap?
The term "market cap" refers to the monetary worth of a whole stock market, such as Bitcoin or another crypto. Market capitalization in the crypto industry is determined by multiplying the current price of a single currency by the whole quantity of coins that have already been minted.
Consider a company's market capitalization as a proxy for its long-term stability. (Even Bitcoin, the cryptocurrency with the most significant market value, has volatility.) However, similar to how a giant ship can safely handle intense weather, a crypto with a much greater market size is expected to be a more reliable asset than one with a considerably lower market cap.
On the other hand, digital currencies with lower market capitalization are more vulnerable to market vagaries. As a result, they are more likely to see significant gains or losses due to market events.
The value of a cryptocurrency's market cap indicates the coin's prominence in the market. The market capitalization of a cryptocurrency ranks and compares to its many counterparts.
For illustration's sake, the crypto market cap for the Fantom token is about 370 million euros, given its current price of 0.146 EUR. Its floating availability of 2.55 billion FNT, and its total supply. FTM is essentially a governance token for usage inside the Fantom network; its market value is around 1/500th that of Ether.
What Is The Total Crypto Market Capitalization?
After dropping by 0.60% over the previous day, the total value of all cryptocurrencies is now $832.27B. The total volume of all crypto traded in the past 24-hour period is $42.25B, a decline of 16.84% from the previous 24-hour period.
Presently, DeFi trades at a total volume of $2.26B, 5.20 percent of the whole 24-hour volume of the cryptocurrency market. All stable currencies combined have seen a volume increase of $40.75B in the last 24 hours, making up 94.12% of the whole cryptocurrency market. There has been a daily decline of 0.26% in Bitcoin's dominance, bringing its share down to 38.45%.
Importance Of Crypto Market Cap
The market worth of a cryptocurrency may be determined by several factors, not the least of which is its price. Market capitalization is a metric using by investors to get a holistic picture of a cryptocurrency's worth and make meaningful comparisons. It is a crucial indicator of a cryptocurrency's future value and buying safety compared to others.
To illustrate, let's look at the difference in market cap between two made-up cryptocurrencies.
Cryptocurrency A has a market valuation of $400,000 if its total supply is 400,000 coins and its price per coin is $1.
The market valuation of Cryptocurrency B would be $200,000 if there were 100,000 coins in circulation, each worth $2.
Even though Cryptocurrency B has a more excellent per-coin value, its total worth is still less than half that of Cryptocurrency A.
However, remember that several cryptocurrencies' market capitalization is quite volatile.
Uses Of Crypto Market Cap
Market cap enables you to evaluate the entire worth of one crypto with another to make better-educated investment choices. The market cap under three categories categorizes Cryptos:
Large-cap cryptocurrencies, comprising Ethereum and Bitcoin, have a market value of over $10 billion. In addition, a history of growth and a high level of liquidity (the ability to sustain a significant outflow of funds. Without significantly affecting the price) make these assets more attractive to potential buyers.
The market capitalization of mid-cap cryptocurrencies ranges from $1 billion to $10 billion, and they are often having more unrealized upside potential and higher risk.
With a market valuation of less than $1 billion, small-cap cryptocurrencies are especially vulnerable to sudden shifts in investor opinion.
Market cap is a helpful indicator for comparing the overall worth of cryptos. Still, market trends, crypto stability, and your financial status must all be considered when considering the dangers of any investment.
What Percentage Of The World's Wealth Is In Crypto?
Many bitcoin skeptics cannot help but feel superior now, what with the crypto industry's 8-month lengthy bear market. Every prominent figure in the media, from JPMorgan Chase CEO Jamie Dimon to CNBC's Mad Money anchor Jim Cramer to Nobel laureate economist Robert Shiller, seems to be bearish on bitcoin's future. Numerous indicators indicate eventual improvement, but that's not the point. Bitcoin and the broader crypto market have become significant components of international trade.
According to statistics from major financial institutions and other economic organizations, cryptocurrency is the fifth most valuable form of money in circulation. It exceeds the total amount of currency in circulation in even major nations. Such As India and the United Kingdom until another round of volatility causes it to plummet.
The total value of all cryptocurrencies ($34.4T) compared to fiat currency is just 0.59 % of the world's total ($202B).
How Big Is The Crypto Market Compared To The Stock Market?
Returns on equities vs. crypto are tough to compare. Over the last decade, the S&P 500 has yielded 10.6% annually, while the Nasdaq has averaged 14.4%. Average returns on the FTSE 100 were 7.4%. However, the victor appears obvious when these numbers are compared to Bitcoin's (196%) and Ethereum's (653%) since their debut.
Of course, you can't compare apples to oranges. After all, we're contrasting far larger groups of corporations with much smaller crypto assets.
Even when comparing the returns of specific technology companies to crypto, the returns of Google (19.7%), Amazon (28.5%), Tesla (62.6%), and Microsoft (26.5%) still don't come anywhere close to the yields of the two main crypto assets.
However, stock prices have improved during the last year. Compared to Bitcoin, which is down almost 30% year over year, the Stock price is up 5.4%. There is a significant gap in midterm performance between the two groups. Despite their apparent dissimilarities to the stock market, cryptocurrency returns have been more connected with those of the former in recent years.
Conclusion
Price on its own is insufficient for determining a cryptocurrency's value in the market. Capitalization based on the market is a more reliable indicator.