Bitizen Wallet Passed the Audit by SlowMist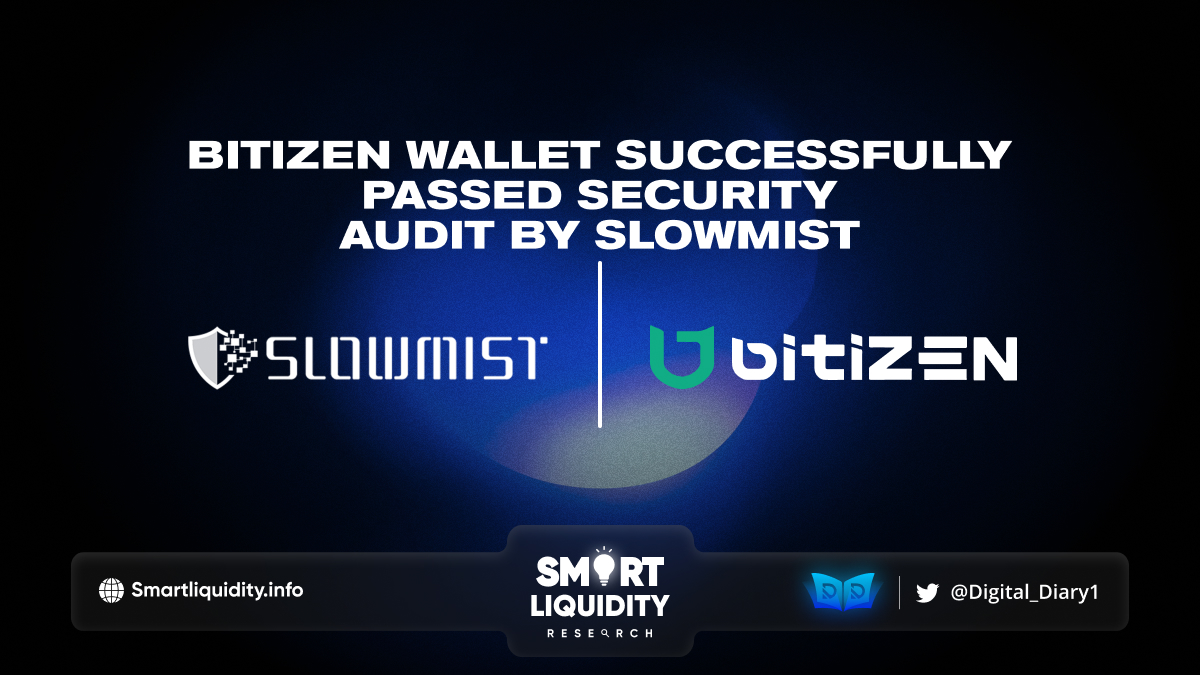 Bitizen Wallet, the leader among new generation MPC-based wallets with no private keys and seed phrases, successfully passed a security audit by SlowMist.
The independent examination, conducted by SlowMist, the leading international blockchain security auditing firm, validates that Bitizen wallet's MPC-technology, software architecture, security practices and controls meet requirements for wallet's digital asset security, availability, and also user data privacy.
"By applying for a security audit led by our experts and providing us with a full source code and documentation, Bitizen demonstrates their commitment to protecting users' digital assets and privacy, as well as providing public verification of the wallet's safety. The Bitizen team has also shown high responsibility, security awareness, and professional attitude.

During the auditing process, we conducted in-depth blackbox, graybox and white box analysis, and we were deeply impressed by the Bitizen's excellent security design and exceptional engineering capabilities.

We have not found any critical or high-risk vulnerabilities in Bitizen Wallet; also, we commend Bitizen wallet for implementing both cryptographic MPC technology and 3FA solution and delivering a strong project to the market." — SlowMist Security Team Tech Lead
Read Executive Summary and check full report here.
"By using Bitizen wallet, which implements Secure MPC technology and completely removes private keys and seed phrases, our users put their confidence in the most secure cryptographic technology available on the market", said Winson Liu, CEO of Bitizen Wallet.

"We are proud to pass the audit by SlowMist, one of the most prominent blockchain security firms. Being a non-custodial wallet, we respect our users' rights to have the full ownership of their funds. We assure all our users that we take digital assets security, user funds availability — often called "censorship-resistance", and also personal privacy-safety as the top priorities. This is what makes Bitizen unique from any other wallets."
About SlowMist
Established in January 2018, SlowMist is a reputable global blockchain security company. SlowMist's audits cover penetration testing topics in greater depth and detail than other services.
Through a combination of black box and gray box security audits, SlowMist is able to discover vulnerabilities and propose solutions to the clients, as well as make suggestions for improving security, and provide with the best security practices to prevent possible security risks in the future.
The security audit by SlowMist provides a more comprehensive practical basis for the construction of the enterprise security system and issues a professional Security Audit Reports.
About Bitizen Wallet
Bitizen is a new generation MPC-based Web3 wallet with no private keys and no seed phrases, designed for the new wave of Web2. They provide the highest level of security while staying simple and easy to use.
Bitizen has implemented top-notch cryptographic Secure MPC protocols that efficiently remove single points of failure present in all traditional wallets — private keys and seed phrases. Other notable features are full privacy-safety, censorship-resistance and multi-chain compatibility.
SOURCE: MEDIUM