A Deep Dive into the Notifi SDK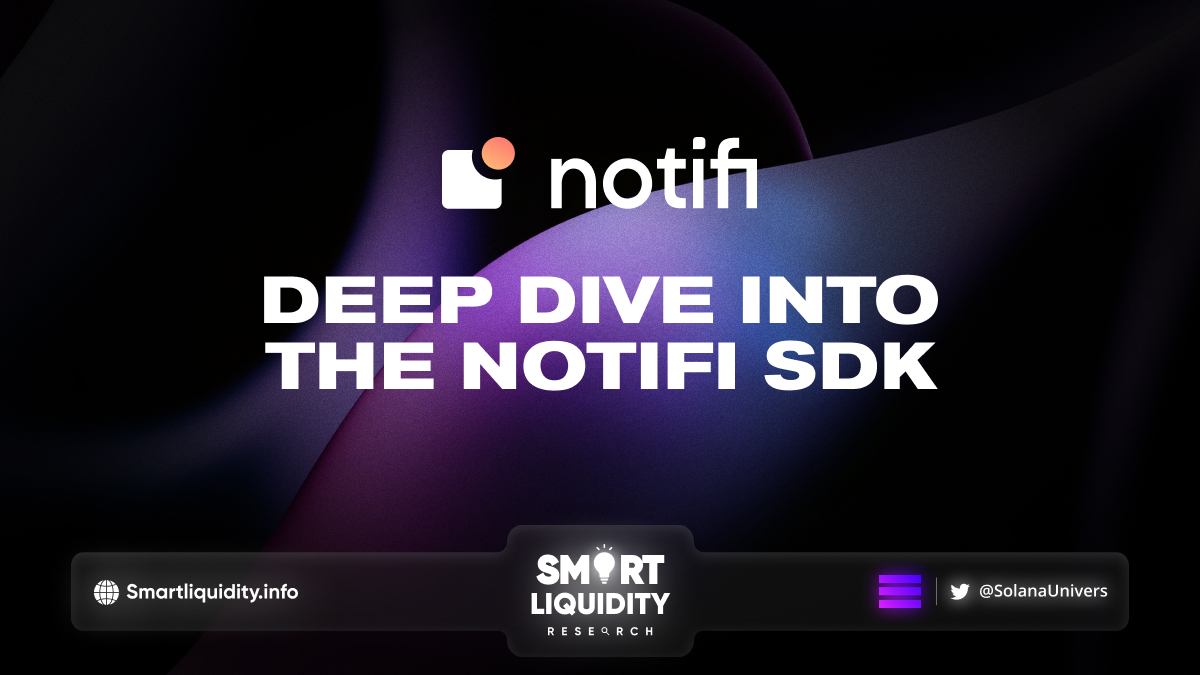 Notifi takes pride in its ease of use and ability to integrate with any web3 product. The platform is always ready to deliver best-in-class crypto alerts to all applications, whether it's working directly with client engineering teams or providing detailed documentation for smaller developers.
Notifi is a company that integrates notifications and messaging into decentralized applications, a deep dive into their software development kit (SDK).
It makes it simple for developers to incorporate Notifi's alerts, whether through their low-code React Card or APIs for custom UI. Their coder-friendly team, with backgrounds from some of the top tech companies, creates tools that make collaborating with Notifi simple and effective.
A Deep Dive into the Notifi SDK
The Notifi SDK gives engineers the ability to use their APIs to integrate their web3 apps with alerts and customize our out-of-the-box widgets to their liking. The Notifi APIs allow developers to easily deploy a robust communication infrastructure through a number of channels for all use cases, including wallets, DeFi protocols, NFT projects, and more!
Their SDK is appropriate for both experienced and inexperienced developers. They provide advanced custom features for larger teams and low code options for smaller developers. Users can set up alerts using both on-chain and off-chain events at the most basic level. With additional flexibility for larger teams that require more complex features.
The Notifi SDK supports Solana, Ethereum, Polygon, and Aptos, with more blockchains to follow in the future!
Getting started
The SDK enable protocols to start using their tool suite right away. Their SDK allows developers to create alerts by utilizing Notifi's APIs and other features.
You can go to the Notifi SDK's GitHub page if your team is interested. You can explore, test the SDK, and view samples and designs from other projects on this page. Engineers interested in using tools will need access to our APIs in addition to the Notifi GitHub.
Some Use Cases
DeFi
Because of the ever-changing nature of DeFi, new projects emerge on a regular basis. With few tools to keep them engaged, users frequently lose track of where they hold positions.
Fortunately, Notifi allows DeFi protocols to retain users who need to be notified of important information about their positions or protocol updates. They teamed up with Hubble, a DeFi stablecoin project on Solana, to provide users with the option of receiving instant notifications when their loans are liquidated. They integrated Notifi's SDK, adding an easy-to-use widget to the interface for email and SMS alerts.
NFTs and Marketplaces
The NFT ecosystem, like DeFi, is rapidly expanding, particularly across multiple blockchains. Notifi integrates with marketplaces like Bonfida and NFT lending platforms like Sharky to provide price alerts on NFT bids, sales, offers, and/or loans.
The purchasing and lending process of an NFT can be complex. With many moving parts that users must keep track of. Notifi removes the headaches from the equation. Notifi strengthens the creator and community ecosystems by streamlining the NFT exchange process, removing headaches and providing an opportunity to streamline the NFT purchasing journey.
About Notifi
Notifi is Twilio for Web3. Notifi simplifies communication across all Web3 messaging channels. The Notifi platform is design with simple APIs for easy integration, customizable, and advanced features for dApps and Web3 applications. Notifi empowers developers to better engage with their users via multichannel communications.
SOURCE
https://medium.com/notifi/a-deep-dive-into-notifis-sdk-bb03957d7083