Hector Network Yearly Recap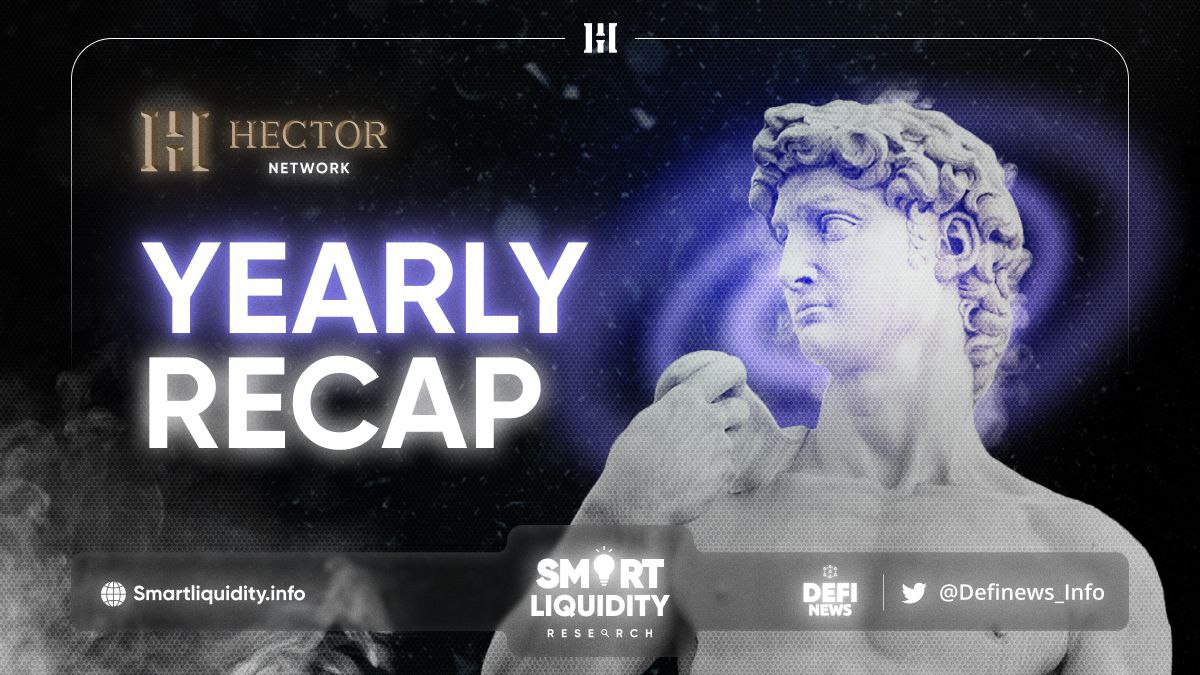 The Hector Network Yearly Recap will represent the most critical updates within the Hector Network ecosystem. It will show how Hector Network has become the fast-growing cryptocurrency project in the decentralized finance sector.
Hector Network is a decentralized protocol based on the HEC token, complimented by the TOR stablecoin.  From its native chain, Fantom, Hector Network has started a cross-chain expansion, so it is available on the BNB chain as well.
Hector Network is developing an ecosystem of various innovative sub-brands and applications that will set it apart from its competitors. Hand in hand with its community, Hector Network is continuously seeking to develop new opportunities.


Over the last year, Hector Network has been one of the most resounding names in the blockchain industry. It has established a name that many look up to today. It is an ambitious project with many ever-expanding branches, but this mighty tree grew from a straightforward beginning.

A full list of Hector Network's accomplished goals and the ones still in progress is available in Hector Network's Roadmap but we would like to take a closer look at some highlights from the year behind us.
🔷 November 2021
November was an eventful month for Hector Network. On November 1st Hector Network was launched as Hector DAO, a fork of the Olympus DAO but soon after it created its own path and that was the beginning of a wonderful journey. 
In November Hector Network released its Whitepaper and Roadmap, established its first partnerships, first 3,3 and 4,4 bonds were launched, multi-signature authentication has been implemented, the Team has been KYC'd, Hectorians have voted on the first proposals, listings of $HEC on decentralized and centralized exchanges have begun, wrapped staked HEC (wsHEC) has been launched and much, much more. 
🔷 December 2021
December was a month of Hector Network's farms and pools, Hector Merch Store launch, the establishment of the Hector Charity Fund, and the month in which Hector Network presented its Master Plan and Budgeting.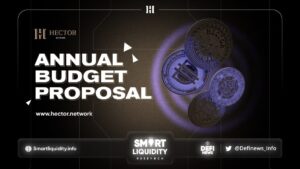 🔹 January 2022
Hector Institute was launched on the 24th of January. In the 2022 roadmap, Hector Network stated its intentions to become deflationary by launching several key subprojects — Hector Institute was the first one after the rebase program.
Hector Institute is a decentralized lending and borrowing platform built on the Fantom Opera chain. Users can lend out and borrow a variety of crypto assets. Lenders can achieve an attractive APY with reduced risk of volatility of the $HEC price by lending out stablecoins. Borrowers can use staked assets as collaterals to borrow stablecoins and to use them in different projects without having to unstake or unwrap their tokens.
The protocol charges a small amount of interest on borrowed positions, as well as on liquidations. A portion of this profit is then used in line with Hector Network's plans to become deflationary over time by helping the project build more utility.
Certik Completed First Hector Network's Audit
Hector Network values the security of its investors or any individual who uses its product. This is why Hector Network arranged a contracts audit with Certik. 
In the summary report, funds are safe. Trust and security have always been and will always be a focus for Hector Network and its ecosystem. They were proud of taking this step toward legitimacy, security, and trust.
Introduction of TOR – The Stablecoin of Hector Network and TOR-USDC-DAI Farm
Cryptocurrency-backed stablecoins are issued with cryptocurrencies as collateral, which is conceptually similar to fiat-backed stablecoins. However, the significant difference between the two designs is that while fiat collateralization typically happens off the blockchain, the cryptocurrency or crypto asset used to back this type of stablecoin is done on the blockchain, using smart contracts in a more decentralized fashion.
TOR is an ERC20 token and TOR stands for Tyche Owned Reserve.
The main goal of the introduction of TOR  Stablecoin is to lay more of the foundation for the significant growth of the Hector Ecosystem.
TOR will also be used in Hector Institute and in Hector Pay. Hector Pay is one of the most ambitious Hector Network goals. The platform aims to create a payment system that will allow users to pay for real-world items using their (DeFi) crypto balance.
Users will also be able to send and receive coins on multiple networks to and from friends and family using a mobile app. TOR will be used for payments with the lowest transaction fees, which will leverage the power and speed of the Fantom Opera chain.
Generally, a Stablecoin is only valued and trusted if it maintains its price peg. TOR is pegged to $1.
In TOR-DAI-USDC Farm users are farming stablecoins so they do not have to worry about impermanent loss while they are receiving an attractive APR in wFTM.
🔹 February 2022
In February TOR was fully launched, Hector Network's Fantom validators were launched and the wsHEC liquidation protection has been set up in the Hector Institute. As a thank-you gift to the community who participated in the Hector Network's Hector Around The World Competition, a mosaic NFT, known as HATW, was created from the competition's entries and free minting of 1000 NFTs was enabled.
🔹 March 2022
There was a lot of action in March. It was a month of new $HEC and $TOR listings, a month in which the $TOR Certik audit has been completed, an OTC system has been set up, an Investment board has been released, Hector Network made a charity donation, and much more, but we would like to highlight 3 events:
• Introduction of the Mythos NFT Collection

• Launch of Hector DEX

• Introduction of the Emission plan
Mythos Collection Introduction
In the Medium article and in the Community Update held on YouTube, Hector Network introduced its NFT Collection – Mythos. 
The Mythos collection consists of 16 artworks based on Greek mythology. The collection will have a total of 10,000 animated NFTs and each artwork comes with 5 different rarities.
The main targets of launching the Mythos Collection are to attract new community members, grow Hector Network and its ecosystem, support the Fantom network, and benefit the community.
Hector DEX
With the launch of Hector Dex, Hector Network made a huge step to becoming a truly multichain protocol. Hector DEX allows users to swap tokens between chains with a single click, so users of other chains can interact with Hector Network as if they were natively on Fantom.
Introduction of the Emission plan
At the end of March, Hector Network introduced The Emission Plan, its solution for managing inflation, and a vision of the $HEC token future.
The emission plan is a pre-determined schedule to mint tokens and distribute them. It means Hector Network can guarantee how many tokens will be minted as well as guarantee a supply cap for the HEC token whilst making predictable changes to the APR over time as the emission plan progresses. It also allows users to lock their tokens for a boosted reward.
Furthermore, since Hector Network and its community agreed $HEC is going to become a deflationary utility token, the emission plan was the next big step toward reaching that. Once the emission period is over, Hector Network can be an extraordinarily powerful project on Fantom and beyond.
🔹 April 2022
April was the month of NFT conferences, the month of new investments, and a month of new farms. Members of the Hector Network Team attended and promoted Hector Network on two important events: Miami NFT Week and Paris NFT day which was a part of a Paris Blockchain Week Summit. $TOR – $FTM farm has been launched on SpookySwap in which users can farm their LPs and earn rewards in $BOO.
🔹 May 2022
Community leaders MayoMyke and Frizey attended Blockchain week Rome where they were personally showcasing Hector Network's ecosystem and representing the company and the community to around 2500 attendees. They have made invaluable connections with other protocols and projects as well. 
May was also the month in which Hector vaults were added to Beefy, a decentralized, multichain yield optimizer that allows its users to earn compounded interest on their crypto holdings. It was the month in which Hector Network teamed up with Julwallet, an awesome wallet that allows you to bridge, buy tokens, swap, and store them all in the same spot, and the month in which Hector Game Nights started. Hector Game Nights is a live event, bi-weekly series of streams on Twitch, where users can compete to win $TOR prizes while having a great time playing games. 
🔹 June 2022
The most notable events in June were Hector Network's huge steps towards their cross-chain expansion. Hector Network became available on the BNB chain, and both $HEC and $TOR were added on ApeSwap. In addition to those milestones, $HEC & $TOR logos became available on Trustwallet.
🔹 July 2022
Hector Network continued its expansion on the BNB chain and on Fantom, its native chain, as well. $HEC and $TOR tokens have been listed on PancakeSwap and Hector farms and pools have been added to ApeSwap. 
On the Fantom chain, $HEC and $TOR farms have been added to Weave's Strategy Builder, a platform in which users can create and combine trading strategies. In addition, the system will also feature a social element in which users can create public strategies which can be followed and "copied" by other users. This will allow users to find the best strategies and share them with each other.
The partnership with Weave includes the following ideas:
1. Adding wFTM-wsHEC farm onto the Weave Strategy Builder;

2. Adding FTM-TOR farm onto the Weave Strategy Builder;

3. Ability to DCA into both HEC and TOR at the end of the Strategy;

4. Co-Marketing via multiple outlets including but not limited to:




     a. Twitter posts, Twitter re-tweets;




     b. AMA's.
In July Hector Network continued with its rebranding process so that was the time when Hector Finance became Hector Network, the time of a new website launch, and the time of a Whitepaper 2.1. release. July was the month in which Hector Network expanded its social engagement on LinkedIn.
🔹 August 2022
August was the month of partnerships. Hector Network announced a champion partnership with Borussia Dortmund, one of Germany's most beloved football teams worldwide. Besides a partnership with a famous football club, Hector Network established partnerships with Cwallet, Stader, indu4.0, and PayBolt.
In addition, $HEC and $TOR became available on the PayBolt crypto app, Hector themed merch store has been added on the Paybolt marketplace website and new tokens have been added to Hector Institute.
$HEC-$BNB Treasury Bill offered at ApeSwap ended up as the fastest-selling Treasury Bill ever offered by ApeSwap. From the campaign which lasted for 7 days, Hector Network has gained over 100k in LPs.
At the end of August, Hector Network added one more audit to the audits list made by Certik – The emission plan has cleared Certik! 
🔹 September 2022
After the NFT mascot contest, Atlantica Marketplace got its mascot – Squidly! 
The Announcement channel on Telegram has been verified which helps ensure that newcomers will recognize the information posted there as authentic and trustworthy. The Announcement channel is available at https://t.me/hectornetworkann.
🔹 October 2022
The Emission Plan has gone live, the Hector Network team has rebuilt several parts of the UI to make the user experience more intuitive and the rollout proposal as well as plans were updated and went through the final-tweaks vetting process.
Listing On Bitfinex
$HEC token became available on Bitfinex, one of the world's highest-ranked exchanges. This marked the major milestone shared by Hector Network with their community.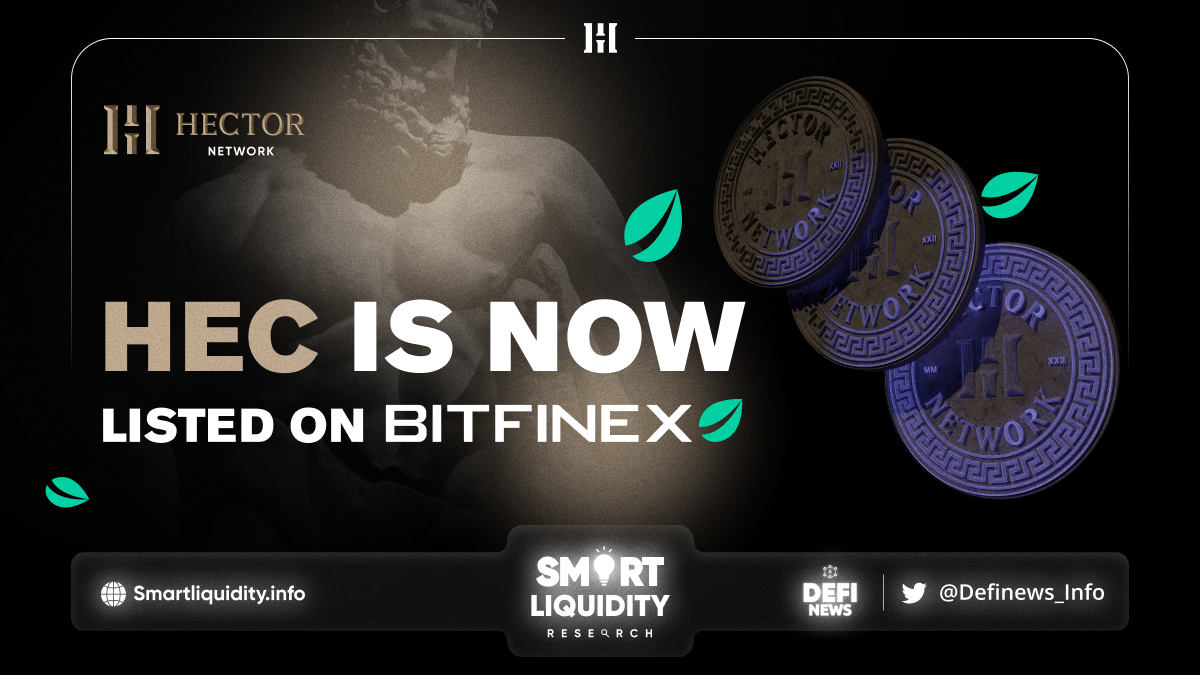 Besides the amazing Tier 1 listing on Bitfinex, Hector Network got verified on CoinMarketCap Community, they have announced a partnership with JustMoney, and $HEC and $TOR tokens have been integrated into JustMoneyPay dApp. Partnerships have also been established with Depocket and Magic Media.
Magic media is a world-class gaming and entertainment studio which will build Hector Network's metaverse, The Oikos. 
🔹 November 2022
Last but not the least, Hector Network has celebrated its first-year anniversary. In connection with this event, Hector Network organized events to give thanks to its community.
Staking Program Update
Although it was announced that on October 31st  the Staking Page will be removed, during the anniversary celebrations, Staff revealed that staking can continue at a much lower APY rate, to give incentive to the Emission Plan but still provide loyal sHEC and wsHEC users some continuous benefits.
Latest Update
Pierogi, Frizey and Seabass represented Hector Network and Atlantica Market at NFT.London. Atlantica, Hector Network's revolutionary new NFT Marketplace, will be launching in Q3 of 2022. While the beta will initially solely be on the Fantom network, the NFT Marketplace will ultimately operate similarly to Hector Network's Dex, allowing for NFT trading to happen across chains.
Furthermore, Hector Network is dedicated to providing the best utility for the Marketplace and is eager to push the bounds of NFT technology. Launching alongside Atlantica Marketplace will be the Mythos collection, Hector Network's flagship NFT collection.
STAY CONNECTED WITH HECTOR NETWORK
Website | Twitter | Medium | GitHub | Discord | Telegram