Metis Integration with Rubic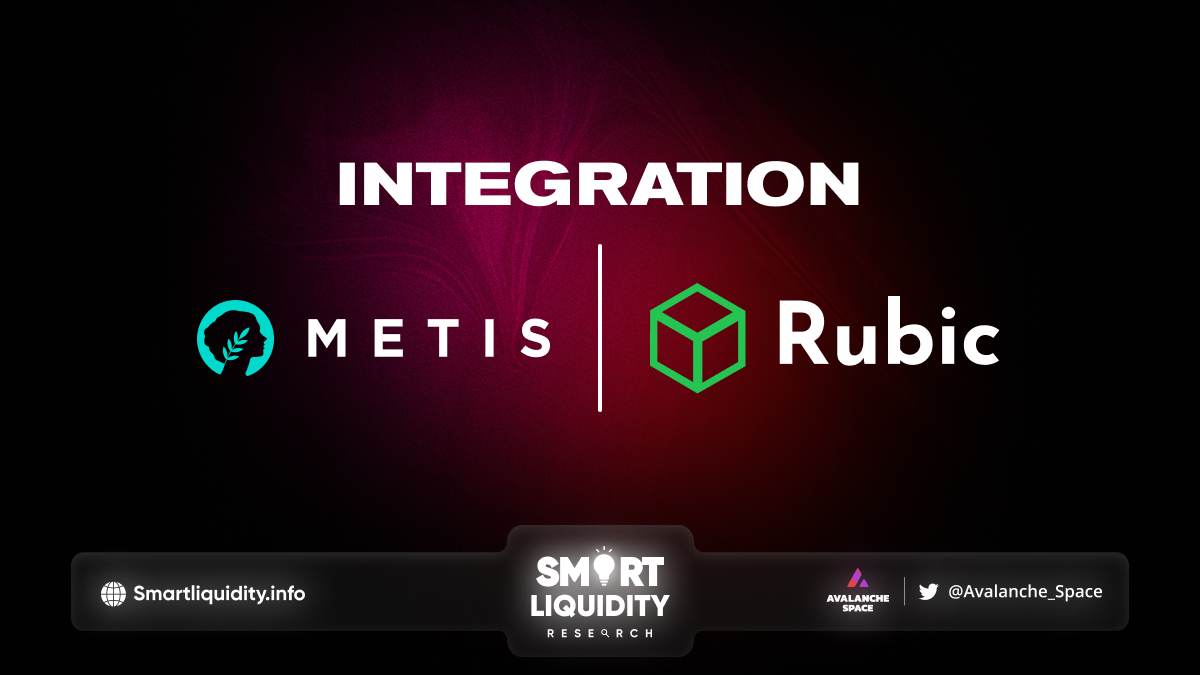 Metis Integration with Rubic, the Metis Network is a Layer 2 protocol that runs Decentralized Economies, which also became the next blockchain integrated into Rubic.
To deliver the best rates and trade times for swaps, Rubic has integrated Netswap, a one-stop exchange platform for DeFi, as a provider on the Metis chain.
Metis and Rubic
The tokens available from swaps on, to, and from the Metis blockchain are AVAX, BNB, BIFI, BIOS, BTD, BUSD, GTPS, MAI, MATIC, MIM, OH, QI, STND, UNIDX, and wsHUMP, depending on the exact chain.
Metis uses Ethereum tokens for staking and payments. Metis-based Decentralized Autonomous Companies (DACs) accept payments for products and services. METIS tokens reduce spam and build developer-user trust.
Here are the numbers:
Metis Market Cap $83.9M
Trading Volume $3M
Total transactions 4,077,366
Total blocks 4,077,367
The Architecture of the Metis Smart L2
Metis' optimistic rollup seeks to speed up and lower transaction costs. Ethereum transactions have become more costly in recent years. Metis L2 rollup uses a fraud-proof, secure, and data-available technique.
You will experience very low gas fees, reduced from around $2–3 to around $0.02–0.14. More importantly, the Metis L2 rollup offers low latency and high availability, which are essential requirements within the Web 3.0 ecosystem and the Ethereum blockchain.
What is Netswap?
Netswap is a decentralized exchange (DEX) that runs on Metis Andromeda (Layer 2).
Netswap uses the same automated market-making (AMM) model as Uniswap. However, unlike Uniswap, Netswap is a native Layer 2 DEX, which will utilize the key features of Metis Layer 2, including low transaction costs, high transaction speeds, and high scalability to support various bridges, Layer 2 native tokens, and more innovations.
Metis and Netswap want to boost the decentralized economy and make blockchain decentralization accessible to everyone. Rubic is excited to work with initiatives that share their goals.
About Rubic
Rubic is a Cross-Chain Aggregator  Rubic offers On-Chain and Cross-Chain exchanges for Ethereum, BNB Chain, Polygon, Avalanche, Fantom, Arbitrum, Gnosis, Fuse, Celo, Optimism, Moonbeam, OKC, Boba, Tron, Moonriver, Cronos, and Bitcoin with seamless fiat on-ramps and more!
About Metis
Metis is an Ethereum Layer 2 Rollup platform that offers simple and fast smart contract deployment within the network. Metis provides several solutions to solve the challenges in mainnet Ethereum, including transaction speed, cost, and scalability.
SOURCE: https://cryptorubic.medium.com/metis-netswap-and-rubic-running-decentralized-economies-28d5360884ad