Poolz Partnership with Neon Labs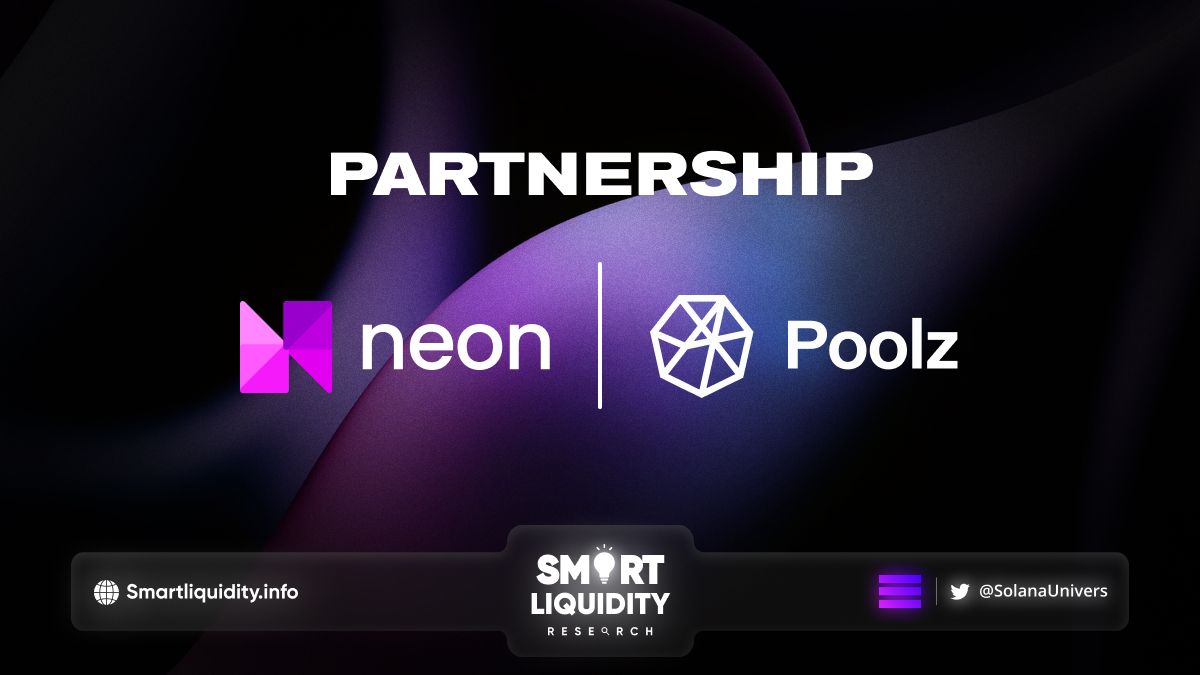 The leading blockchain Agnostic Launchpad, DeFi Hub, and incubation, Poolz announced a partnership with Neon Labs, which provides an Ethereum-compatible environment on Solana.
This partnership of Poolz with Neon Labs will empower the investor community to access the best features of the Ethereum and Solana blockchain ecosystems simultaneously.
Introduction
Neon is one of Solana's first Ethereum Virtual Machines (EVMs), allowing Ethereum decentralized applications (dApps) to run. Developers can use Solana's low transaction fees and high transaction throughput to deploy dApps without changing any code.
Neon EVM provides the cheapest and fastest way to run Ethereum dApps. With 2,000+ transactions per second and gas fees of 0.000015 SOL per transaction. It provides straightforward access to Ethereum developer tools such as MetaMask, Remix, Hardhat, and Truffle.
Neon combines Solana's technical advantages, such as scalability and liquidity, with the Ethereum developer community's expertise. As a result of our collaboration with Neon, Poolz investors and crypto project founders will reap numerous benefits.
Key Points of Neon Partnership  
• Poolz is deploying the 'Poolz Launchpad' code and the 'Claiming System' on the Neon network, both for the testnet and mainnet.
• Developers building on Neon will be able to apply for grants from Poolz Finance in the future. This will help developers to get marketing and promotional support as well as make important investor connections.
• Moreover, Poolz Ventures will invest in Neon projects. The capital firm will help crypto projects find the right investors, partners and influencers for their businesses and mentor companies to build efficient products with the right technical knowledge and expertise.
Management Quote
" Neon's technology allows us to serve our community better, increase Poolz's activities via the Solana ecosystem and make decentralized cross-chain token sales & liquidity auctions a reality. It is an important step for us " said Guy Oren, CEO of Poolz.
" We at Neon Labs are super excited about our partnership with Poolz Finance. Poolz is one of the greatest examples of driving tenets of decentralization and democratizing access to distinct financial products and tools. They provides all necessary tools to startups and project owners and fosters a gargantuan sense of trust among community investors " Nicky Chalabi, Partnerships Director at Neon Labs.
Poolz partnership with Neon Labs is aimed at bolstering the crypto investing landscape. Where investors and developers can come together to build robust and resilient products. This partnership will benefit the crypto community in the long run and incentivize the building of new and exciting protocols.
About Neon
Neon EVM is an Ethereum Virtual Machine operating as a smart contract on Solana. It gives developers the power to directly deploy Ethereum dApps with no code change. While benefiting from Solana's technical advantages, and is all built with security, decentralization, and sustainability top of mind.
About Poolz
Poolz is the leading decentralized fundraising platform enabling crypto's most innovative projects to kick start their journey and grow their communities. The platform allows its users to make research-based decisions to participate in high-potential IDOs, NFT sales, and Gaming projects.
Poolz aims to be a multi-chain platform and currently, users can participate in IDOs and NFT sales on Ethereum, BNB Chain, Polygon, Celo, and Avalanche, with many more to come.
SOURCE