MixMarvel and OctoGamex Partnership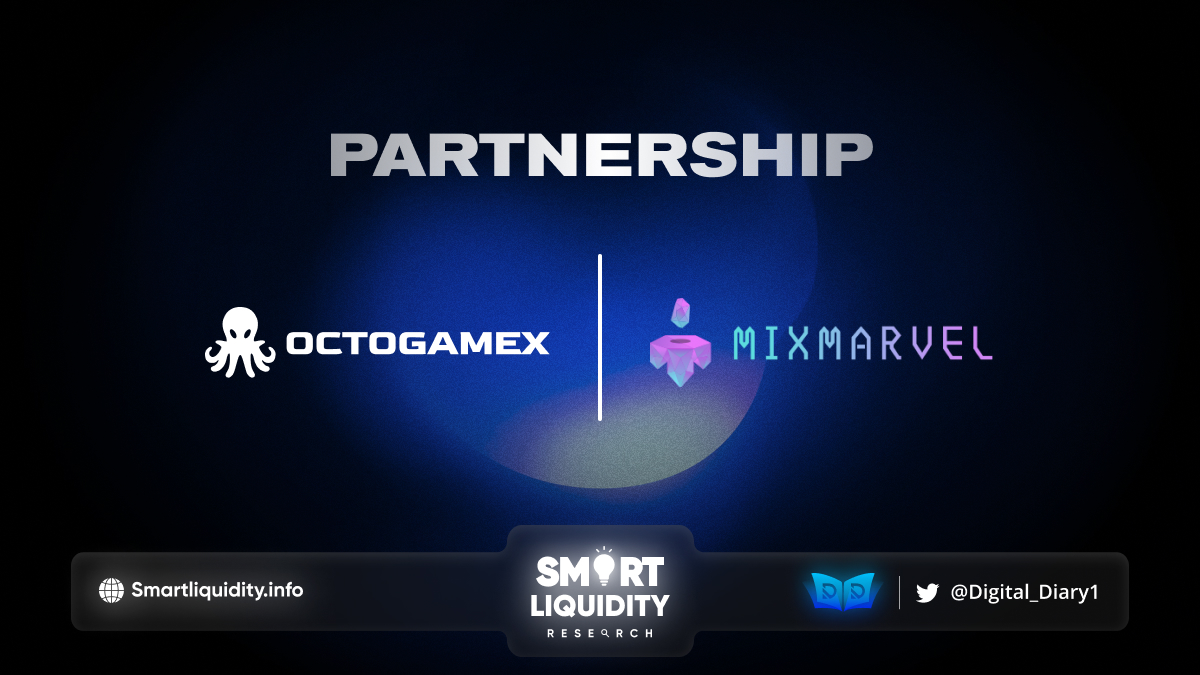 MixMarvel is thrilled to announce its partnership with the multichain NFT trading platform OctoGamex, to jointly promote the development of GameFi and the construction of Mateverse through facilitating multichain NFT trading.
The content incubation platform and creators community MixMarvel officially entered into a new partnership with OctoGamex, a multichain NFT trading platform enabling ultimate GameFi and Metaverse asset management experience. Within this collaboration, the two parties will work together in fostering gaming NFT trading across blockchains and beyond, paving the way for the mass adoption of GameFi and Metaverse.
Why OctoGamex?
As a firm believer and practitioner in realizing the mass adoption of GameFi and Metaverse, OctoGamex is built as a multichain NFT trading platform for in-game and Metaverse assets to connect gamers, games, and guilds around the world. It provides infrastructure for gaming NFT transactions by creating a convenient and secure secondary market while being a vibrant ecosystem offering its products as a comprehensive business solution.
Holding the same belief and goals, MixMarvel is confident in cooperating with OctoGamex to make a difference in the areas of NFT trading, managing, and developing through effective exchanges and co-promotions. MixMarvel will share with OctoGamex the diverse portfolios in its ecosystem while accessing the high-quality resources of the latter. It will also utilize OctoGamex's multichain attributes to better promote and provide for its own incubated projects.
On its way to become an advanced ecosystem to set up an efficient infrastructure interconnecting assets, titles, and people on different blockchains, OctoGamex also introduces new mechanics such as multichain NFT Aggregator and cross-chain NFT Bridge. Leveraging these, MixMarvel will allow its users to purchase NFT using any token instead of the seller's choice of currency and manage their NFT assets across all chains within the OctoGamex's platform.
MixMarvel and OctoGamex will continuously work together to serve users in both communities with best NFT-related experience while actively pushing the industry wide development.
About MixMarvel
MixMarvel is the world's leading blockchain content-incubation platform and creators community. By in-depth exploring the open world and integrating world-renowned IP with high-quality content, MixMarvel connects investors and also mass users through asset distribution, content publication, DeFi tools, infrastructure, community co-creation, and other diversified scenarios in a new ecosystem of dapps. Its ecosystem comprises a broad portfolio of FT/NFT assets, including the MIX, RPG, and HEROES tokens; blockchain content including the GameFi application DeHero; and also infrastructures including Rangers Protocol and MixMarvel SDK.
About OctoGamex
OctoGamex is a multichain NFT trading platform enabling the ultimate GameFi & Metaverse asset management experience.
OctoGamex enables a crucial web3 grid empowering gamers and frequenters of digital spaces around the globe to interact with unique crypto assets in a way that makes the most of them.