Coinbase Integration Native USDC on Avalanche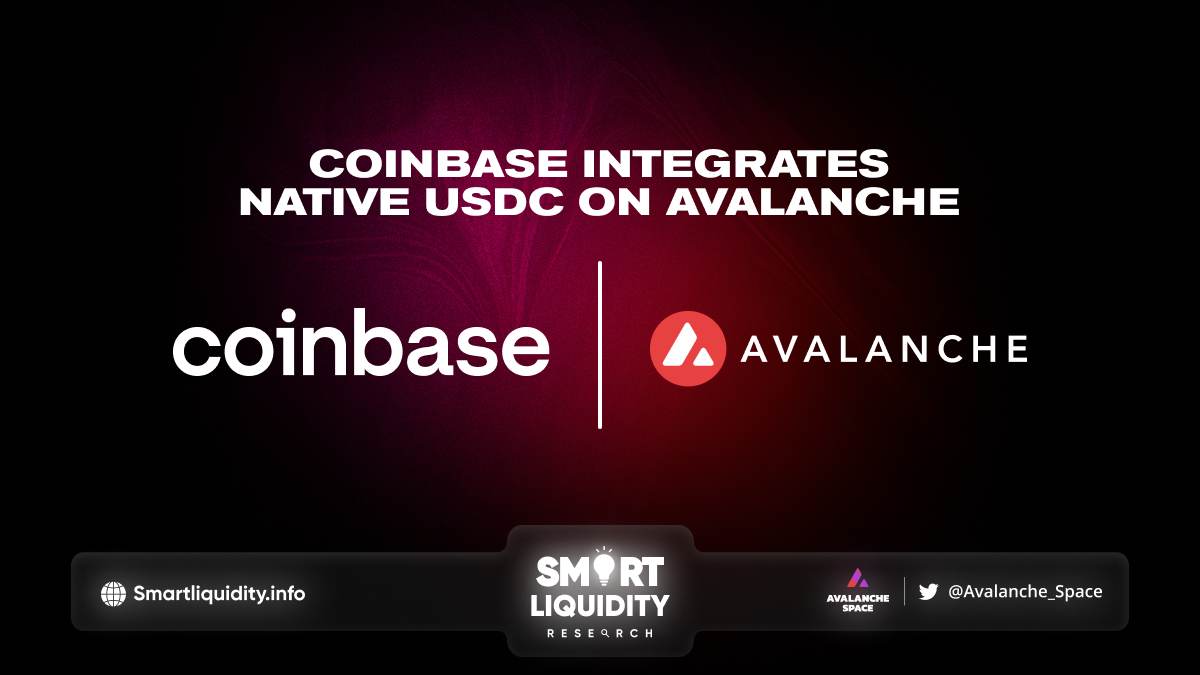 Coinbase Integration Native USDC on Avalanche for cryptocurrency traders and major institutions, Avalanche's native USDC on Coinbase provides the greatest Web3 fiat-to-crypto experience.
Creating the fastest and least expensive way Coinbase Integration Native USDC on Avalanche for more than 100M Coinbase users (Source) to go from cash to flagship DeFi apps like Aave, Curve, Trader Joe, BENQI, and more.
Coinbase currently processes more than $1.2 billion in daily trading volume (Source), making it one of the most significant methods for bringing on new users across the United States and more than 100 other nations. Users may now directly on-ramp cash to USDC and vice versa without bridges, simplifying user and development experiences.
USDC is the second largest stablecoin in Web3 with a circulating supply of $43 billion USDC across chains. US and global crypto traders can easily buy and sell Avalanche-native USDC on all Coinbase products, across all devices.
Go from cash to any crypto in seconds
Crypto traders and huge institutions use stablecoins like USDC to hedge their portfolios to reduce volatility.
On Avalanche, traders who send and receive USDC enjoy almost immediate finality and cheap transaction fees. No need to worry about USDC transmission reliability or excessive transaction fees draining assets and earnings.
Global decentralized finance systems need fast transaction finality to ensure that value is not at risk. Avalanche is the ideal blockchain solution for DeFi.
"Physical fiat currency is increasingly becoming a relic of the past — a trend which the COVID-19 pandemic has accelerated. A fundamental restructuring of legacy payments and financial infrastructure is not only warranted, but overdue. Together, Avalanche and Circle will pioneer solutions to these systemic challenges," said Ava Labs President John Wu when USDC first launched on Avalanche.

In the same statement, Jeremy Allaire, CEO and Co-founder of Circle, said: "Support for USDC on Avalanche comes at an exciting and pivotal moment for the growing, multi-billion dollar DeFi market. With USDC as the leading dollar digital currency for the decentralized economy, this integration will be instrumental for developers and communities looking to participate in one of the fastest, organically growing ecosystems in crypto."
About Avalanche
Avalanche network is the blockchain industry's quickest smart contracts platform digital asset. Avalanche is blazingly fast, low cost. Any smart contract-enabled application can outperform its competition by deploying on Avalanche.
About Coinbase
Coinbase is a secure online platform for buying, selling, transferring, and storing cryptocurrency (crypto). Their mission is to create an open financial system for the world and to be the leading global brand for helping people convert crypto into and out of their local currency.
SOURCE: https://medium.com/avalancheavax/coinbase-users-now-have-the-fastest-path-from-cash-to-defi-with-native-usdc-on-avalanche-eed3d1226f0b