Atlas DEX Cross-chain Stable Swap with Allbridge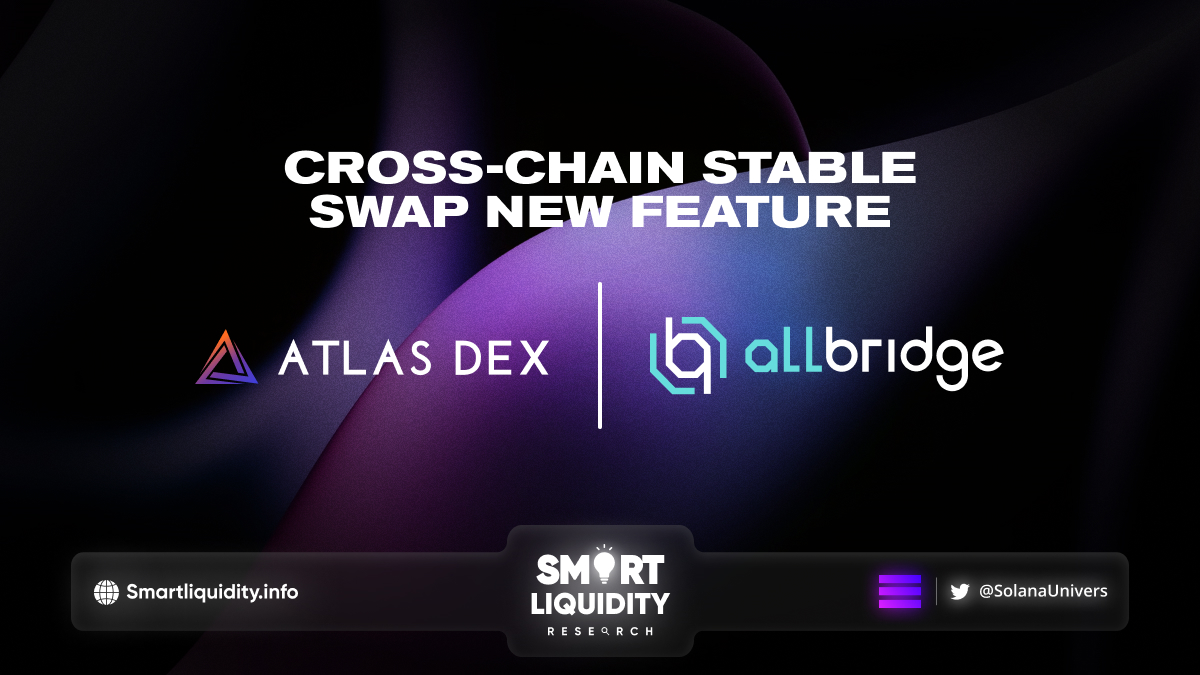 Cross-chain Stable Swap, a new feature developed by Atlas DEX in partnership with Allbridge, has officially launched!
The Atlas DEX Stable Swap feature will provide cross-chain stable swaps with the tightest spreads and the lowest cost. DeFi transactions will be more effective if the cost of moving stablecoins around the DeFi chains is reduced.
Introduction
Solana, Ethereum, BNB Chain, and Tron are supported by the bridging solution Allbridge. A cross-chain swap designed specifically for dollar-pegged tokens is the Allbridge Core SDK (stablecoins). It works by maintaining liquidity pools for the supported tokens on each blockchain without using wrapped tokens. Incoming tokens go into the pool, and the value of those tokens is sent via the messaging protocol to another chain, which is converted back to the tokens to be paid to the user.
In a dedicated stable swap section, the most recent integration with Allbridge Core will enable a new routing option, enabling frictionless swaps of the stablecoin assets between Ethereum, BNB Chain, Tron, and Solana.
They work together to increase the variety of native cross-chain assets within a practical user interface.
What are some of the advantages for users?
Beyond the 1500+ token pairs we support, the integration of Allbridge Core will offer tighter stablecoin swap spreads. Users can switch between stablecoins at a better swap rate by simply going to the "Stable Swap" window.
Atlas DEX Stableswaps also provide a better swap rate when compared to other DEXs, DEX aggregators and bridges. From a simple comparison of swap rates, a swap of USDT from Binance to Ethereum on Atlas DEX yields 100.0629USDC. While a similar swap of USDT to USDC on 1Inch, one of the largest DEX Aggregators in DeFi, yields 99.874 USDC. This is a difference of 0.18%.
The new stable swap feature, with assistance from their partners at Allbridge Core, released by Atlas DEX, and the company is eager for its users to give it a try.
About Atlas DEX
Pioneering the future of interoperability. Atlas DEX is a cross-chain DEX aggregator, allowing users to trade native tokens seamlessly across leading chains.
About Allbridge
Allbridge is a simple, modern, and reliable way to transfer assets between different networks. It is a bridge between both EVM and non-EVM compatible blockchains, that aims to cover L2 solutions and NFT transfers in the future.
SOURCE
https://medium.com/atlas-dex-education/stable-swap-product-feature-release-e951c568f54a