BitGo Cold Storage Staking for Avalanche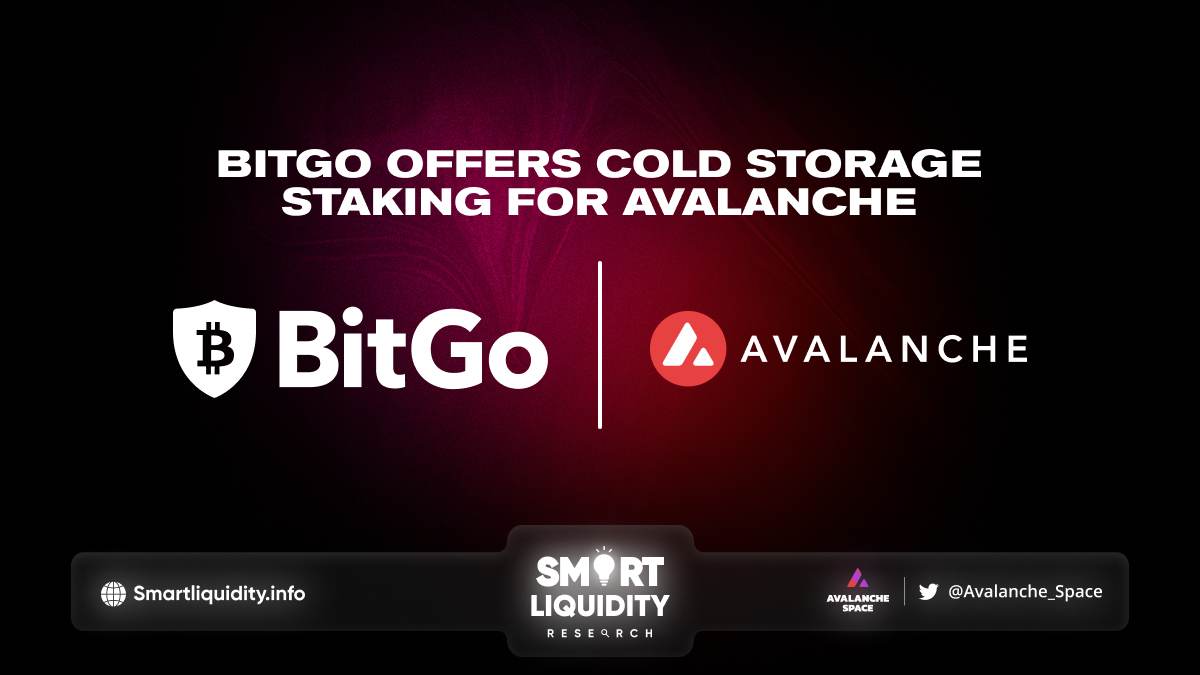 BitGo Cold Storage Staking for Avalanche offers clients the first and only Avalanche staking solution from qualified custody.
BitGo has previously supported custody for AVAX C-chain, in addition to assets generated through the Avalanche chain. In addition to increasing customer access to the DeFi ecosystem, BitGo Cold Storage Staking for Avalanche, BitGo also provides institutional and enterprise partners with a simple and secure AVAX staking solution.
The three primary chains of Avalanche are the:
C-chain (contract chain) — An Ethereum Virtual Machine (EVM) compatible chain used to deploy decentralized applications, such as DeFi, NFT applications, and native assets or tokens. It also enables users to send and receive native AVAX to and from exchanges and wallets.
P-chain (platform chain) — Manages staking and validation of the Avalanche network, while also coordinating validators participating in Subnets and cross-subnet communications.
X-chain (exchange chain) – A fast, low-fee DAG network where users and developers may issue new assets and make peer-to-peer or point-of-sale payments.
BitGo makes staking Avalanche a straightforward process, enabling users to quickly and securely stake AVAX from the comfort of their BitGo wallet.
"Institutions and investors are looking for a secure, regulated custodian through which to hold their crypto assets," said John Nahas, VP of Business Development at Ava Labs, a team supporting development of the Avalanche public blockchain."By enabling AVAX staking, BitGo is answering the call for a secure and institutional-grade solution to this segment."

"Prior to this, investors had to risk sacrificing security, ease of use, or accessibility in order to access the full scope of the Avalanche ecosystem," said Nuri Chang, VP of Product at BitGo. "Now, investors can hold their assets in regulated custody, stake from cold storage, and — through their MetaMask Institutional integration — participate in over 400 projects built on the Avalanche chain."
How does Avalanche staking work?
Avalanche stakes on the P-chain. Staking begins with checking your money' chain. Transfer money from C- or X-chain to P-chain. BitGo supports P-chain-to-C-chain import and export but not the X-chain. In your BitGo wallet.
Staking preferences:
Before staking, you must choose how much you want to stake and for how long. The longer the lockup period, the higher the reward rate, as calculated by the protocol.
The minimum staking period is 2 weeks and the maximum is 1 year. The minimum amount of AVAX to become a validator is 2000 tokens. In the future, they will support delegated staking, which will allow for just 25 AVAX to participate in staking.
After the chosen time, your funds will automatically un-stake and return to your wallet with your staking rewards
Getting started:
If you are a current BitGo customer, go to your wallet dashboard and create an AVAX wallet. Once your wallet is created and funded, you can start staking directly from your wallet by clicking the 'stake' button.
About BitGo
BitGo provides the most secure and scalable solutions for the digital asset economy, offering regulated custody, borrowing and lending, and core infrastructure to investors and builders alike.
About Avalanche
Avalanche network is the blockchain industry's quickest smart contracts platform digital asset. Avalanche is blazingly fast, low cost, and echo-friendly chain.
SOURCE: https://blog.bitgo.com/introducing-cold-storage-staking-for-avax-a39de6ec5961