Onfinality Integration With Bifrost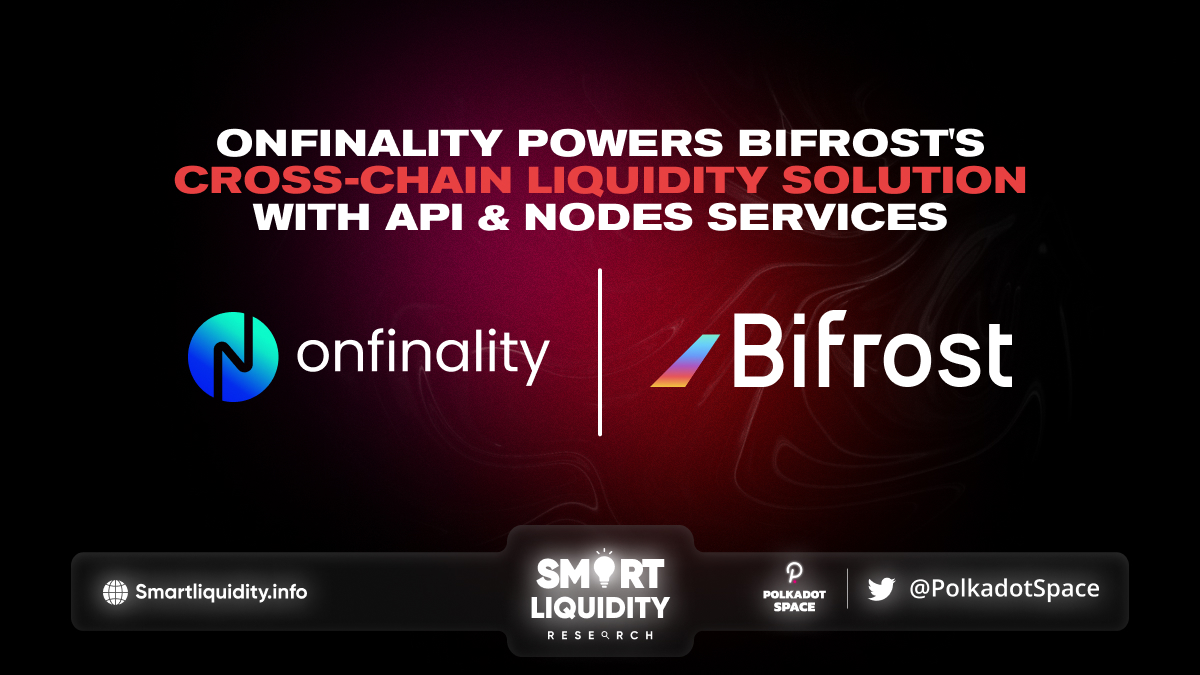 OnFinality

integration with

Bifrost

, to Power Bifrost Cross-Chain Liquidity Solution With API & Nodes Services
Onfinality integration with Bifrost by providing API endpoints and on-demand node services that will allow developers to connect to Bifrost on Polkadot quickly and easily!
They have been working collaboratively with Bifrost for months now, providing an easy-to-use, reliable and scalable API as well as on-demand node deployment for Bifrost on Kusama.
We also recently announced API support for Ethereum to our vast node marketplace, supporting over 60 chains across the Avalanche, Cosmos and Polkadot ecosystems.
The OnFinality Integration Enables Bifrost Users to:
Access the Bifrost network quickly in minutes without having to set up or manage infrastructure
Enjoy all the benefits that come with OnFinality's Enhanced API including global performance, automated scalability and high availability of up to 99.9% uptime per year!
Gain valuable API Insights for you to spot issues on your apps and quickly implement rectifications for a bug-free user experience
Log in to your OnFinality app to access the Enhanced API Service for Bifrost now.
You can access our public API service by connecting to it using Polkadot.js or via the endpoints listed below.
API Endpoints for Bifrost
In addition, OnFinality also provides the ability for participants in the Bifrost ecosystem. To rapidly deploy & manage nodes via any of the supported cloud providers such as AWS, GCP & Alibaba Cloud.
Benefits of deploying Bifrost nodes through OnFinality
Easy — Deploy Dedicated Nodes easily and quickly via our on-demand node deployment service without worrying about setting up hardware from scratch
Scalable — Upsize and downsize your nodes easily in a few clicks!
Cost-Efficient — Pay for only what you need. No longer have to buy or set up own hardware or make tools to monitor your node's health & performance
Visibility — Simply connect to our Node Metric Endpoint for automated monitoring and alerts on your node's health
You can now log in to see Bifrost's network spec in the OnFinality Marketplace and start Deploying A Node In 4 Easy Steps!
About Bifrost
Bifrost a web3 derivatives protocol that provides decentralised cross-chain liquidity for staked assets. By leveraging on the cross-consensus message (XCM) it can provide cross-chain liquid staking services for multiple chains.
Mission to provide standardised cross-chain interest-bearing derivatives for Polkadot relay chains, parachains, and other application-specific chains bridged with Polkadot.
About OnFinality
OnFinality a blockchain infrastructure platform that saves Web3 builders time and makes their lives easier. OnFinality delivers scalable API endpoints for the biggest blockchain networks and empowers developers. Automatically test , deploy, scale and monitor their own blockchain nodes within minutes. To date, OnFinality has served over 265 billion RPC requests across 60 networks including Polkadot, Kusama, Moonbeam, Astar, Avalanche and Cosmos, and is continuously expanding these mission-critical services so developers can build the decentralised future, faster!