DappOS Partnership with KyberSwap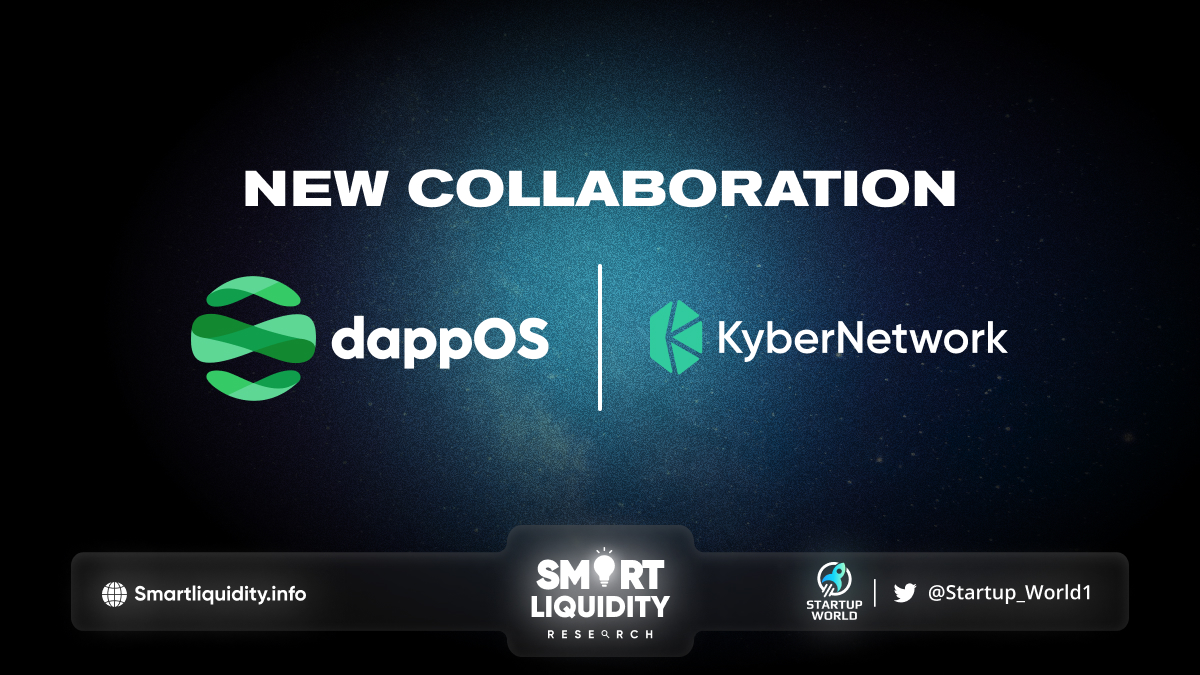 DappOS has announced its partnership with KyberSwap, a decentralized multi-chain crypto trading and liquidity hub.
KyberSwap promises decentralized finance with better liquidity and higher volume, but smaller user deposits. It also allows users to customize liquidity ranges and a reinvestment curve for smoother compounding of interest. Using the cutting-edge technology provided by dappOS, traders and stakers may perform operations on KyberSwap with fewer clicks and much improved user experience.
KyberSwap is a DEX (Decentralized Exchange) aggregator designed to provide the best token prices for traders across multiple exchanges, and maximizing earnings for liquidity providers using capital efficient AMM, in one decentralized platform.
KyberSwap fuels secure and instant transactions on any decentralized application (DApp). Kyber Network empowers DeFi DApps, DEXs and other users with easy access to deep liquidity pools that provide the best rates.
Utilities of KyberSwap:
Use Dynamic Trade Routing technology to aggregate liquidity.
Trades are splitting and optimally routing through various DEXs for the best prices within the same network.
Transaction fees are low and are flexibly according to market conditions.
Support transactions on 11 different blockchains: Ethereum, BNB Chain, Polygon, Avalanche, Fantom, Cronos, Arbitrum, Velas, Aurora, and Oasis.
Darren, Ecosystem Lead at QuickSwap, summarizes: "KyberSwap users already have access to enhanced liquidity and high volume trading. By working closely with dappOS, KyberSwap will further optimize the user experience and expand the user community."
Kyber currently covers over 100 integrated projects, facilitating over $7 billion of transactions. dappOS strives to increase Kyber's reach with a user-friendly UX for DeFi liquidity markets by making dApps as convenient for Web3 users as mobile apps. In the words of Darren Mayberry, Ecosystem Lead at dappOS, "dappOS offers a new gateway to KyberSwap to simplify its user experience without compromising the underlying security."
To learn more details about the planned trading competition, follow @Dappos_com on Twitter and be among the first to participate.
About dappOS
dappOS is an operating protocol designed to make dApps as user-friendly as mobile Apps. As the first Web3 unified operating protocol, it builds a layer between users and crypto infrastructures like public blockchains and cross-chain bridges, allowing users to simply interact with dappOS to complete verification and execution in the decentralized world. In November 2022, dappOS was selected to join Season 5 of the Binance Labs Incubation Program.
ABOUT Kyber Network
KyberNetwork is a decentralized, blockchain-based protocol. Offers a suite of products and services that provide users with a seamless and secure way to trade, earn, and build with cryptocurrency and other digital assets.
SOURCE
https://medium.com/@dappos.com/dappos-teams-with-kyberswap-9771cfa65a6d