Koakuma Upcoming IDO on Spores Network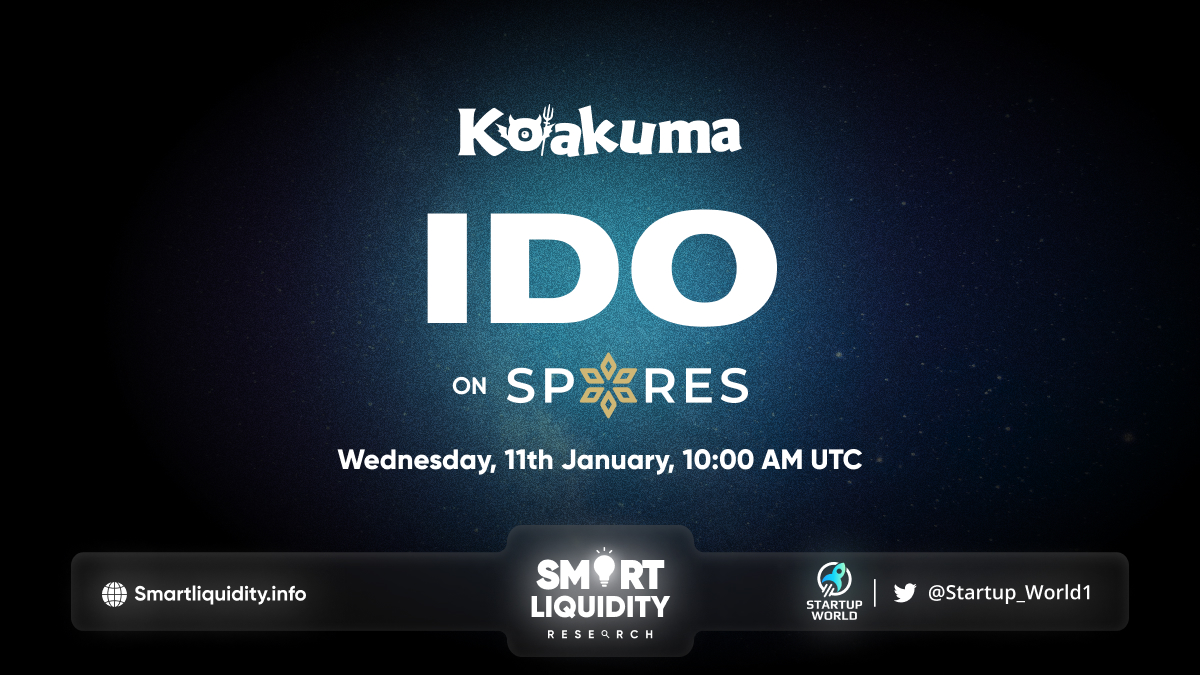 Koakuma — an epic MMO-ARPG, will launch its upcoming IDO on Spores Network on January 11!
Koakuma Highlights & Milestones:
Backed by Solid VC, Partners: Polygon Studio, Oracles Investment Group, Seedify, BNBChain, PolkastarterGamingGuild, Gamestarter, GameFi Capital, Automatic Venture Group, Babylons NFT Platform, NFTb Lavender Capital, M.M. LABS, Scotty Beam, and Ultra
Legit team with over 10 years of game development experience having previously worked for major companies, such as Tencent, and NetEase.
Co-launching on leading Launchpads namely Seedify, Gamestarter, Gamefi.
The product successfully closed Beta Testing 2
IDO Timeline:
VIP Round: 11th January, 2023 at 10:00 am UTC — 12th January, 2023 at 10:00 am UTC (24 hours)
Triple Limit Round: 12th January, 2023 at 10 am UTC — 12th January, 2023 at 11:00 am UTC (1 hour)
FCFS Round: 12th January, 2023 at 11:00 am UTC — 13th January, 2023 at 11:00 am UTC (24 hours)
(*) Koakuma IDO is under the Spores Safeguard Program
Koakuma IDO
Token: $KKMA
Chain: BSC (Binance Smart Chain)
Token Price: $0.018
Total Supply: 1,000,000,000 $KKMA
Initial Supply: 27,258,056 $KKMA
Initial Market Cap (including liquidity): $337,645
DEX: Pancakeswap
Vesting Schedule for Public Round: TGE 33%, Monthly vesting over 2 months
HOW TO JOIN Koakuma IDO
1st Step: Stake $SPO
$SPO stakers are eligible to participate in the IDO as VIP buyers.
VIP Requirements & Benefits:
https://miro.medium.com/max/700/0*VcmOsns1afPmGg63
2nd Step: Register
To be eligible for IDO participation, please click this link:
https://launchpad.spores.app/ido/koakuma-ido
3rd Step: Email Confirmation
After our whitelist closing time, Spores Network will notify you of your Tier Confirmation at least 12 hours before the date of the sale.
* FCFS Round: Step Stake $SPO is not necessary but allocations are not guaranteed.
Project Overview
Backers & Partners
Polygon Studio
Oracles Investment Group
Seedify
BNBChain
PolkastarterGamingGuild
Gamestarter
GameFi Capital
Automatic Venture Group
Babylons NFT Platform
NFTb Lavender Capital
M.M. LABS
Scotty Beam
Ultra
Tokenomic
*(**) For more information:
Roadmap
About Koakuma
Koakuma is a Web3 MMO-ARPG packed with immersive combat mechanics set in a graphics-intensive metaverse. Koakuma's mission is to develop an Innovative & timeless blockchain MMO-ARPG for both traditional and blockchain gamers to enjoy.
About Spores Network
Spores' mission is to create a GameFi/Metaverse Publisher — incubating, launching (IDO, IGO, INO), and operating NFT stack projects — that is creator-centric, community-driven, and borderless engaging entertainment IP and corporate brands.
Spores Metaverse ecosystem encompasses physical and digital experiences (phygital) that generate community engagement and revenue through their NFT aggregator marketplace, Republique gallery and retail experience, and cross-chain metaverses.
SOURCE
https://spores.medium.com/spores-network-to-launch-koakuma-leading-mmo-arpg-on-bsc-d59fb18f4aac