Mercurial Reveals the Meteora Plan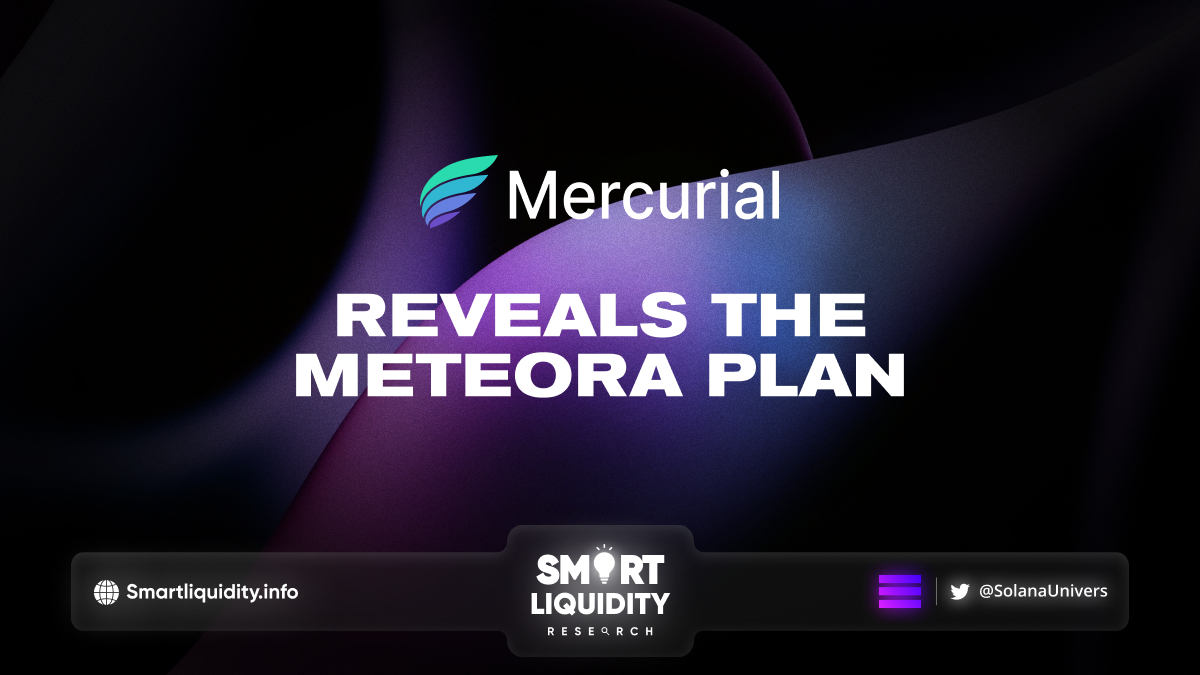 Mercurial, the liquidity platform for stable assets on Solana,  and check out the most secure and dynamic vaults in DeFi reveals the Meteora Plan. 
Mercurial reveals the Meteora Plan that will launch existing and new products on a new technology platform, as well as reset the existing tokenomics, with the goal of creating a new foundation for participation in order to reignite user interest and increase market confidence in the platform.
Unveiling The Meteora Plan
Over the next year, launching a new technology platform, resetting tokenomics, and rebuilding the community will require a massive amount of coordination, discussion, and development. They believe it will be worthwhile, however, because:
They have built a solid, battle-tested product in dynamic vaults/AMM that will be important for the future of decentralized yield on Solana.
They have a dedicated and talented team who have demonstrated relentlessness in innovating, producing, and shipping new products through hard times.
They have supportive investors who stuck with us through the tough times and supported the various plans we have thrown up.
The Meteora token will be substantially different from the MER token. Token utility, i.e. governance and value accrual mechanisms will be part of the token.
The new community DAO will also have substantial leverage over critical decisions like LM allocations to pools, staking rewards, etc. A DAO will help us move towards a more decentralized and community-driven approach to the project.
Last but not least, they envision Meteora as the decentralized yield layer for many users, protocols, and dapps as the market recovers, DeFi protocols on Solana stabilize, and the user base grows.
The Meteora Plan
The key goals of Meteora are to ignite user interest, build up market confidence, and set the foundations for the right community and ecosystem for its project to succeed.
Three major components to accomplish this:
Meteora is launching Dynamic Vaults and AMMs.
Transitioning to a clear, unambiguous token setup
Complete rebranding and migration to Meteora.ag
Bootstrapping Meteora In 2023
Meteora's first year will be critical for bootstrapping several key aspects of the project. Including platform liquidity, token liquidity, project governance, and community interest.
The good news is that they are not starting from scratch. They already have a valuable, audited, and battle-tested platform in place. As well as a network of investors and community members who have been with us since the beginning.
Early in the process, they will establish MET staking and governance to help brainstorm, discuss, and decide how to make Meteora one of the top projects in Solana and DeFi.
Jupiter began as a Mercurial integration to assist in making stablecoins on Solana more easily swappable with other tokens. Jupiter has since become an important part of Solana Defi. As a result, Mercurial has been an important partner in helping Jupiter get off the ground. With that in mind, the Meteora DAO will be allocated a Jupiter token based on the appropriate tokenomics for Jupiter. Most likely with the same vesting terms as other stakeholders.
The key here will be to allow Jupiter to concentrate on developing the best tokenomics, platform, and community possible. While rewarding existing MER stakeholders and assisting Meteora in its early stages.
They are very excited to collaborate with the community on these ideas. Along with their optimism about Solana recovering over the next few years. To become one of the blockchains propelling crypto forward. 2023 will be a critical year for them to collaborate with the community and ecosystem to achieve that goal.
Mercurial is excited to collaborate with you to establish the foundation for a bright future for Meteora and Solana, as well as to set a shining example for the entire crypto community.
About Mercurial
Mercurial is a decentralized finance platform that permits users to lend and borrow Solana blockchain stablecoins.
SOURCE
https://blog.mercurial.finance/unveiling-the-meteora-plan-8b4164d8a5a5