Raceearth Upcoming IDO on DAOStarter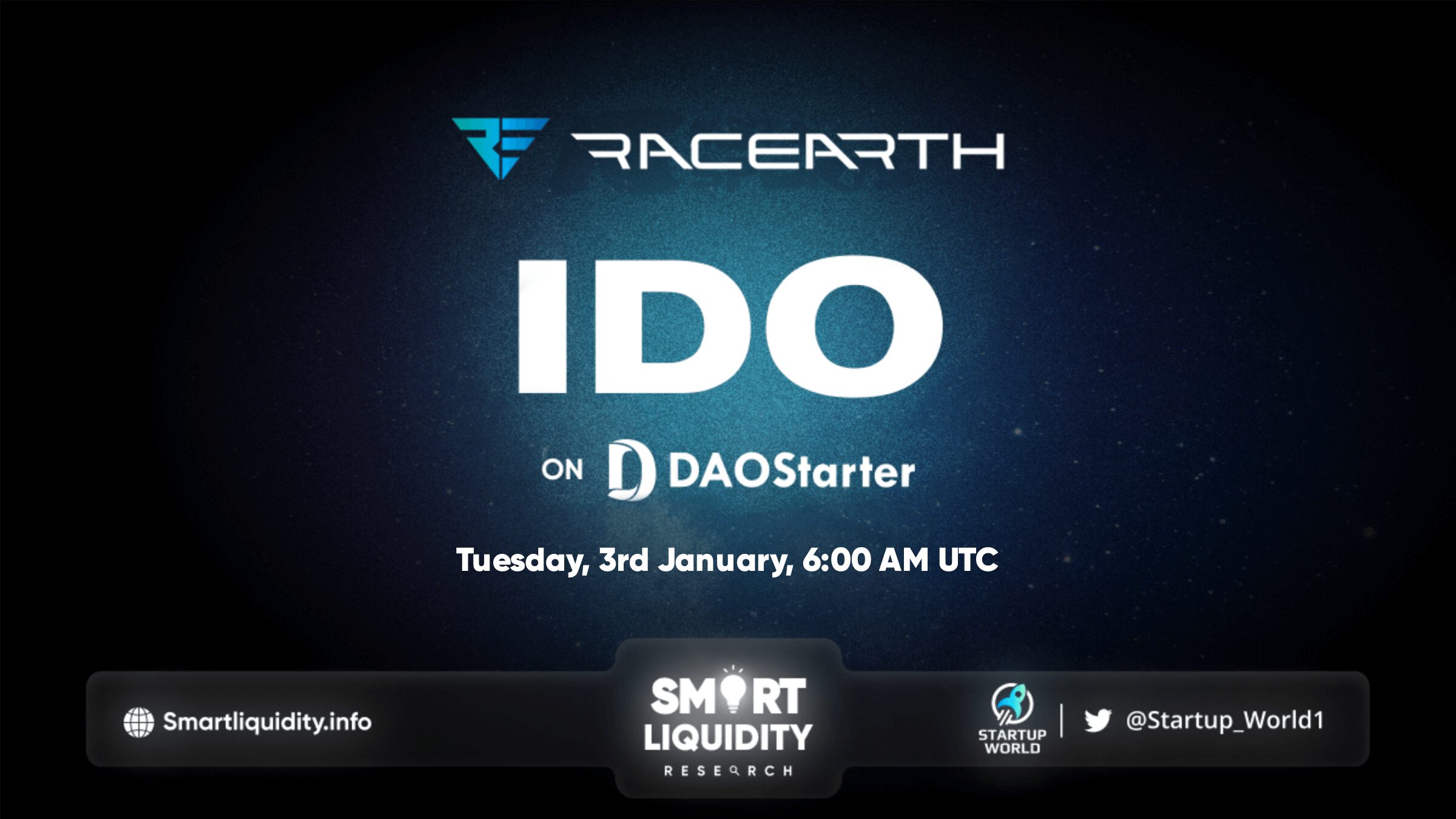 Raceearth will launch its upcoming IDO on DAOStarter. The whitelisting process for DAOStarter Public Sale is now live!
Public Sale Details
The key Raceearth Public Sale details are as follows:
Whitelist date: 6:00 am 30th of December 2022 UTC
Whitelist closed: 3:00 am 3rd of January 2023 UTC
Sale date: 6:00 am 3rd of January 2023 UTC
Sale closed: 6:00 am 6th of January 2023 UTC
USD$50,000 of $Race will be available through the Public Sale, totalling 1,666,666 tokens
The pool is adjusted as follows: Any user is allowed to subscribe ten mins after the pool opens.
6:00 am UTC 3rd — 6:10 am UTC 3rd (whitelist winners subscribe)
6:10 am UTC 3rd — 6:00 am UTC 6th (For all users)
Min investment: $100
Max investment: $3000
IDO Price: $0.03
Currencies: USDT
IDO Type: FCFS
Sale Network: BSC
Token Network: BSC
Selected addresses for whitelist : 100
Vesting Period: 15% at TGE, 17% monthly.
Users can choose whether to refund within 2 hours of listing(If the token has been withdrawn, you cannot be refunded)
Whitelist details
In order to qualify for the DAOStarter IDO and to get whitelisted, you need to fill out the Whitelisting form (link below) :
https://docs.google.com/forms/d/e/1FAIpQLScwGv36fIlvdxAQLM_vlKhU5L-MIfvQp–Uvy6sp9MIdSKIfg/viewform?usp=sf_link
Within the form, you will need to:
1. Confirm your email address
2. Twitter handle(Username)
3. Telegram handle(Username)
4. BSC wallet address
5. Set your NFT avatar on DAOStarter
6. Join the Raceearth Telegram
7. Follow Raceearth on Twitter
8. Join the DAOStarter Telegram Group
9. Join the DAOStarter Community on NFT
10. Follow DAOStarter on Twitter
11. Follow Promotional Hub on Twitter
12. Follow DAOStarter Telegram Channel
13. Follow DAOStarter Discord
14. Tag 3 friends in comments, and retweet the following tweet
Once you have completed all fields, submit the form.
Please Note:
Whitelist entries will be screened, with the following to be disqualified from participating in the Public Sale:
Invalid wallet addresses, Twitter and Telegram accounts
Entries made by bots
Duplicate entries
Incomplete entries missing any of the form criteria
After the whitelisting form closes, a randomized draw will generate a list of users approved for participation in the Private Sale. Approved users will receive an email from sale.
Important
The Raceearth team will NEVER message you first on any social media platform
Users do not need DSTs to participate in whitelist activities
About Raceearth
Racearth project is a race2earn metaverse game, perfect combination of two sections: Race and Earth.
Users will be able to organize races and they can attend the races to earn. Races can be organized only in the lands with "racetrack" attribute on it and the rules will be decided by the landowners before the race. These races can be watched by other users. There are also clans that users can attend to earn more and to have successful gamer friends in the game. All the transactions of the tokens will be safe and secure on blockchain thanks to smart contracts. In order to attend those races, users need to have a NFT, representing their car in the game. This NFTs will be limited, and they will be sold in special sales. Besides the races, car tuning, car repair, tire change, paint shops etc. are possible things to use for the cars in the game.
About DaoStarter
DAOStarter is a public token launchpad, serving for crypto investors & projects.
SOURCE
https://medium.com/@DAOStarter/raceearth-whitelist-for-daostarter-public-sale-is-now-open-28ce9416f821