Swash Launches Swash ADS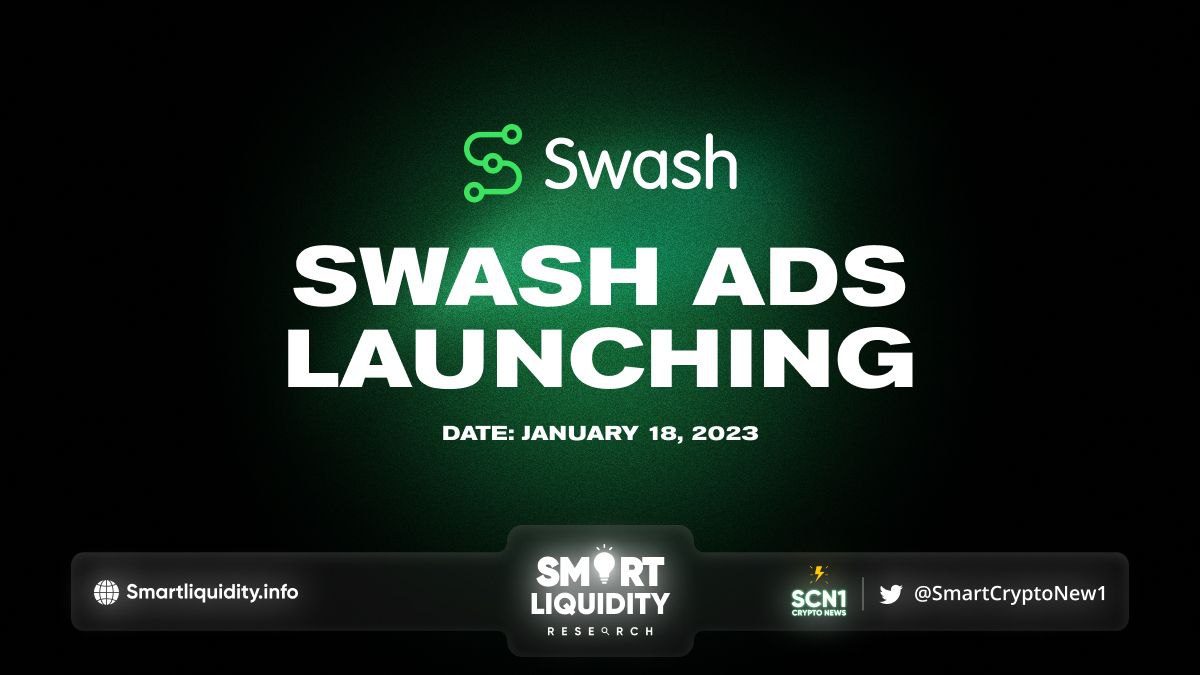 Swash launches Swash ADS. sApps — one of Swash's First Wave Solutions is now launching with the release of Swash Ads (sAds) in January 2023.
Swash enters the world of digital advertising with the launch of sAds, the first of many Earn More opportunities for internet users looking to amplify their passive earnings while setting new standards for advertising.
As part of a groundbreaking development in the Swash ecosystem, Swash is excited to announce that Swash Ads (sAds) will launch on January 18 2023 for all verified Swash Data Union members!
sAds is the first of the Earn More features within the Swash app. Earn More will be a one-stop shop for new ways to maximize your earnings within the Swash ecosystem and the broader Web 3 passive income space.
Soon after the release of sAds, you'll be able to opt-in to complete surveys, watch videos, take quizzes, and much more.
The Advertising World
The world of advertising is undergoing a major upgrade, being force to adapt when the inefficiency of existing methods is now crystal clear. Although ad spending in the digital advertising market is at an estimated $616bn, over 763.5 million people currently use ad blockers, leading to an estimated $81bn wasted on ad fraud and bots.
Moreover, advertisers lack viable alternatives to the current model. Consumers are tired of annoying, badly targeted ads. Advertisers include a vast range of businesses that simply want to get in front of their target audience. To do this in a digital space means relying on only a few dominant players, such as Google and other tech giants, with few effective alternatives.
On the other hand, everyday internet users are burdened with annoying ads that are rarely relevant due to the low-quality data used to fuel them. However, when people are given the chance to opt in and are compensated for their attention, such as with Brave, the tables turn.
With over 50 million users at the time of writing, it's clear that people are waking up to the fact that they too deserve value within the digital economy and are willing to act on it.
 Get Swash Ads
While Swash users will receive earnings for their ad attention, advertisers will be able to target a new, hard-to-reach, fully opted-in audience with cookieless zero-party advertising methods.
How to Earn More
On January 18, 2023, verified Swash app users can opt-in to start earning from sAds. Verify yourself by going to the Profile section where you can add your email, and phone number, and share basic information about yourself so Swash can confirm you're not a bot. If you're not yet a member, get the app here.
Benefits for the community
Amplify your earnings as you browse
No need to change your habits, sAds meet you where you are on any browser
NTX offers a fully customizable experience and tab glow-up
Receive ads fuelled by Swash's high-quality data = more relevant ads
The new use case for the Swash token
Advertisers should buy the Swash token to be able to publish their ads, increasing buying power for the token and rewards for Swash's users
Furthermore, the launch of sAds marks the first of the sApps solutions — an opportunity for others to join us in expanding the Swash ecosystem by building on Swash's tech stack. Propelling Swash into the world of digital advertising, sAds opens up Swash's B2B offering while providing another opportunity for Swash's Data Union members to Earn More as they surf.
ABOUT Swash
Swash enables internet users, developers, and businesses to cultivate new realities of data ownership and value creation through new incentivization streams, innovative data monetization mechanisms, and a collaborative development framework, governed by the ethos of Web 3.
RESOURCES