Colony Partnership with DeltaPrime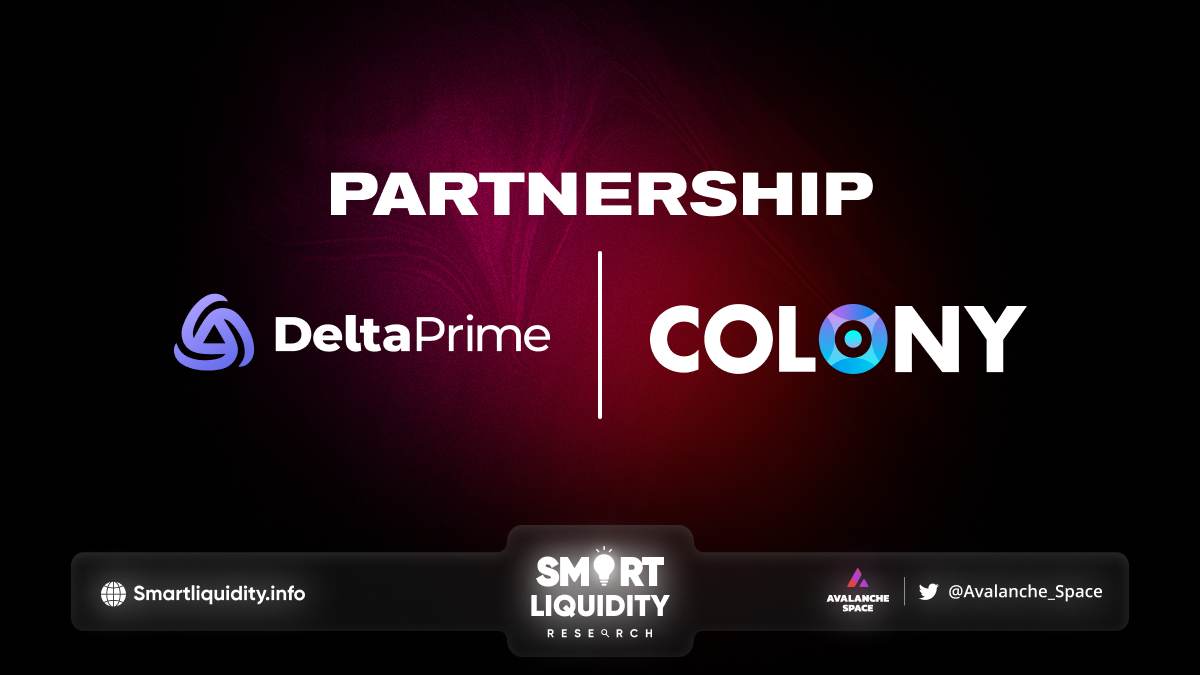 Colony Partnership with DeltaPrime, Bootstrapping liquidity for DeltaPrime's launch & rewarding the first $PRIME to the Colony community.
Depositing
DeltaPrime is Avalanche's first trustless, undercollateralized borrowing platform, as well as a significant advance in web3. Like other trustless borrowing systems, you may deposit your assets in liquidity pools and lend them to borrowers. DeltaPrime members not required to deposit extra collateral. This maximizes capital efficiency for both depositors and borrowers.
The APY on depositing is dependent on how much of a pool is being used. $100K in the pool, with $80K borrowed has a higher interest rate than $100K in the pool with $40K borrowed.
The challenge
DeltaPrime's flexible interest rate is a powerful tool for managing the utilization of the pool over the long term. However, at launch, it can also present a unique challenge. Let's look at an example:
Investor A deposits the first $50K. With no borrowers, the interest rate stays at 0%. Investor B comes in and borrows $45K, and suddenly the interest rate jumps to 63%. Investor C deposits $30K, and the rate drops down again to 3%. As you can see, without sufficient liquidity in the pools, each interaction with the pool can hugely impact the interest rate. This makes it difficult for all parties to accurately predict returns and effectively manage risk.
This is why it's so important to have a good amount of liquidity in the pool right from the start, on January 10th. This will assist stabilize the interest rate. What they need is a fren that has enough liquidity to stabilize the rate, and who is willing to provide this for a longer period of time, supporting a successful DeltaPrime launch.
Colony is connecting with the appropriate people to provide value throughout the chain. Colony Partnership with DeltaPrime after meaningful discussions. DeltaPrime's launch liquidity will come from Colony. DeltaPrime will provide Colony $PRIME tokens as a bonus APR. Investors that stake $CLY will get these tokens as $PRIME.
For Prime account holders this partnership means that there will be borrowable liquidity in the pool, straight from launch; stabilizing interest rates for every user.
What changes
Prime account holders can borrow and invest in larger quantities immediately at launch
Interest rates will be stabilized, even for some of the larger pool actions
$CLY stakers receive bonus $PRIME, for making this partnership possible
The first $PRIME ends up in the community's hands, exactly where it needs to be
DeltaPrime and Colony are currently exploring the possibility of safely integrating this token into the DeltaPrime ecosystem in a way that the asset would hold borrowing power.
About DeltaPrime
Providing secure undercollateralized loans, redistributing assets with a focus on maximum capital efficiency. Being built on the strong foundation of the Avalanche network, Prime users are ensured of fast and reliable transactions for their most important investments.
About Colony
Colony deploys capital within Avalanche on early stages projects, provides liquidity to DeFi protocols, validates networks through stacking capabilities and will maintain an Index on top Avalanche projects
SOURCE: https://medium.com/@Delta_Prime/colony-deltaprime-5a5f0840ccae