DeltaPrime Launch New Barrowing System on Avalanche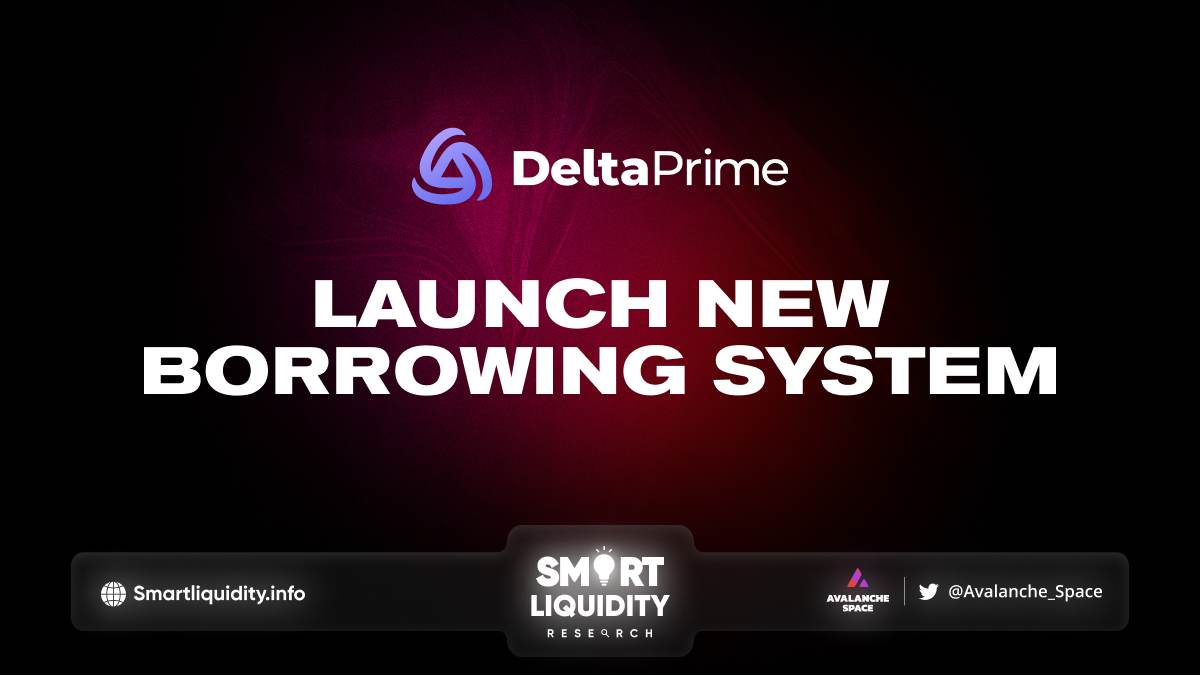 DeltaPrime Launch New Barrowing System on Avalanche allowing trader borrow more than their deposited collateral.
Introducing "The Prime Account," a brand-new approach to managing decentralized borrowing and portfolio management, DeltaPrime Launch New Barrowing System on Avalanche. This innovative DeFi primitive unlocks increased efficiency of assets, new DeFi strategies for traders, and simplified portfolio management throughout the Avalanche ecosystem.
What is the Prime Account?
The Prime Account is similar to a decentralized, on-chain prime brokerage. Prime brokerages are typically reserved for only elite hedge funds. DeltaPrime's Prime Account is open to all with just a Web3 wallet, like Core.
The Prime Account's main function is to make it simple for traders to borrow AVAX and USDC at a value greater than their deposited collateral. The majority of borrowing dApps available now are unable to provide traders this experience.
Because the Prime Account holds all the funds, borrowed capital can safely and seamlessly be liquidated on losing trades.
Increasing productivity of assets
DeltaPrime's mission is to "unlock trapped liquidity". Overcollateralized borrowing systems have fulfilled a crucial role in bringing early success to the broader DeFi ecosystem. However, one major hurdle of this design is lower capital efficiency. Even without liquidity, traders deposit more than they borrow to secure it.
The Prime Account's security depends on its capacity to liquidate borrowed and deposited cash concurrently. Through the borrower's collateral, the Account returns value to the chain. Reducing borrowing/depositing margins improves capital efficiency in the borrowing market. DeltaPrime anticipates their invention to deepen pool liquidity on integrated DEXs and minimize slippage across those DEXs, making the ecosystem more efficient.
Start Your Borrowing Journey:
 1: Navigate to: https://app.deltaprime.io/#/prime-account
 2: Find a token you want to deposit as collateral
 3: Deposit the token as collateral by pressing the + button
4: Click "Deposit Collateral"
5: Input your desired amount and click "add funds"
6: Approve the signature, and two transactions popping up in your wallet
About DeltaPrime
Providing secure undercollateralized loans, redistributing assets with a focus on maximum capital efficiency. Being built on the strong foundation of the Avalanche network, Prime users are ensured of fast and reliable transactions for their most important investments.
About Avalanche
Avalanche network is the blockchain industry's quickest smart contracts platform digital asset. Avalanche is blazingly fast, low cost, echo-friendly Any smart contract-enabled application can outperform its competition by deploying on Avalanche.
SOURCE: https://medium.com/@Delta_Prime/deltaprime-launches-a-new-native-undercollateralized-borrowing-protocol-on-avalanche-4c0a8d8937fb