Exactly Protocol raises $2M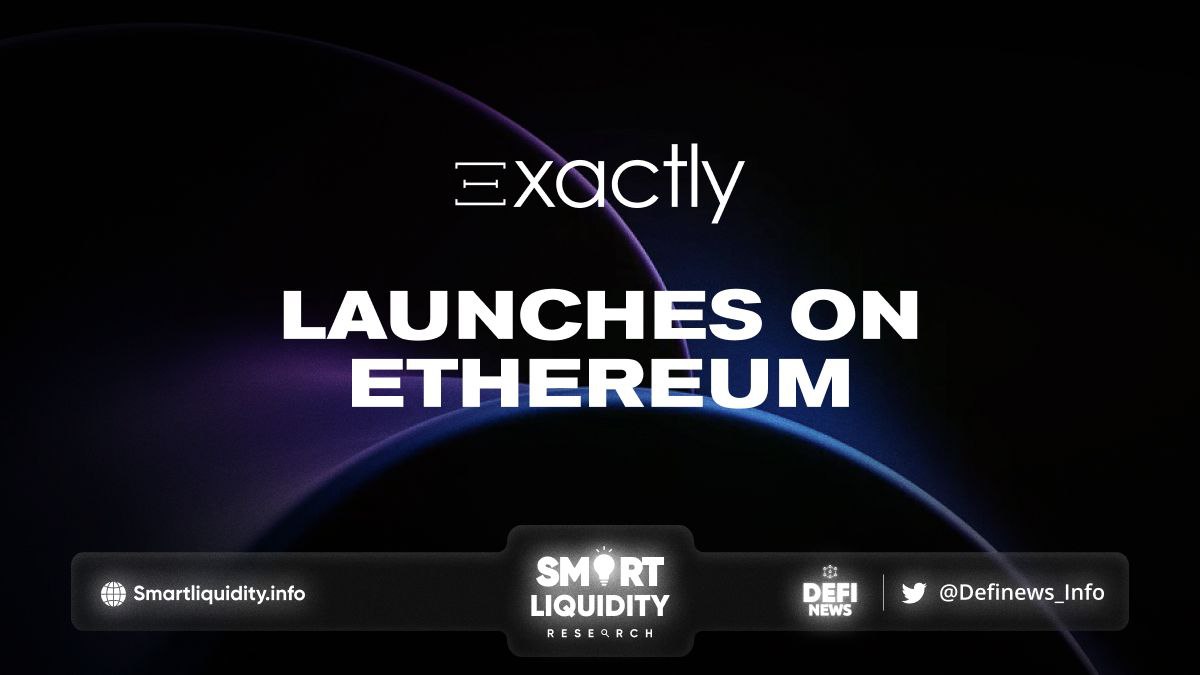 Exactly Protocol raises $2M in funding and launches on Ethereum Mainnet with fixed and variable interest rates to complete the DeFi credit market.
Exactly Protocol is thrilled to announce its official launch on the Ethereum Mainnet, marking a significant milestone for the protocol. The team is proud to report that it has raised $5 million since its founding last year. Its latest funding round brought in an additional $2 million.
Leading this fundraising round were Web3 pioneers such as Kain Warwick, founder of Synthetix, Daedalus, a web3 angel collective, and Esteban Ordano, co-founder of Decentraland. Other investors included Bodhi Ventures, Newtopia, NXTP Ventures, and Kaszek Ventures.
"The launch of Exactly Protocol on the Ethereum Mainnet is a major achievement for the project and the DeFi community. With our unique offering and talented team, we are well-positioned to significantly impact the DeFi ecosystem. Thanks to the support of our new strategic investors and the funds raised in this round, we can continue building a world-class team and making progress as a top DeFi protocol."—Gabriel Gruber, Founder of Exactly
Exactly: a game-changer protocol in DeFi
Exactly Protocol is poised to revolutionize the DeFi credit market with its innovative fixed-income approach. Traditional finance has long offered the ability to make fixed-rate deposits or loans for a set period. Exactly Protocol aims to bring this crucial feature to the DeFi ecosystem.
In addition, its team has developed an open-source, non-custodial DeFi protocol.  Offers both variable and fixed interest rates for lenders and borrowers. It fills a crucial gap in the market. Exactly Protocol is positioning itself as a game-changer in the DeFi credit market by providing a new level of stability and predictability.
Connecting DeFi to the Global Credit Market
Exactly Protocol has made significant strides since its launch on the Ethereum Mainnet in November 2022, including a successful funding round and a partnership with Immunefi for a Bug Bounty Program. These developments are helping them prioritize the security of its protocol. They also continue to focus on bringing fixed-income solutions to DeFi.
Furthermore, the long-term vision of the platform is to connect DeFi to the traditional financial world. Bringing the benefits of a liquid and transparent ecosystem to consumers, companies, and investors worldwide. By connecting the global credit market to DeFi, it believes that legacy players can tap into the potential of the new industry.
ABOUT Exactly Protocol
Exactly is a decentralized, non-custodial, and open-source protocol that provides an autonomous fixed and variable interest rate market. It enables users to frictionlessly exchange the time value of their assets and complete the DeFi credit market.
RESOURCES