Metis Reveals KORIS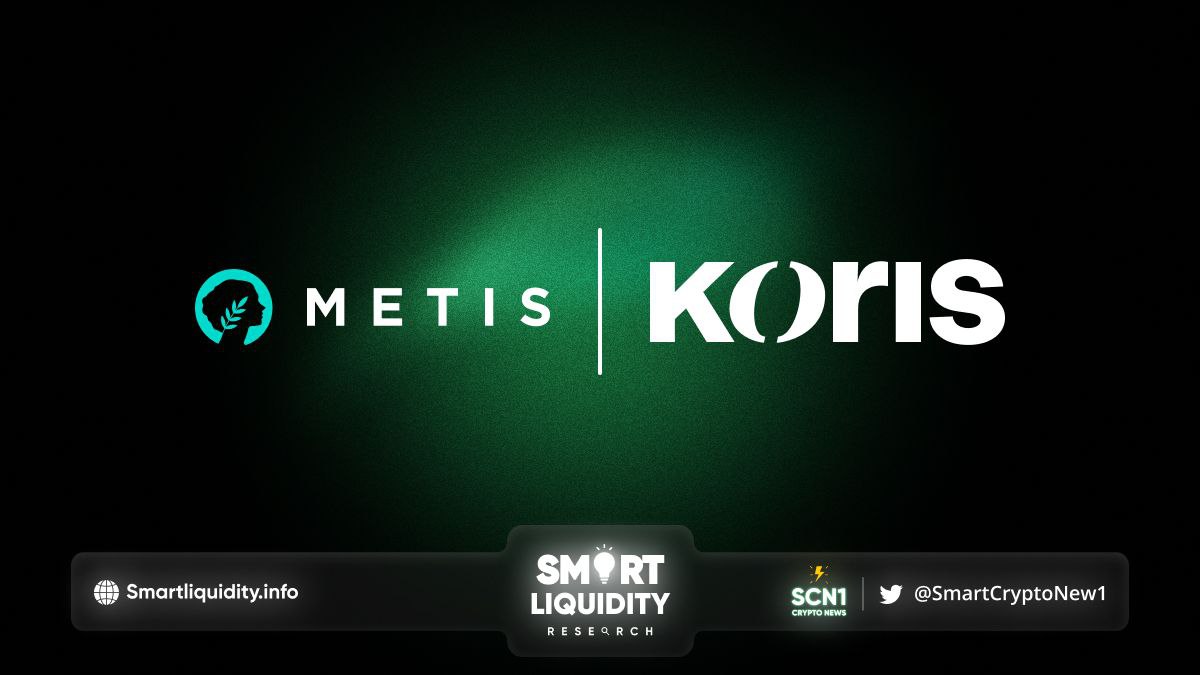 Metis reveals KORIS, the first operating system for DACs. After a long await for DACs on Metis, is pleased to announce the reveal of KORIS, the realization of the Decentralized Autonomous Company (DAC).
KORIS is the only end-to-end operational system for DACs, an evolution of the DAO tailored to meet the unique needs of businesses by using smart contracts for company operations. MetisDAO Foundation incubates the KORIS project.
New models are shifting how decentralized companies operate and manage communities. As such the shift from the DAO to the DAC. While the treasuries of the global decentralized industry surged to $16 billion. There has yet to be an efficient way for decentralized companies to manage the day-to-day operations of the workforce.
The DAC evolves the shortcomings of a DAO to create a more useful infrastructure for decentralized entities. Metis considers the shift to the company model. Incubated by MetisDAO Foundation, KORIS is the first and only platform created to meet the unique needs of decentralized companies. That now represents a workforce of close to two million.
"KORIS provides critical technology that opens the door for the future of business and organizations to innovate using the benefits of smart contracts. We are focused on capitalizing this platform to encourage and foster the onboarding of next-generation businesses to bring productive value to the entire ecosystem."—Pavel Sinelnikov, KORIS Co-Founder and CEO
Current DAO platforms have specialized tools focused on collective decision-making and operation. KORIS provides the infrastructure for Decentralized Autonomous Companies (DACs) with a suite of tools focused on the efficiency of business operations such as task management, community management, and payment management to match the needs of customers looking to launch and grow web3 businesses.
With KORIS, web3 companies have access to the following features:
Treasury Management with Gnosis Safe infrastructure
BLS Wallet Integration for gasless transactions
Discord Integration to easily onboarded communities
Task Management to help create, modify, and assign tasks to different individuals
Payment Management to facilitate payments for the completion of tasks
Governance Tools to manage internal organizational decision making
"With recent outcomes of traditional work models, there is definitely a growing demand for more decentralized organizations with increased management transparency and efficiency. These infrastructures and management models are reflected within a DAC, and KORIS works as a platform to help businesses excel in a web3 space," —Chelsea Kubo, Co-Founder and COO of KORIS.
KORIS is building for Web3 Founders and core members, contributors, and job seekers, as well as Web2 companies looking to build Web3 communities and companies.
ABOUT KORIS
KORIS is a platform that enables the creation of Decentralized Autonomous Companies (DACs). A DAC is an infrastructure that assists in the management and operation of blockchain-based businesses.
RESOURCES