NeXTRADE Joined Forces with Morpheus Network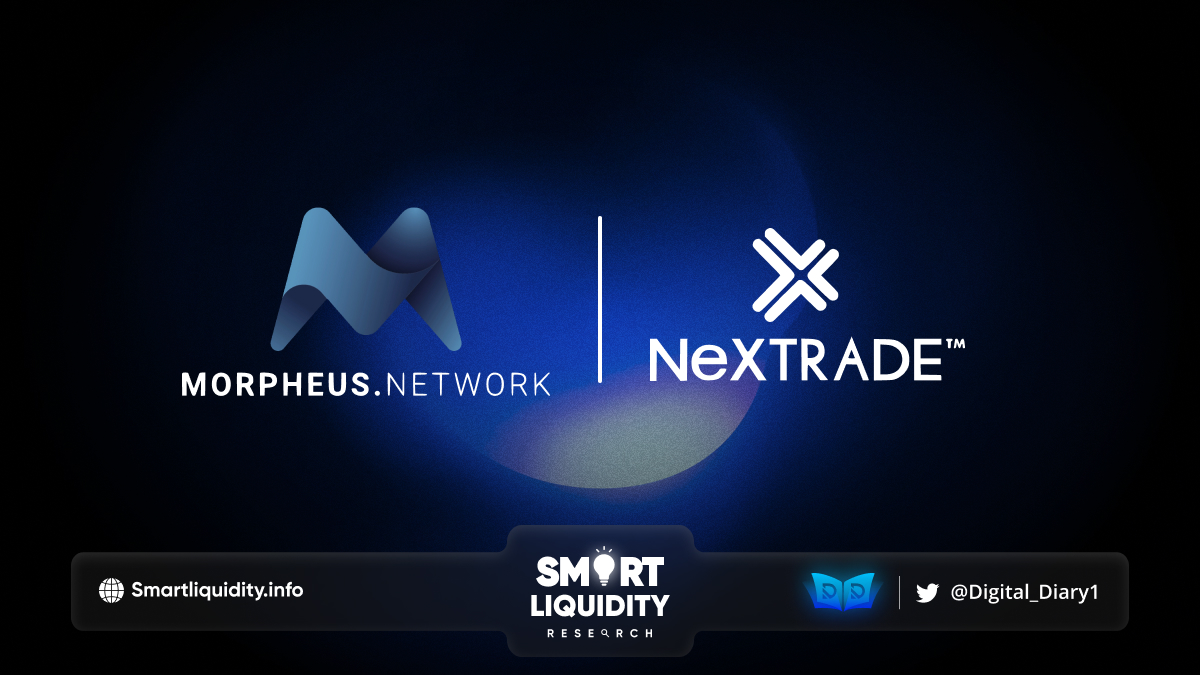 Morpheus Network has announced a powerful partnership and joint effort with NeXTRADE to establish more secure and efficient global supply chains leveraging recognized international standards through digitalization of international trade, enabling transparency, track & trace, accessibility by smaller traders and economies in transition, trust, and interoperability.
Together they will work on developing a blockchain–based system that allows companies to improve how they do business. This is an exciting collaboration and has implications for improving the way they do business in an increasingly global marketplace, not to mention the system is expected to make international trade more seamless and reduce the amount of paperwork involved in customs operations and cargo inspections.
How?
Morpheus.Network is a supply chain automation platform leveraging blockchain technology. It means that companies can work with their partners, suppliers, and customers in a safe and secure way to automate their supply chains — even if those partners are halfway across the world.
The partnership of Morpheus.Network's leveraging, NeXTRADE' s 20+ years expertise in leading development of international trade facilitation standards will be able to build more secure and efficient and transformed supply chain that will allow companies to continue doing business and optimize their supply chains without the risks of 'lock-in'.
Quote from Morpheus.Network CEO Dan Weinberger
"We are incredibly excited about this partnership and what we look forward to in the future. I originally met Ian Watt at a United Nations conference in China back in 2018. Since then we've both been growing our own companies with Morpheus.Network focusing specifically on our supply chain automation platform while Ian has been hard at work contributing to UNECE led development of global standards for digitalization of supply chains through his position as Bureau Vice Chair with UN/CEFACT. Appropriate application of international standards will enable an ADB estimated 400–435 million SMEs to participate in an optimized, digitalized global trade market, whilst addressing the current USD1.7t unmet trade finance demand. We are very excited about this collaboration between Morpheus.Network and NeXTRADE.
Quote from NeXTRADE CEO Ian Watt
"We are thrilled to partner with Morpheus.Network who have harnessed advanced technologies, with NeXTRADE bringing forward relevant international standards, with recognised prior Proof of Concept pilots, that will enable transformation from paper/document 'data-push' driven supply chains to Web3 enabled 'data-pull' and full track and also trace capability.
About NeXTRADE?
NeXTRADE is an easy-to-use, paperless international standards based cross-border trade SaaS product that enables all traders including small and medium enterprises (SMEs) to dynamically engage in global supply chains without the costs of traditional trading partner integration. Micro, small and also medium enterprises can now benefit from lower trade finance costs, faster settlement times, including supply chain visibility supporting better inventory management.
NeXTRADE Mission
NeXTRADE strives to create a global trading collaboration platform designed around recognized standards for digitizing cross-border international supply chains. This would help physical goods traders and related service providers worldwide manage international trade in things like freight forwarding, logistics, trade financing, and even insurance — from negotiating with local governments such as customs up to gaining access to industry professionals who can consult them on best practices. The information exchanged between these parties will also be available for reuse for various other purposes involving different aspects of trading via NeXTRADE's online portal or mobile app.
Website | Twitter
About Morpheus Network
Morpheus Network is intensely focused on helping companies and Government organizations remove barriers to digitize, optimize and also automate their global supply chain operations. They help clients maximize revenue through digitization and process automation, protecting sensitive data. And untangling complex issues with the legacy supply chain system while delivering effective, equitable, and efficient global trade solutions.
SOURCE: MEDIUM