Susumi Upcoming IDO on Tsunami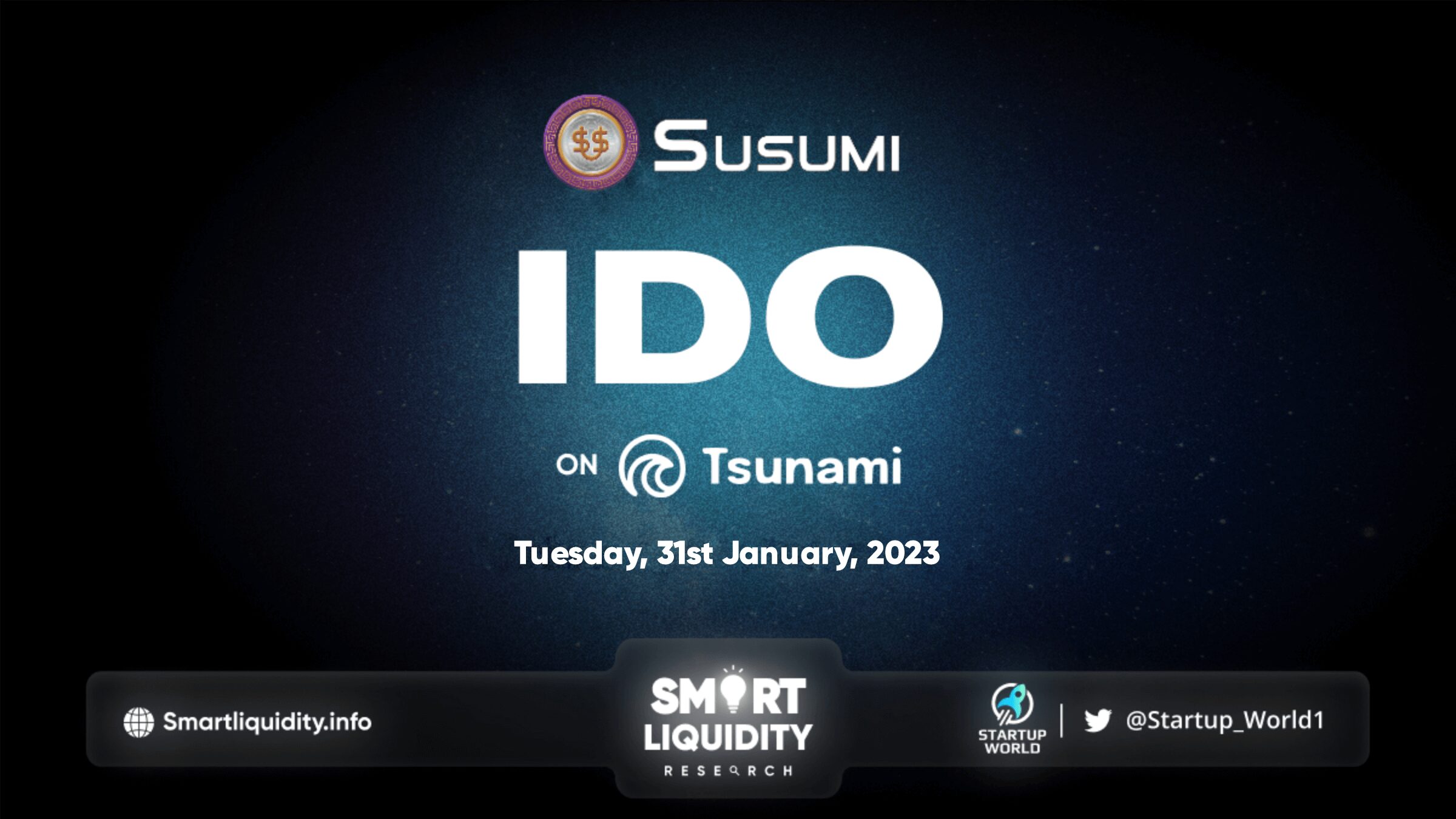 Susumi will launch its upcoming IDO on Tsunami, A decentralized multi-chain fundraising platform for a new launchpad era!
Continuing with the recent string of great and potential collaborations, Tsunami is pleased to announce that they and Susumi Project have forged an official partnership.
They prepare this article to bring insights into Susumi Project and provide some important information about its IDO on Tsunami Launchpad platform.
What is Susumicoin?
The story behind this name is from Nigerian culture. In Nigerian speak, 'Susumi' literally means "My Susu". They translate this as: 'My wealth-creating group'
Derived from this history, Susumi has a clear and long-term vision and mission for the community. Susumi will unlock redundant capital from local groups, communities and the global diaspora and channel this capital towards a socio-economic transformation of any underdeveloped community. On the road to following their Vision, Susumic sets the mission of transforming the lives of individuals by using Cooperative Finance based on the centuries-old Susu system, helping their users raise funds easily and transparently using blockchain technology, working with community groups to facilitate rapid infrastructure investment for development.
2. The Susumi Platform
Its primary purpose is to deliver unique decentralized systems for individual and corporate fundraising.
The Susumi App enables anybody to raise funds in stable coins from donors using the Susu Fund. All donors are rewarded with SUSU Coins. A Susu Fund is a donations-only personal crowdfunding smart contract where subscribers contribute money for the benefit of the owner/creator of the fund. It is a decentralized blockchain variant of the traditional Susu Finance model practiced extensively in Africa, the Caribbean, and parts of Asia.
Susu is a win-win-win for the Donor, the Beneficiary, and the Community.
3. About the Susumi Funds
Susumi Funds bring a lot of benefits to its investors and community. A Susu fund is a great way to raise money for personal projects. It can also be used to raise money for charity, business, and for community development projects. Its unique feature is that it rewards donors with cryptocurrency Tokens that can be used or stored and retain value. The innovative Token design enables the Susumi Coin to retain its value regardless of speculation in the Cryptocurrency markets. The Reward coins to Donors is a great incentive to Donors which helps make more funding campaigns to succeed and faster on Susumi.
4. Susumi Coin/Token
This is one of the most important insights about Susumi Project that users are interested in.
Network: BSC
Token Symbol: SUSU
Total Supply: 100,000,000,000–95% of Maximum Supply is reserved in the Smart Contract. There can be no rug pull with the Susumi Coin.
IDO Vesting Schedule: 50% TGE + 10 months Linear Vesting
The Utility of Susumi Coin:
The Susumi Coin is used to create a Susu Fund on the Susumi App.
A Susu Fund has a fixed number of Donors who can donate a fixed amount of BUSD each to a fund.
When the Fund matures the donated funds are released to the Wallet of the Fund Creator. The Donor receives reward Susumi coins which enable them to create a new Susu Fund for themselves.
5. Susumi Partners
Susumi has established an official and firm partnerships with many good counterparts. Currently, there are Bibox, Onramper, Blockspaces, Acuant, and SF working with Susumi Project. We believe that with these partnerships, We all believe that AIIA can move forward to bring value to the Community.
In conclusion, Susumi is a very potential Defi platform that brings value to the community. Its IDO is about to take place, and $SUSU token will be available in the market in the near future. Everyone is looking forward to these appearances. For the details, let's visit all the materials below. And let's support Susumi Project by joining the upcoming IDO on the Tsunami Launchpad platform. The announcement will be public soon.
About Susumi
Susumi is a platform for a suite of blockchain-based finance applications designed to build wealth in communities.
About Tsunami
Tsunami is a decentralized multi-chain fundraising platform for a new launchpad era.
SOURCE
https://medium.com/@tsunami.fund/new-partnership-tsunami-susumi-e1f9a1a10728