Tier Upgrade Update for AmuNation App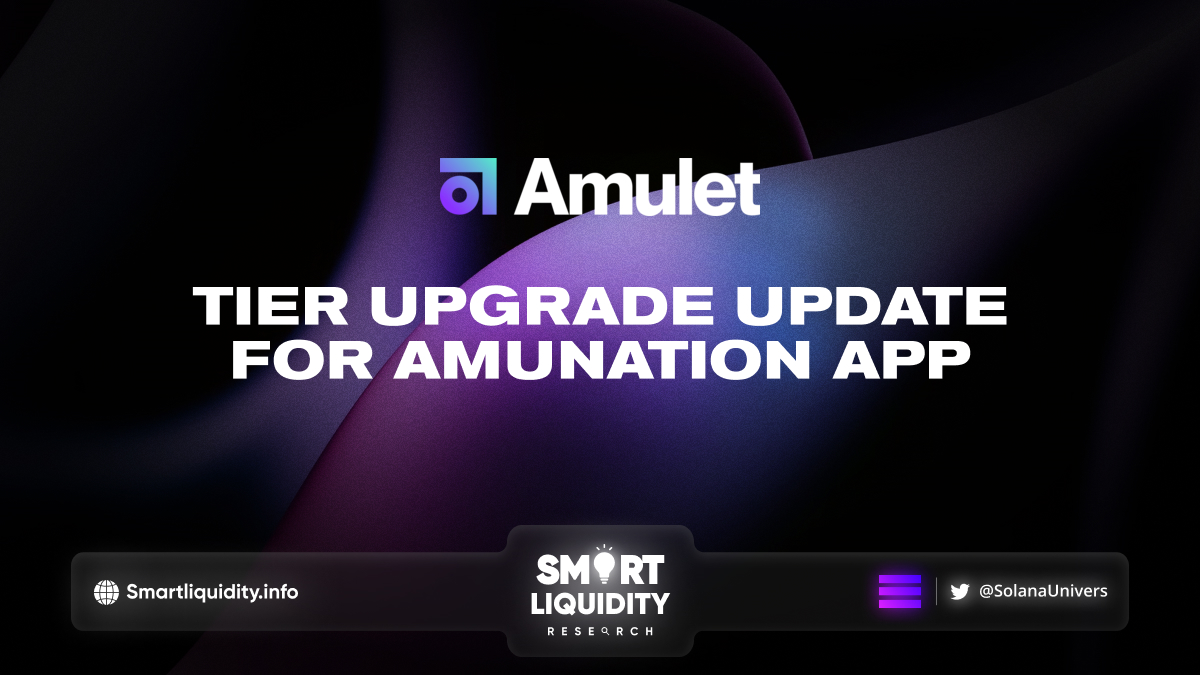 Amulet, a DeFi cover protocol built on Rust-based ecosystems starting with Solana, announced the Amunation App:  Tier Upgrade Update.
Amulet upgraded the AmuNation app to make it easier for users to earn their MetaBear NFT.
Introduction
The AmuNation app was released in August 2022 as a loyalty program for the Amulet Protocol community. This campaign's success has beyond their expectations, and they are happy with how its users have embraced this gamified daily activity program.
Amazing Statistics
There are 157,812 registered users.
User Referral Rate: 28.71
1,339,541 total tasks completed
66,753 jackpot rewards have been earned.
Total number of MetaBear NFTs unlocked: 9,592.
These are incredible figures! Over 157k+ people completing 1.3m+ tasks demonstrate the kind of success their loyalty program has already produced, which they hope will continue. Unsurprisingly, Phantom Wallet sign-ups have been the most prevalent since its introduction on Solana!
With momentum on their side, they've been working relentlessly behind the scenes to improve the AmuNation experience for all members. AmuNation levels, easily acquire as a consequence of a huge community working diligently every day, and in prior circumstances, this has resulted in the automatic trigger of increasing the number of points required to obtain various statuses.
As a result, they have decided not to raise the levels and to return to the prior figures.
They have community members that have worked persistently for a long time to promote their web3 cover protocol to the world. Their Hard effort should acknowledge as a team and implement modification to benefit all of their regular AmuNation users. Keeping their most loyal users enthused and increasing their chances of participating in our upcoming MetaBear NFT airdrop.
MetaBear NFTs
MetaBears now have a functional utility, and lucky early HODLers. Already reaping the advantages of having premium discounts applied immediately to their MainNet cover purchases.
Their NFTs are valuable and adorable, and they feel that individuals who are contributing to their success should prioritize in their MetaBear distribution.
The following AmuNation tiers and levels, upgraded on January 26th, 2023:
AmuNation Starter – 500
1,500 AmuNation Students
3,000 AmuNation Expert
10,000 AmuNation Master
36,000 AmuNation Mythical
They believe that this will provide extra motivation for its users to continue contributing on a regular basis. As well as encourage referrals because earning NFTs will  be easier and faster for your friends and coworkers. This is a fantastic opportunity for you and your network to build your own MetaBear army!
About Amulet
Amulet, a decentralized cover protocol built for the Rust-based ecosystem, starting with the Solana blockchain. Amulet, designed an innovative and open cover model, which not only effectively addresses the common challenges of existing decentralized cover protocols, but also creates a new paradigm shift for the whole cover offering sector.
SOURCE
https://amulet.org/blog/amunation-app-tier-upgrade-update/