SAKABA Cooperation with Sheep Farm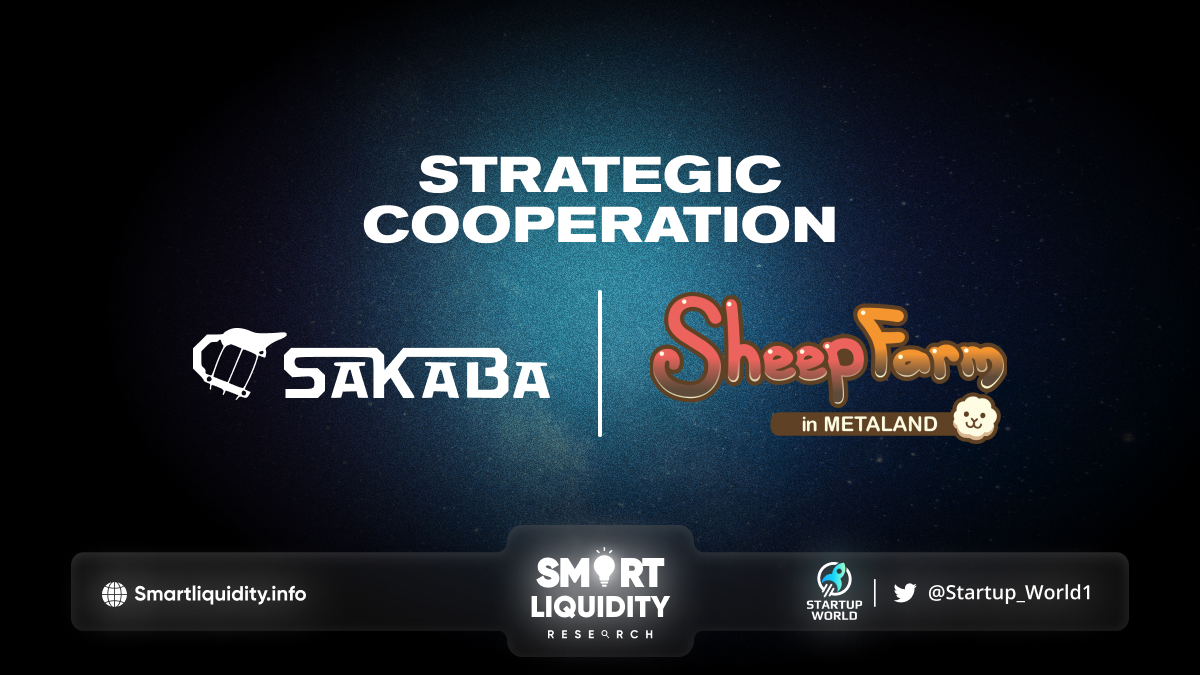 SAKABA has announced its strategic cooperation with Sheep Farm, a blockchain game that has different types of NFTs in the form of sheep.
Project Overview
Welcome to the Sheepfarm in Meta-land!
Sheepfarm is a P2E virtual world in which you can purchase pastures, collect and raise various breeds of sheep, and earn tokens by selling the wool they produce.
Story
Sugarland appeared to be the sweetest place on the face of the planet where shepherds lived blissfully with their sheep. It wasn't long before word got out that Sugarland was the happiest place in the world, and more and more people began to migrate there.
Rapid population expansion resulted in a shortage of pastures for sheep, and problems began to emerge in formerly tranquil settlements.
Wise wizards and rulers worked tirelessly to discover a solution to this problem. After a long period of research, the wizards were able to create a virtual environment, especially for sheep. It was named Meta-land.
Farmers who journeyed to Meta-land with their sheep soon discovered that the weather was nicer, the food was sweeter, and their sheep were happier than ever before! But Meta-land's tale is just beginning to unfold. As wizards continue to work on creating the sweetest environment for sheep, more and more locations will become available.
Start a sheep farm in Meta-land to create a story of your own!
Partners
Nooslab
Nooslab developed the social app game called Sheepfarm in Sugarland which gained widespread popularity in Korea due to its adorable sheep with a variety of appearances, as well as its mouthwatering in-game commodities made from various types of sweets, such as snacks, candy, and chocolate. They now provides Nightingale Interactive with the IP associated with Sheepfarm.
Uprise
Uprise provides a crypto robo-advisor service called HEYBIT to make cryptocurrency investment easier, safer, and more affordable for everyone. Heybit seeks to generate alpha (active return) by beating the market return. Uprise will support Sheepfarm by providing its crypto-business expertise as well as team members with extensive knowledge of the industry.
Ozys
Ozys is responsible for the operation of the AMM protocol KLAYswap in the Klaytn network. KLAYswap has the highest TVL and transaction volume of any DeFi service on the Klaytn network. Our goal is to increase the number of new users by promoting our project to the KLAYswap community via Drops.
Aurora
Aurora is a leading global company that develops character designs, commercializes them, and distributes them to over 80 countries around the world. They're also leveraging established characters to boost its character licensing/merchandising business. In addition, the company will create NFTs that will be used in Sheepfarm as real-life figurines with high collectible value.
Pragma
Pragma ventures is a global investment firm specializing in early-stage blockchain startups with a diversified crypto portfolio that includes Primex, Portal, Infinity, Waggle, and more.
Sky Vision Capital
SVC has its focus on P2E games and fosters innovation through technological leadership and assists potential game developers in converting to P2E multichain game projects. They are an established investor in multiplayer online gaming projects such as League of Kingdoms Arena, Forest Knight, and Nine Chronicles.
Nolatency
Nolatency is a P2E game development company known for "Drawshop Kingdom Reverse" that is backed by angel investors Hyunsung Shin, the founder of the public blockchain protocol Terra, and Siwon Lee, the founder of Siwon School.
About Sheep Farm
SheepFarm in Meta-land is a web3 game project where you can buy virtual pastures, raise your own sheep, and earn rewards from producing sheep wool.
Players must interact with the sheep to keep the farm running. Feeding sheep and selling wool are the key features of running a farm. Petting and washing a player's sheep on a regular basis will be necessary to obtain different items.
About SAKABA (酒場)
Sakaba (酒場) is a next-gen interconnected blockchain gaming hub which sets a new standard of gaming via their cross-game DID, launchpad and game player discovery system.
SOURCE
https://medium.com/sakaba-xyz/partnership-with-sheep-farm-1ac48f1345ed