Kana Labs Cross Chain Solutions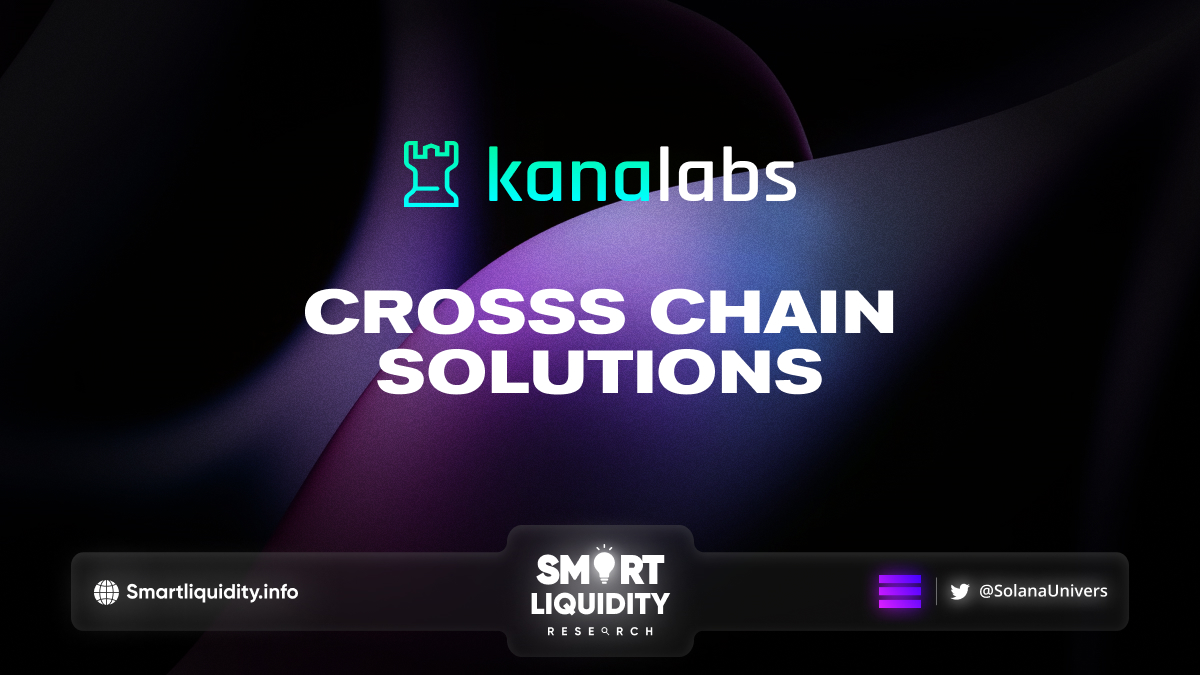 Kana Labs

 is a friendly super-app for DeFi. Building the future of web3 has announced Cross Chain Solutions.
Kana Labs  Cross Chain Solutions, built using both proprietary tech and integrations with multiple bridges. Make Cross-Chain transactions with faster speed and lower costs powered by a layer of bridge networking together with a proprietary smart routing algorithm.
Cross Chain
Kana Labs' Cross-Chain solution is based on unique technology as well as interfaces with different bridges. They are collaborating with numerous protocols for third-party bridge solutions, including Wormhole, LayerZero, Axelar, the Celer network, and other proprietary bridges established by some of the blockchain networks themselves.
The layer of aggregated bridges is integrated into their UI alongside proprietary Kana technology to facilitate a true on-chain cross-chain transaction environment across various DeFi and DEX platforms from different blockchain ecosystems. As a result, we are one of the few service providers in the present blockchain industry that offers full on-chain DeFi operations.
On top of this layer of networked bridges, they have managed to integrate multiple non-EVMs such as Aptos&Solana as well as EVMs such as Neon&Polygon with the intention of continuing to integrate more bridges into the underlying core layer of bridges as well as multiple networks on top of this layer to provide a true networked and multi-chain/cross-chain environment for both retail users and dapps to build on.
The Disadvantages in Existing Cross-chain Solutions
Users must either manually exchange assets across different DeFi and DEX dApps or utilize cross-chain supported dApps that provide swap services to move assets between several blockchains. This results in a broker UX, making it even more difficult for novice users in the web3 ecosystem to become accustomed to many transactions, signs, confirmations, and a broad range of various UX across multiple dapps and networks.
There has been an exponential increase in the number of blockchain networks over the last couple of years, and it currently stands at 45+, with this number expected to rise in the coming years. As a result, web3 must learn to live in this multi-chain world and strive to make the experience across these chains as seamless and intuitive as possible if it is to onboard the next billion users.
A few protocols have attempted to address this issue by constructing numerous copies of their platform over many networks, however this approach is not scalable and just contributes to the dispersion of liquidity and users across multiple blockchain networks.
Other protocols have attempted to address this issue by building cross-chain products across multiple blockchains using bridges such as LayerZero/Wormhole, but this results in a centralized cross-chain functionality that is highly dependent on specific bridges, resulting in higher transaction costs and inefficient, time-consuming transactions.
What's special about Kana Labs Tech?
Kana Labs is preparing for a multi-chain/cross-chain world that will give a highly frictionless experience for new and existing Web3 users, as well as a platform for dapps to gain extra liquidity regardless of the network on which they are built. These dapps would also be able to tap into consumers from many networks and grow over numerous chains without the need to grasp and comprehend intricate blockchain technology and development.
This is made feasible by their layer of networked bridges, which combines several bridges such as LayerZero, Wormhole, Celer, Axelar, and others, and serves as the foundation of our platform. This, in conjunction with their smart routing technology and a complementary suite of cross-chain products such as swap, lends, borrow, yield-farming, and a multi-chain wallet, would provide users with a seamless UX that abstracts away the complexity of dealing with multiple networks, transaction costs, delays, and broken UX across different dapps. Other dapps would be able to simply build on top of this aggregated bridging layer using our SDK, allowing them to grow across various networks and access more liquidity.
Their technology and routing algorithm ensure that the user or dapp receives the optimum pricing/rates/yields across several networks for every cross-chain transaction, maximizing their earning potential.
About Kana Labs
Kana Labs is a wallet-based multi-functional product suite that caters to all key DeFi needs in Solana, Neon and many more ecosystems. Swap, stake, farm, lend, borrow, and more in a single multi-chain wallet-based application.
SOURCE
https://docs.kanalabs.io/products-and-features/cross-chain