Honeyland Upcoming IDO on Dexlab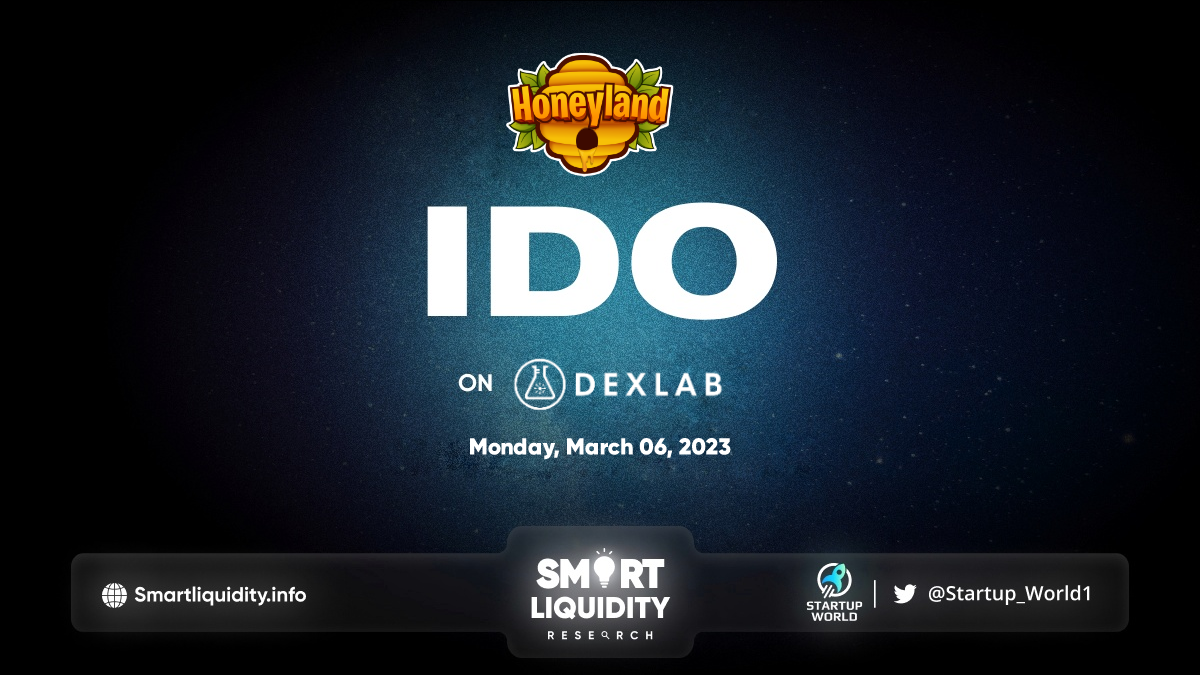 Honeyland will launch its upcoming IDO on Dexlab, an integrated DEX platform that provides a GUI to issue Solana-based tokens without the need to code.
What is Honeyland? 🍯
Honeyland is a fun-first, play-and-own casual strategy mobile game from Hexagon Studios.AAA play and owns a casual-strategy game for Android/iOS with a simple onboarding experience and partnership with Samsung to 500,000 downloads in the next 6 months. Play α version: https://guide.honey.land. Honeyland is a fun-first, play-and-own casual strategy game from Hexagon Studios.
The Honeyland ecosystem of mobile games begins with Honeyland and will be followed by 8 more casual games with solo, PvP, and tournament play in 2023. All are powered by a single deflationary token ($HXD), with Honeyland being the core token-emitting game.
Players of Honeyland build their colony of bees to send them out to harvest Honey ($HXD) or hunt in-game consumable NFTs like power-ups, defensive items, or even playable characters.
They can also risk their own $HXD to attack other players' hives in an intense auto-battler loop.
Their belief is that in order for web3 games to succeed, they need these three things:
1) Insanely fun to play
2) Ownership that creates value
3) Sustainable Economy
Honeyland proudly holds the esteemed Verified By Machinations seal, the gold standard in healthy game economics that verifies we have created a balanced, sustainable, and exploitable economy.
Features?
Economy & Token Utility
Honeyland is completely free-to-play. Players start with 9 bee's that cannot be sold, traded or bred, but can be used to earn $HXD and items in game. They can spend their $HXD in game to upgrade their bees utility or cosmetics in the lab and our marketplace and use it to enter tournaments or play other games in the Honeyverse.
Players that want to transfer some of their $HXD out of the game and onto the blockchain will need to upgrade to their Beemium plan for $30 USDC, all proceeds from that get put directly back into player rewards.
Extracting $HXD out of the game will trigger a withdrawal tax that gets lower the more VIP rewards you earn throughout the course of game-play and by staking your assets.
The full list of VIP activities and rewards can be viewed here at https://honey.land/vip/
Get an inside look at how we are looking at tokenomics for web3 gaming:
https://www.youtube.com/watch?v=MC0-TGcZz8M
They are obsessed with providing utility to $HXD in three fundamental areas of people's lives:
Brings happiness — owning our token brings you happiness by playing the game, improving in the game, and playing and competing in all of the upcoming games and tournaments in the Honeyverse.
Provides utility — Their token is used or redeemed for something that provides you value; In-game tools and functionality, NFTs, or even in real-life utility such as unlocking private events or buying merchandise.

It creates more value — use their token to breed, level up your characters, buy more land, compete in tournaments, or many other ways that can help you earn more tokens, build stronger community relationships, and enhance gameplay.
The Honeyland token has a fixed supply and utility our players love.
If you still have any questions about $HXD tokens, please visit this YouTube playlist of $HXD FAQ, which Corey (CEO of Honeyland) explains one-on-one with videos.
Initial DEX Offering Details
Timeline
Whitelist: 3/6 12:00 UTC — 3/8 12:00 UTC (2 days)
Winner Announcement: 3/9 12:00 UTC
#IDO Sale: 3/10 12:00 UTC — 3/12 12:00 UTC (2 days)
Vesting Schedule: 3/16 25%, 4/16 25%, 5/16 25%, and 6/16 25%
DEX Listing: 3/16 Raydium
Details of Token
Token Name: HONEY
Ticker: $HXD
Pairing: HXD/USDC
IDO Price: $0.035
Total raising on Dexlab: 100,000 USDC
Personal Cap: $50 for lottery pool, guaranteed spot for Honeyland NFT holders.
Initial Circulating Supply Day 1: $125,000 + Liquidity Pool
FDV (Fully Diluted Value) Day 1: $35,000,000
Total Supply: 1,000,000,000 $HXD
Brief Future Event Plan
March 17th: Land Sale (game feature) open for Genesis NFT holders.
March 23rd: $HXD token #airdrop for incubating & alpha.
The #Whitelisting Method on Dexlab
It is well-known to the Dexlab community that Dexlab stakers get a guaranteed spot for the IDO sale. Dexlab staking is affiliated with ProjectSerum by supporting the Serum-based staking pool. However, as we cannot fully convince who is an entity the according to contract now, we decided to hold up the Dexlab staking service from November. If you want to see the full announcement of the staking service closure, please check here.
Since the staking season 1 has ended, Dexlab IDO will be held in a lottery pool + guaranteed spot for Honeyland's Genesis NFT holders. Dexlab will gather the information of Honeyland's NFT holders from the project and guarantee the spot for the whitelist. If you are the one who holds Genesis NFT, please fill out this form to verify yourself.
Step by Step Whitelisting Process
Note that we all check the SNS missions so do not cheat on yourself! Your Twitter account should be a public account.
Honeyland's Twitter mission
Follow Honeyland's Twitter account
QT (quote tweet) the Dexlab's IDO ANN tweet on Honeyland's Twitter
In QT, tag 2 friends
In QT, add #Dexlab #Honeyland $DXL $HXD #IDO #whitelist
Type down your QT URL link on the Dexlab whitelist form
2. Dexlab's Twitter mission
Follow Dexlab's Twitter account.
QT (quote tweet) the Honeyland IDO ANN tweet
In QT, tag 2 friends
In QT, add #Dexlab #Honeyland $DXL $HXD #IDO #whitelist
Type down your QT URL link on the Dexlab whitelist form
3. Honeyland's Discord mission
4. Dexlab's Telegram mission
Enter your Telegram ID with '@.'
5. Comply with the Terms and Conditions set forth by us
The following information will be needed to complete this application
SPL address, Telegram ID, and Public Twitter account
About Honeyland
Honeyland is a mobile-first blockchain strategy game where players assume the role of a Beekeeper to manage their colony of Bees and Lands.
About Dexlab
Dexlab is an integrated DEX platform that provides a GUI to issue Solana-based tokens without the need to code. It leverages the Serum Decentralized Exchange (DEX)'s central order book to support ultra-fast transactions, shared liquidity, and new features for monetization.
SOURCE
https://dexlab-space.medium.com/honeyland-initial-dex-offering-3e315a838607