DEeriX Upcoming IDO Launch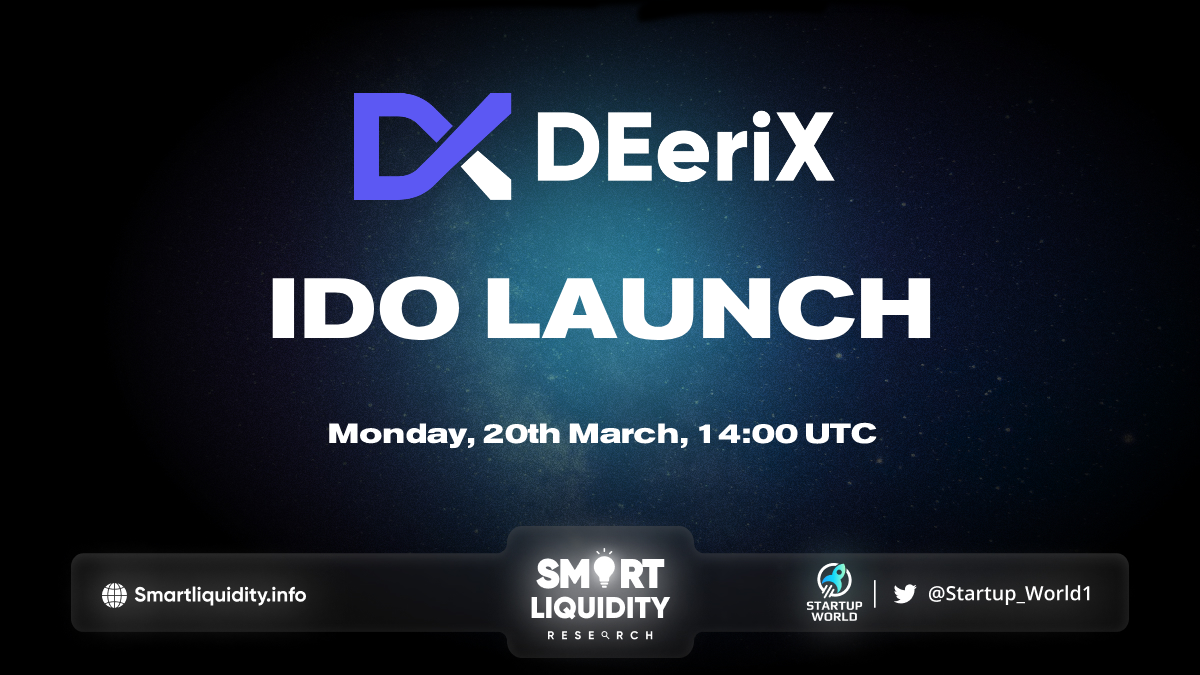 DEeriX will launch its Upcoming IDO (Initial Dex Offering) Launch on its own platform.
Project Overview
Decentralized trading has been gaining momentum in recent years, and for good reason. With the increasing popularity of cryptocurrencies, it's become clear that traditional financial institutions can no longer keep up with the fast-paced world of digital assets.
Despite countless options that offer unique features and functionalities, DEeriX is still standing out as the first Decentralized Perpetual DEX on Core Chain, offering investors, stakers, and liquidity providers an exceptional experience in the Crypto World.
Why DEeriX
Leveraging cutting-edge technology, DEeriX inherits the advantages and overcomes the limitations of traditional DEX with:
Relatively high & stable liquidity
An easy-to-use interface
Transparency
Anonymity
Non-custodial
Multi-layer security protocol
Diverse profit opportunities
Functionalities
One of the reasons why DEXs have lost ground in the eyes of users is their limited functionality, which leaves users with little options for optimizing their digital assets. DEeriX seeks to diversity the user experience from the beginning of the project by several advanced functions such as:
Leveraged Trading
DEeriX provides traders with a complete set of DeFi tools for both spot trading and long/short. In addition to the advantages of cost savings, no slippage, and no funding rate, DEerix provides derivatives with 50x leverage over their collateral by lending from a huge pool of liquidity.
Staking
Holders of $DRX (DEeriX governance's token) and DLP (for Liquidity Provider) may earn a lot of profit by staking on DEeriX's platform. Staking $DRX provides users with three types of rewards over time:
Escrowed DRX (esDRX) — has the same value as $DRX, vested after 1 year.
Multiplier Points — play as an element to boost staking rewards.
Shared fees — 30% of system fees are paid to staked DRX and esDRX.
→ Explore more at https://gitbook.deerix.io/exchange/staking-system
Referral Program
The referral program encourages users to promote DEeriX in exchange for rewards that benefit both the referrer and the referred. Limitless fee discounts and rebates will be distributed once the referral is successfully set up.
→ https://gitbook.deerix.io/exchange/referral-system
Borrowing & Lending (In R&D)
Traders are allowed to increase their position's size by borrowing the assets they need from the liquidity pool and at the same time, encourages others to provide liquidity through lending in exchange for daily incentives.
Real Yield (In R&D)
The feature incentivizes users to join the platform as they can earn revenue-based tangible return on their assets.
$DRX Tokenomics
The $DRX IDO will be kicking off on March 20, 2023 and will be sold in 2 rounds: Whitelist Round and Public Round. Here are the initial details:
$DRX IDO 🚀🚀
Token Symbol: $DRX
Token Address: 0xB8D570D6D830772630b9262094f4Fe00dD3C40e4
IDO Link: https://public-sale.deerix.io/
Total Raise: 50,000 $CORE
IDO Rate: 1 CORE = 84 DRX
Listing Rate: 1 CORE = 80 DRX
Listing On: ArcherSwap
Whitelist Round — $50,000 in $CORE
Participants: Whitelisted.
Method: FCFS
Start Time: 20 March 2023 | 14:00 UTC
End Time: 20 March 2023 | 14:05 UTC
SoftCap: 12,500 CORE
HardCap: 25,000 CORE
Public Round — $50,000 in $CORE
Participants: Everyone.
Method: FCFS
Start Time: 20 March 2023 | 14:05 UTC
End Time: 21 March 2023 | 14:05 UTC
SoftCap: 12,500 CORE
HardCap: 25,000 CORE
⏰ Claim IDO time: 21 March 2023 | 14:40 UTC
LISTING PLAN:
📌 Location: Archerswap
⏰ Time: 22 March 2023 | 14:30 UTC
TAX: BUY 1% — SELL 5%
Registration for IDO — Whitelisted Round:
Join DEeriX Crew3 Contest and gain as much XPs as possible to win rewards and secure your Whitelist spots: https://crew3.xyz/c/deerix/
Upcoming Events
Get ready to experience the innovation of Blockchain technology with DEeriX!
The Testnet and Mainnet of each and every feature will be launched by the end of this March, following the $DRX Listing Event.
Don't miss out on these important events.
About DEeriX
DEeriX is an all-in-one decentralized exchange that has revolutionized the way traders and investors approach the world of crypto.
SOURCE
https://deerix.medium.com/the-journey-to-greatness-deerix-ido-launch-1f85be455bcb