Zombie Outbreak Survival and AlienWorlds Partnership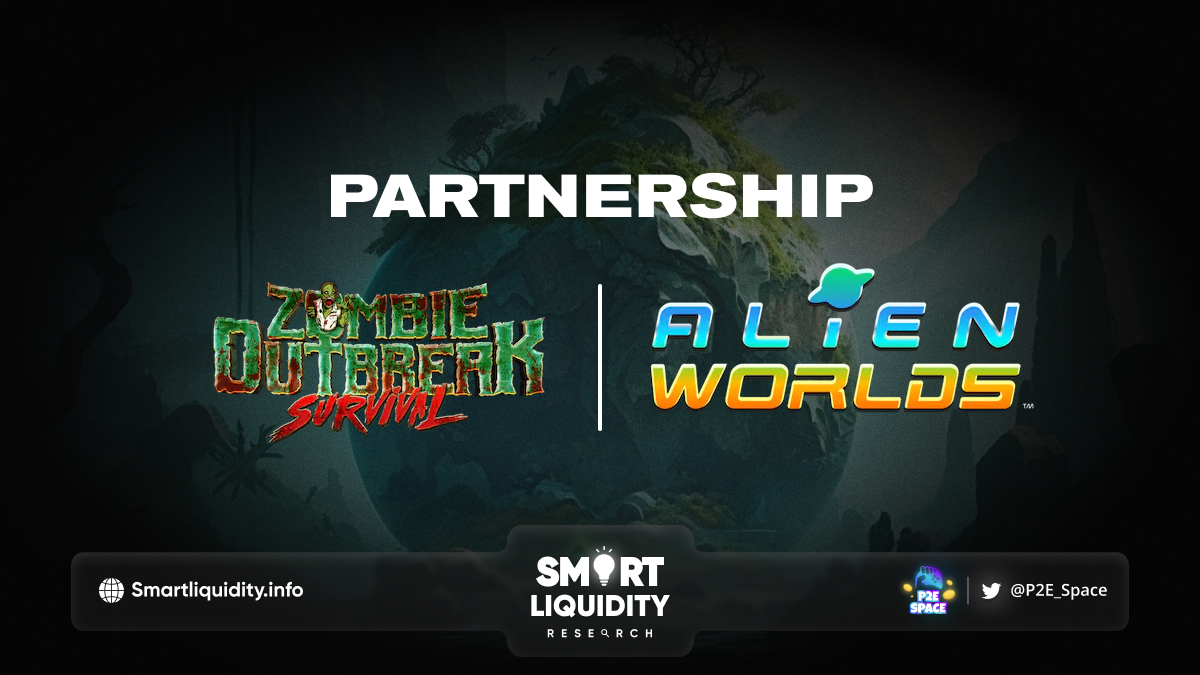 Zombie Outbreak Survival has been accepted into Season 2 of the Galactic Hubs grant program to bring brand new gameplay and utility to AlienWorlds NFTs!
Galactic Standoff is a gameplay development being built within the Alien Worlds metaverse that will allow players to pledge allegiance to decentralized Starbases. Players need to work together to upgrade and defend their StarBase to earn powerups and become the strongest Starbase in the game!
This mass multiplayer PVP strategy game harnesses the power of community, web3 and decentralized organizations to bring heart racing moments to the WAX Blockchain.
Work with your Starbase team members to rank up your Alien Worlds NFTs, defend your base from attacks and wage war on your neighbouring Starbase enemies!
Galactic Standoff aims to be an online multiplayer strategy game set on a map terrain where players align themselves with a star-base. Each star-base is governed by a DAO council from Alienworlds. When a user is voted into the DAO council in Alienworlds, they also gain power within their chosen star-base. Players can upgrade their star-base through a tech-tree levelling system, providing buffs and benefits in-game and in battle. To upgrade their star-base, players must complete missions and play game modes to earn resources, a portion of which will be allocated to the upgrade. However, other star-bases can view these upgrades and choose to launch an attack, resulting in damage to the star-base and a loss of resources. The goal is to strategize with your star-base community and attract the best players to advance through upgrades and gain better buffs, benefits and also defenses.
Galactic Standoff — Goals of the development
They wanted to focus on the decentralized nature of the Alien Worlds ecosystem. They started with this core concept and also built around it. Their primary goal of this gameplay development is to provide a decentralized gameplay experience to players on the WAX blockchain & also bring more utility to Alien Worlds NFTs!
Why is decentralized gameplay important for this development?
Alien Worlds is a project built on the foundation of decentralization, DAO's and DAC's are a core concept within WEB3 and they see this as a model that is going to the future. The initial Starbases will be controlled by the Planetary DAO councils within Alien Worlds. As the custodians change each week, the Starbases will reflect the changes in ownership. This will bring strategy to the game and DAO voting system by giving players more incentive. To vote for their leaders based on more than just the DAO system itself. But the way in which candidates canvas to run their starbase.
A DAO is a Decentralized Autonomous Organization, essentially this means that the individuals involved all have the power to impact how the organization is run!
Bringing Utility to AlienWorlds NFTs. Why is this important?
Alien Worlds have built a great foundation for development teams to build on top of. Galactic Standoff will provide different use cases for Alien Worlds NFTs including allowing players/collectors of Alien Worlds assets. Also to use them in an entirely new way including access to game modes, boosts, buffs and much more!
Galactic Standoff Timeline to Launch
They anticipate the MVP to be developed by September 2023.
Work has already begun on Galactic Standoff and they are currently in the pre-development phase. This includes gameplay design, infrastructure design, artwork concepts. And other work they have to carry out in order to lay the foundation.
They aim to provide a monthly update blog showcasing progress of the project. Including artwork teasers, gameplay clips and also other interesting behind the scenes sneak peaks!
About Zombie Outbreak Survival
ZOS is a Strategic MMORPG built on the WAX blockchain. ZOS takes place in the town of Nitel during a Zombie outbreak. And follows survivors as they scavenge, fight and eventually rebuild in the post-apocalyptic world.
About AlienWorlds
With more than 8.3 million lifetime players and more than 10 million plays per day. Alien Worlds is consistently one of the top blockchain games on DappRadar ranking charts. Alien Worlds has inspired players to create, share and also thrive in the social Metaverse. The Federation would like to thank all Explorers for making this possible.
SOURCE: MEDIUM