MOOVY Upcoming IDO on DAOLaunch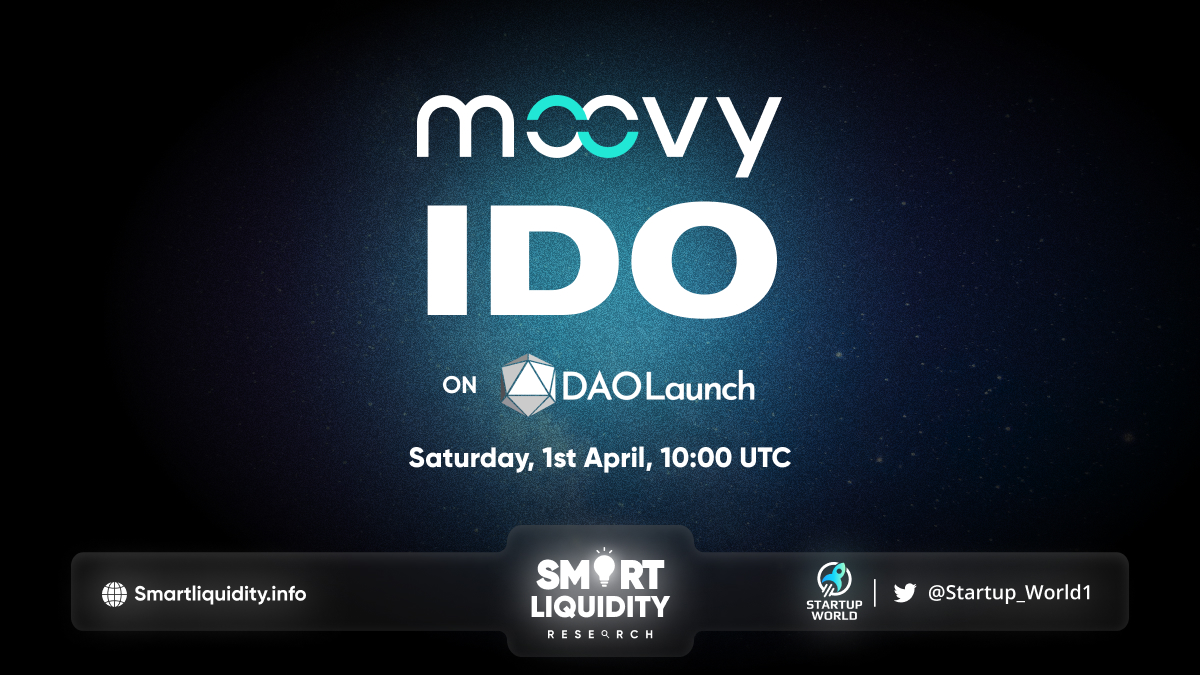 MOOVY will launch its upcoming IDO on DAOLaunch, a decentralized venture capital platform founded in 2021 by Sakuro Imayama.
I. Token Information
Token Symbol: MOIL
Chain: Binance Smart Chain
Total Supply: 100,000,000
Initial market cap: $3,441,000
Public sale price: $0.37
Vesting: 40% at TGE, then 5 months linear vesting
Total raise on DAOLaunch: $50,000
TGE date: 03 April 2023
II. Tokensale schedule:
Guaranteed Round:  April 01, 10:00 UTC ~ April 01, 22:00 UTC
Allocation increased for DAL Stakers:  April 01, 22:00 UTC ~ April 02, 16:00 UTC
Open to Anyone, FCFS (2% fee applied):  April 02, 16:00 UTC ~ April 02, 22:00 UTC
⚠️To secure your allocation, make sure to join guaranteed round from April 01, 10:00 UTC ~ April 01, 22:00 UTC, which lasts for 12 hours. It turns into FCFS for those who stake $DAL from April 01, 22:00 UTC.
III. How to join tokensales on DAOLaunch
For $DAL / $BUSD-DAL LP holders:
Stake a certain amount of DAL tokens or BUSD-DAL LP tokens as stated in the tier mode
From now on, DAL stakers will no longer have to fill out the guaranteed submission form to join the token sales.
*Only if there is any leftover from guaranteed allocation, will we increase the original allocation per person.
When the token sale starts, go to the dApp:
Further instructions from here:  How to join Tokensale 
IV. Staking for token sale
⚠️ONLY FOR STAKING USERS ARE ELIGIBLE TO JOIN IDO⚠️

※You won't be able to get IDO allocation just by holding DAL/DAL-LP, Please STAKE YOUR DAL / DAL-LP, and earn reward.
How to Stake DAL / DAL-LP ? Check out the instructions below:
In order to guarantee an allocation for an IDO on DAOLaunch, users have to stake a certain amount of $DAL or BUSD-DAL LP tokens. Allocation varies depending on how much $DAL or LP tokens one stakes. The more tokens staked, the higher the tier.
We will take snapshot user Staking balance randomly 24h-72h before IDO round opens.
Only users who stake more than 100 DAL / 80 DAL-BUSD can get guaranteed allocation.
※Do not unstake until you have confirmed you get IDO allocation
How to Buy DAL Tokens ? Check out the instructions below:
About MOOVY
Moovy GameFi provides an amazing gaming experience. You can engage in exciting rallies and collaborate with other players to complete daily missions, all while earning valuable prizes. Level up by collecting NFTs that unlock the full potential of crypto technology – bringing an immersive new universe closer than ever before. Take part in this innovative world today and let your imagination run wild.
About DAOLaunch
DAOLaunch aims to create an open and inclusive competitive environment for startup investment- the Decentralized Venture Capital concept.
DAOLaunch offers retail investors preferential investment conditions depending on their investment performance recorded on the blockchain. Recorded investments are not editable, as all negotiations are all on-chain. DAOLaunch investors can brand themselves as Decentralized Venture Capitalists and much like traditional VCs, they can negotiate more favorable investment terms.
DAOLaunch aims to change the structure of shady behind-closed-door investment deals to an open and more competitive deal structure that takes place on the blockchain. This will drastically shake up the startup industry.
SOURCE