Reign of Terror IDO on Spores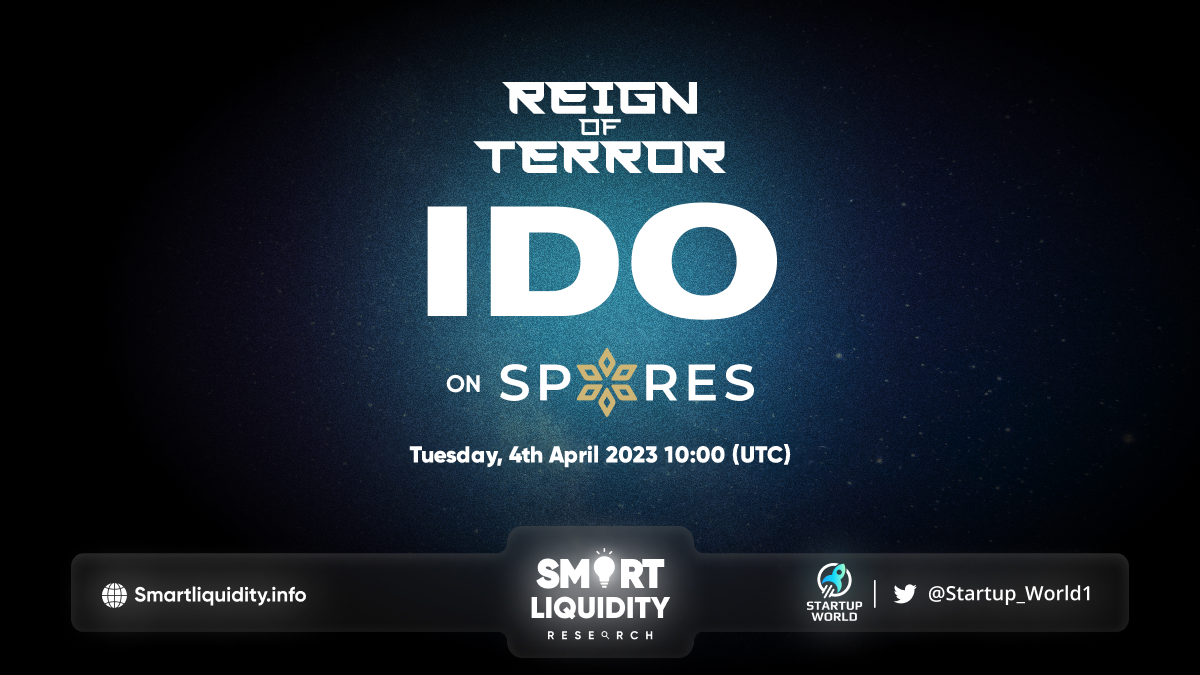 Reign of Terror will launch its IDO on Spores Network, the leading multi-chain launchpad for IDOs and INOs of up-and-coming high quality web3 projects.
Project Overview
Developed by Red Door Digital, Reign of Terror is a unique cyberpunk game world consisting of three thrilling games connected through a single ecosystem token — $ROT.
In Awakening, players can unlock vaults and win huge prizes while teaming up and competing against friends. Uprising allows players to level up and fuse agents to access higher rarities, craft items, and complete missions. Finally, the Full Game: the premiere XCOM meets MMORPG-style tactical RPG where players establish their cyberpunk stronghold with various squads of agents, each with special skills and classes.
Reign of Terror is built using a game engine (3D engine and development platform) that can be played in mobile device's browser and supports Web3 wallets. Players won't need to have an Apple or Google App Store account to play.
Highlights:
Developed by Red Door Digital — a Singapore-based Startup that successfully raised $5M to build high-end blockchain games
A core team of 40 talented people, who have experience, from the development and publishing of traditional global gaming hits worldwide such as World of Warcraft, Star Wars Galaxies, Battlestar Galactica, FIFA Online, and even Hollywood movie projects namely Wonder Woman and Suicide Squad
Backed by Top VCs including Momentum 6, Shima Capital, Maven Capital, Lucidblue Ventures, Tuzanye Game Guild, Cryptology Asset Group, HG Ventures, Enjinstarter, Oddiyana Ventures, Exnetwork Capital, Big Brain Holdings, Solanium Ventures, Vespertine Capital, and CollinStar Capital.
Strategic Partnership with Immutable X, Oasys, Klaytn, Elixir, Fractal, BluMint, Play Estates, StarLaunch, Solanium, Red Kite, Ethlizards, KaijuKingz, MonkeDAO, SovanaDAO, Neo Tokyo, etc.
Unique features:
ROT has a unique game genre, which is a unique cyberpunk SRPG (featuring turn-based tactical combat) with an online persistent world. And unique features include the following:
Enter A Feudalistic Cyberpunk World
Participate in escalating tactical and strategic turn-based battles
Create Your Own Tactical Squad
Level up and ascend your agents to gain new powers and skins
Collect agents and run the right squad for the right mission
Craft weapons, items and equipment and use or sell them on the marketplace
Control Lands and Build Facilities
PvP in asynchronous combat with matchmaking and PvE mode
IDO Timeline:
VIP Round: 4th Apr, 10:00 am UTC => 5th Apr, 10:00 am UTC (24 hours)
Triple Limit Round: 5th Apr, 10 am UTC => 5th Apr, 11:00 am UTC (1 hour)
FCFS Round: 5th Apr, 11:00 am UTC => 6th Apr, 11:00 am UTC (24 hours)
IDO Details:
Token Name: Reign of Terror
Token Symbol (Ticker): $ROT
Chain: BSC
Initial Supply: 27,400,000 $ROT
Initial MCap (Excluding Liquidity): $342,500
Total Supply: 2,000,000,000 $ROT
Fully Diluted Value: $25,000,000
IDO price: $0.0125
DEX/ CEX: TBA
Vesting Schedule for Public Round: 33% TGE, 33% Second Month, 34% Third Month
How to Join the Reign of Terror IDO:
Step 1: Register for the IDO To be eligible for IDO participation, please click this link: https://launchpad.spores.app/ido/reign-of-terror-ido
Step 2: Receive Email Confirmation After the whitelist closing time, Spores Network will notify you of your Tier Confirmation at least 12 hours before the sale.
🔷Reign of Terror Team:
🔷Reign of Terror Investors:
🔷Reign of Terror Tokenomic:
🔷Reign of Terror Roadmap:
Proj
About Reign of Terror
Reign of Terror is a cyberpunk metaverse blockchain game that immerses players in a futuristic world while weaving decentralized finance mechanism.
About Spores Network
Spores Network is a leading platform in the Web3, Gaming, and Metaverse space, offering comprehensive support to up-and-coming projects beyond funding. Our ecosystem includes 3 main pillars: Spores Launchpad, Incubation, Web3. Gaming. Metaverse.
SOURCE
https://spores.medium.com/spores-launchpad-to-host-reign-of-terror-a-cyberpunk-game-world-connected-by-a-single-ecosystem-5b1e45800ed0