Spoon Exchange IDO on ArcherSwap Bow Pad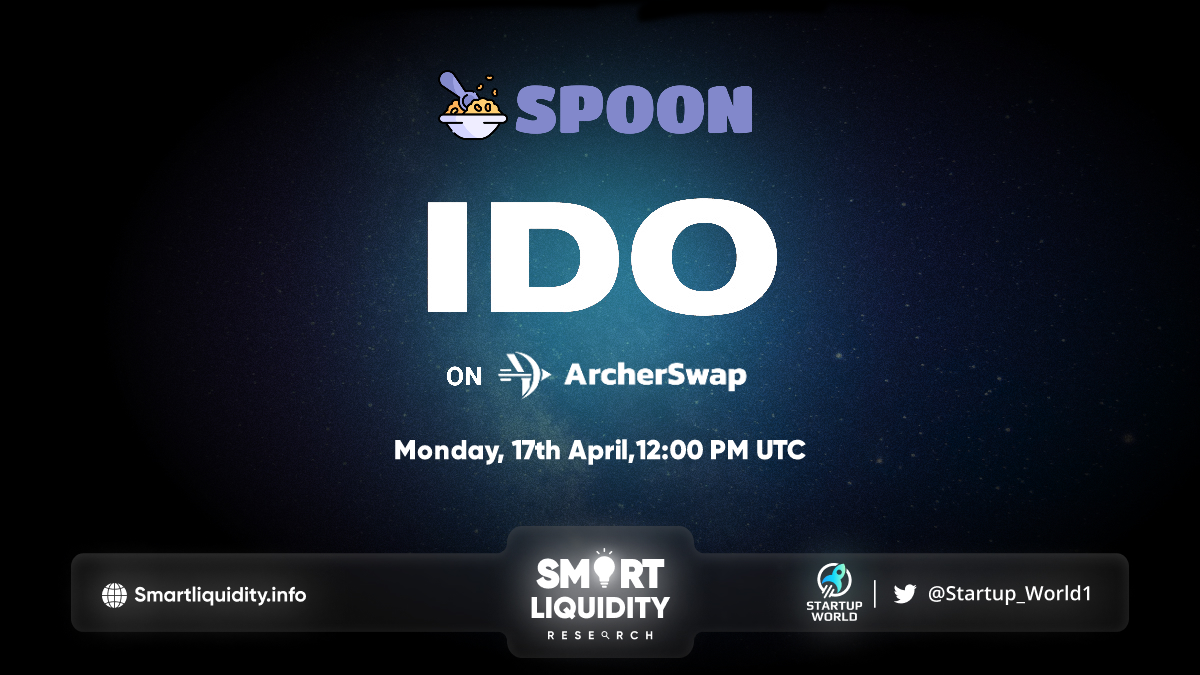 Spoon Exchange will launch its upcoming IDO on ArcherSwap Bow Pad Launchpad, which would take place on Monday 17th April 2023 at 12pm UTC.
PROJECT DESCRIPTION
Spoon Exchange are really happy to announce about its upcoming Whitelist and Public presale and launch process, But they would first want to answer the question of Why there was no Seed Round or Private VC Sale?
– At Spoon Exchange, we aim to provide equality, decentralization and no unfair advantage. ve3,3 model works as a democratic model, and by having internal Private Seed or VC sale their main goal would not have reached.
They would rather have all Community based raise than a VC based raise.
Presale Details
Total Raise: $500,000
Total Tokens Offered: 4,000,000 $POON
— 60% Whitelist Presale ($300,000)
— 40% Public Sale ($200,000)
Price: $0.125
Allocation: 100% at TGE
Venue: Both of the sales will take place on ArcherSwap Bow Pad (to ensure safety from a user perspective)
Max Contribution:
— Whitelist Presale : 1000 wCORE per wallet
— Public Sale: 2000 wCORE per wallet
The Whitelist Presale will start on Monday 17th April 2023 at 12pm UTC, and will continue till 4pm UTC (4 Hours), which will be followed with Public Sale on the same date that is 17th April 2023 from 5pm UTC and ends on 5pm UTC of 18th April 2023 (24 Hours). Both sales will follow an overflow model, allowing everyone to gather a chunk of their tokens.
The $POON token will have a Over Flow Sale, via a Overflow smart contract. This functions similarly to other launchpads as there is no front-running or time element to the process. The amount of tokens dedicated to the sale stay constant, and users can provide collateral to earn a share of the $POON allocated.

TLDR: Basically, the more you put in, the more you will get, and you'll get back anything that doesn't get spent.

In the "Overflow" method, users can subscribe as much or as little as they want to the Sale, and their final allocation will be based on the amount of funds they put in as a percentage of all funds put in by other users at the time the sale ends. Users will receive back any leftover funds when they claim their tokens after the sale.
Airdrop and Roles
About 12% of supply (1,200,000 $POON) is to be Airdropped to Users and Protocols in different mechanisms during a period of time.
1st Airdrop will be to our supporters — Spoon Community and Archer Army.
Airdrop to Spoon Community:
@Plates- First 500 people that joined Discord
@Knives- Participants who completed all quests on Crew3
@Cups- Server Booster
@Bowls- Participants of Content creator Crew3
All roles will be Whitelisted and participants of IDO will be eligible for 1st Airdrop.
Collection of addresses will take place in Spoon Exchange Discord from 3rd April to 20th April.
Airdrop to Archer Army:
Users who take part in Whitelist Presale i.e.
– Users with 300 xBOW or 600 HUNT, Staked and locked for IDO period and allocate funds to Spoon Exchange Presale.
A list of all Airdrop winning addresses will be released on 24 April along with vePOON Airdrop amount. In the following week or 2 airdrop will be distributed.
Why vePOON Airdrop?
vePOON selling or trading doesnt hurt $POON price at all, ensuring investors best interest.
New feature like veLOCK is hard to understand until users try it, so we provide them bare minimum to try it.
Airdrop winners will be incentivized to try the Spoon Exchange without worrying out selling their token.
About ArcherSwap Bow Pad
ArcherSwap is a crypto world for users to trade, earn, and game. It's the best choice for projects on Core Chain with features including AMM, NFT, and GameFi.
About Spoon Exchange
Spoon is a decentralized exchange platform derived from Andre Cronje's initial concept of a perpetual decentralized exchange.
This platform offers more natural style DEX for users by applying the Solidly perpetual model with adjustments to fee structures and emissions. It will act as the trading mechanism for the Core network, giving traders access to secure and fast crypto-asset trading. With its innovative design, Spoon puts emphasis on user experience and safety, eliminating centralized risks while increasing transparency and liquidity in the market.
Source:
https://spoonexchange.medium.com/poon-presale-airdrop-929766b45dd4