Arcana and Interality Partnership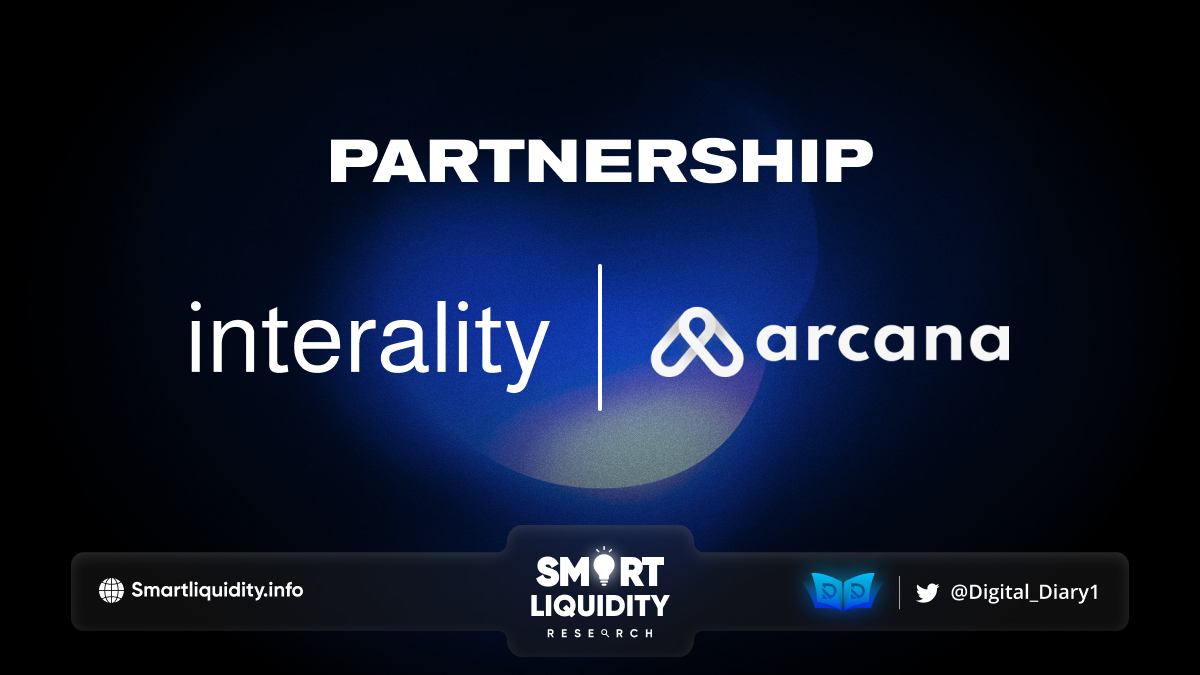 Arcana Network has announced its partnership with Interality, a Mixed Reality platform that lets web2 & web3 creators, games, brands and IPs build community, engagement & rewards through social and gaming experiences and virtual assets.
Recently, Interality announced the launch of their marketplace for creators to publish and sell virtual assets, as well as the Interality Units which disrupt traditional social profiles and existing on-chain identity systems, with a waitlist of over 30,000 users.
These Units offer a 3D/VR homebase that one can enter easily from their desktop, mobile or VR headsets and can be fully customized, where users can livestream, play videos, showcase collectibles and NFTs, display 3D creations, play online games, include portfolio links, and even access a native marketplace to publish and sell virtual assets.
Interality has worked with a wide range of brands, digital IPs (movies), Web3, and NFT projects, to help them launch their own virtual worlds with a functioning economy, assets, rewards and gamified experiences that can help brands build fandom.
In a recent launch 'Made in Bengaluru', a Kannada film, created a virtual world with Interality for fan building and excitement leading up to its theatrical release. During this time, close to 4000 people participated in the virtual world, and more than 500 individuals completed quests to win real-life rewards such as meet and greets with celebrities and tickets to the movie premiere.
Since the start, Arcana's main intent has been to work with web3 projects that are pushing the envelope in terms of what can be built in this space.
About the Partnership
This partnership will be helping them better manage their existing users. And onboard new users seamlessly through social auth and passwordless login. By integrating the Arcana Auth SDK, Interality not only gets to enable easy-to-use auth mechanisms, but also gets a non-custodial Arcana Wallet its users can rely on. New web3 users that aren't acquainted with wallets would find using their Arcana Wallet a walk in the park.
Arcana will also be helping Interality by supporting them in marketing, product, growth and community building. And helping them launch on Arcana's Mainnet. Arcana's Auth and Access fit perfectly into the picture, helping Interality onboard and manage new users without friction. And execute rule-based access control mechanisms independently.
With Arcana's mainnet live, they are working towards establishing partnerships. And onboarding impactful web3 projects that can benefit from their web3 auth SDK.
Quote on Partnership
"Interality has a great vision of helping brands and creators build and launch virtual ecosystems, with unique social & gaming experiences and engage their customers, community & fans in meaningful ways. Arcana's Auth & Access will complement Interality's offerings and make it easier for new users to adapt to the product. We're more than excited to be part of such a significant journey with Interality." – Aravindh Kumar, Co-Founder, Arcana Network

"With Arcana we can make the onboarding process even more seamless and enable a wider audience to gain access to our virtual world experiences with ease. We are excited to have Arcana join us in this journey and can't wait to witness the positive impact of this collaboration and continue to push the boundaries of what is possible." – Farheen Ahmad, Founder, Interality
About Interality
Interality is a Mixed Reality platform that lets web2 & web3 creators, games, brands and IPs build community, engagement & rewards. Through social and gaming experiences and virtual assets. Public Beta is Live.
About Arcana Network
Arcana is Web3 infra for devs to launch and scale apps through its Auth, Store, and Access SDK. Arcana Auth is the first product to go live on Mainnet. With Arcana Auth, developers can simplify Web3 Authentication and improve user conversion rates by up to 90%.
Web3 apps use Arcana Auth SDK to quickly onboard users through plug-and-play social login and passwordless email login. In addition, users are given an Arcana in-app non-custodial wallet to sign transactions and manage tokens/NFTs without installing plugins.
Arcana has raised 2.7Mn USD from some of the leading investors and founders in the ecosystem. Such as Balaji Srinivasan, Founders of Polygon, Woodstock, Republic Crypto, and Digital Currency Group.
SOURCE: MEDIUM