BloXroute Labs Strategic Partnership with Drift Protocol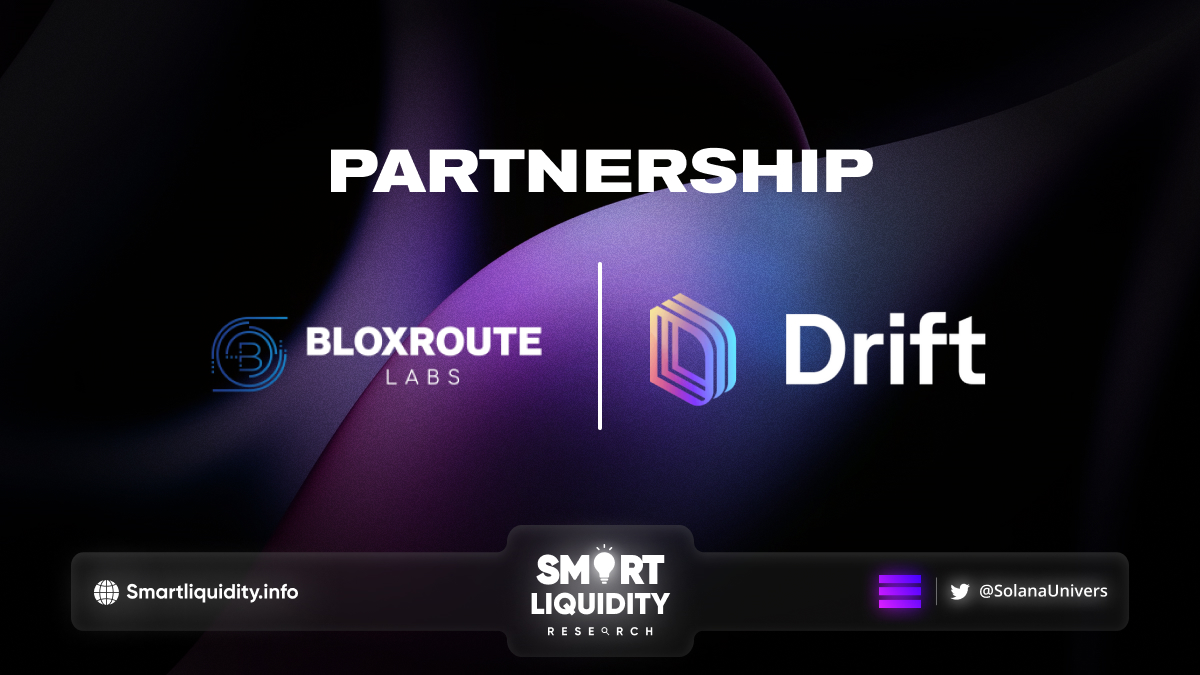 Drift, a leading cryptocurrency exchange, has recently revealed its partnership with Bloxroute Labs, a blockchain infrastructure provider.
This partnership of Drift with BloXroute Labs aims to enhance the trading experience of Drift users by utilizing Bloxroute's innovative technology.
The collaboration will integrate Drift's exchange with Bloxroute's innovative Solana Trader API, allowing DeFi algorithmic traders to easily trade on Drift via a centralized exchange (CEX)-like API environment without having to maintain their own Solana nodes.
Bloxroute Labs' innovative Solana Trader API has made it easier to trade on the Solana network by providing fast and low-latency connectivity while eliminating the need to run a Solana node for trading purposes, which can be expensive and complicated. This partnership between Drift and Bloxroute Labs marks the first collaboration between Bloxroute and a decentralized exchange (DEX) on Solana, as well as its first integration with a fully on-chain perpetual futures exchange.
Drift Protocol is collaborating with Bloxroute Labs to provide its data streams, including token prices, recent trades, and order placements, to the Solana Trader API, with the aim of expanding the capabilities of the platform.
User Benefits
The integration of Drift's exchange with Bloxroute's Solana Trader API will provide significant benefits for users of the platform. One of the primary advantages will be improved liquidity and lower slippage on larger trades. With access to the $1.5 billion liquidity traded through Bloxroute's network every day, Drift users can expect to have more opportunities for trading with minimal slippage.
Additionally, the Solana Trader API can be accessed through various means, including Go SDK, Python SDK, TypeScript SDK, or HTTP API & Stream (WebSocket and gRPC) data feeds, making it more convenient for users to trade on the platform. For more information on how to use the Solana Trader API, interested parties can refer to the bloXroute Solana Trader API Documentation.
This partnership comes at an opportune time when there is a growing demand for secure and reliable on-chain trading following various unfortunate events in 2022, such as the FTX incident. Drift.trade has witnessed a significant increase in on-chain activity since December 2022, with retail volume accounting for approximately 95% and a ten-fold increase in daily active users to 350 daily traders. The total number of traders on the platform has also increased to over 2,800, up from 600 previously.
About Drift Protocol
Drift Protocol is the leading decentralized perpetual futures exchange built on Solana, powered by a novel AMM and orderbook hybrid liquidity model. Since its launch in December 2022, Drift Protocol has transacted over $450 million in volume and is the decentralized exchange of choice for more than 2,800 traders.
About bloXroute Labs
bloXroute Labs is a pioneer in blockchain distribution services, offering scalable and efficient solutions to all sectors of the blockchain industry. Using bloXroute's BDN, customers gain a competitive edge by receiving critical information about pending transactions and new blocks at ultra-low latency and can send transactions at nearly light speed. As more users, traders, mining pools, validators, and DeFi projects connect to the BDN, bloXroute's network effect amplifies its technological superiority, enhancing its speed and value. The current DeFi transaction volume through the bloXroute network is over $1.5 billion per day.
SOURCE
https://www.drift.trade/updates/bloxroute-partnership