NEO Partners with Alchemy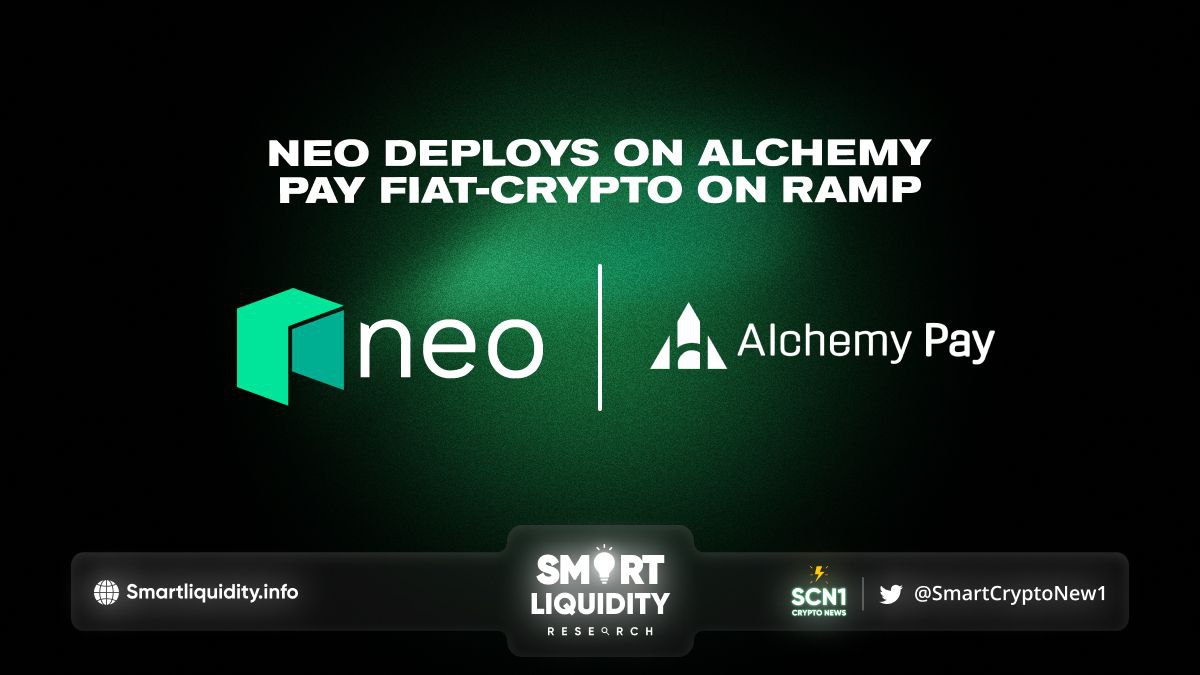 NEO partners with Alchemy to deploy Alchemy Pay's Fiat-Crypto Ramp Solution. Users across the globe can now purchase crypto in local fiat currency.
Neo, the leading open-source community-driven blockchain platform, has teamed up with Alchemy Pay for easy on- and off-ramping to the Neo ecosystem. Neo users from all over the globe can now purchase cryptocurrencies using their preferred local fiat currencies.
Developers who build on Neo can now benefit from Alchemy Pay's direct-to-customer plugin, which can be easily integrated and deployed by dApps and platforms with minimal cost and hassle.
Alchemy Payment Gateway
Alchemy Pay's payment gateway enables payments using Visa, Mastercard, Discover, and Diners Club across 173 countries, along with domestic transfers and mobile wallets in developing markets. Its user-friendly KYC process, low fees, and exceptional conversion rates make buying and selling cryptocurrencies with local currencies as convenient as any typical online payment. Alchemy Pay's extensive network features over 300 fiat payment channels, allowing its checkouts to go beyond card payments and tap into local mobile wallet options.
As the leading open-source community-driven blockchain platform, Neo is the most feature-complete blockchain platform for building decentralized applications. Neo enables developers to digitize and automate the management of assets through smart contracts, while also providing powerful native infrastructures such as decentralized storage, oracles, and domain name service, creating a solid foundation for the Next-Gen Internet. Within the Neo ecosystem, the Alchemy Pay plugin will now support NEO and GAS (the native tokens for the Neo platform) as well as FLM (the native token for DeFi project Flamingo Finance).
Previously, Alchemy Pay has collaborated with Neo to incorporate its token into Alchemy Pay's global crypto-fiat gateways. In addition, Neo and Alchemy Pay joined Blockchain Infrastructure Alliance as founding members, which has set the groundwork for further joint efforts. The latest development of integrating on- and-off ramps now builds upon the existing partnership and opens up new opportunities for collaboration in the future.
"We welcome the opportunity to extend our longtime collaboration with Neo to make engaging with the Neo ecosystem easier than ever before," — Robert McCracken, Alchemy Pay Ecosystem Lead.

"The whole team here at Neo is pleased to join with our valued partner, Alchemy Pay, to make available this next level of convenience in on- and off-ramping for the Neo ecosystem. In launching Alchemy Pay's innovative payment gateway, we are supporting our thriving community across the globe through facilitating accessible fiat-to-crypto solutions," — John Wang, Director of Neo Eco Growth.
ABOUT NEO
Neo is an open-source, community-driven blockchain platform designed to welcome developers into the Smart Economy. By enabling developers to digitize and automate the management of assets through smart contracts, Neo is built to realize the optimized digital world of the future.
ABOUT Alchemy Pay
Alchemy Pay (ACH) bridges fiat and crypto global economies through a real-world payment system and mainstream-friendly access to web3 services.
RESOURCES