Multichain anyCall Integration with Circle (CCTP)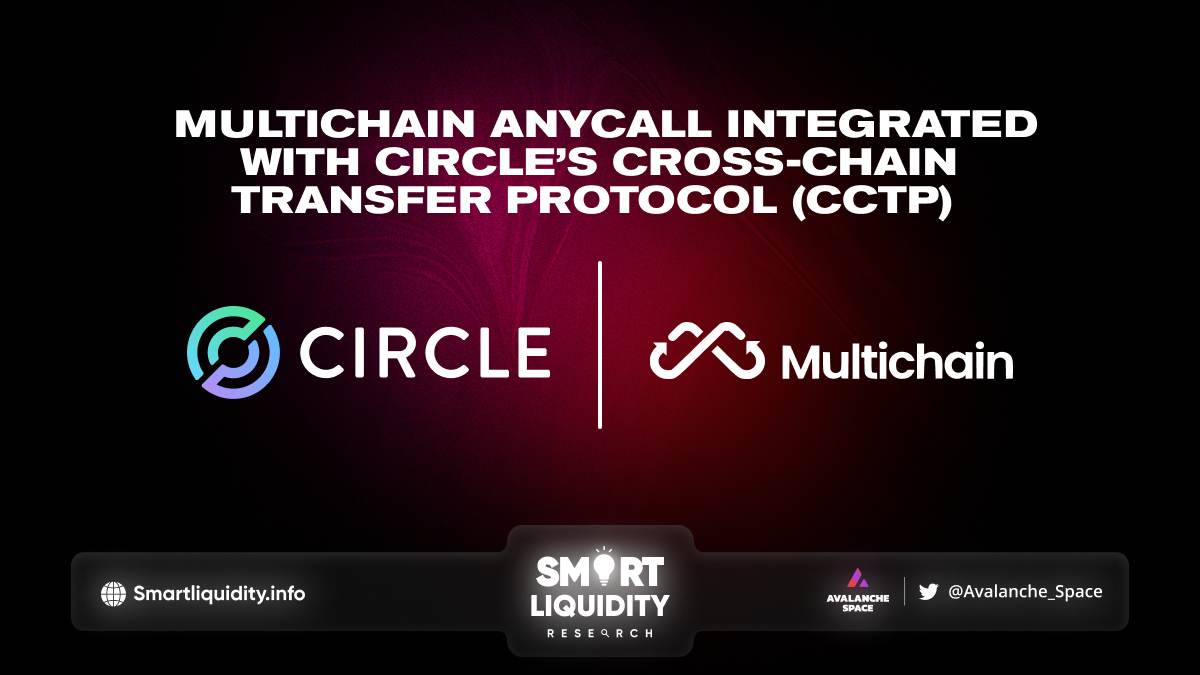 This thing lets them give builders and users a smooth and chain-agnostic development experience all over the Web3 world.
Multichain is a decentralized cross-chain infrastructure secured by SMPC and ZKP. It enables USDC to become the de facto routing asset of Web3, connecting the segregated DeFi ecosystems. Multichain anyCall Integration with Circle (CCTP), AnyCall, the cross-chain messaging protocol, allows dApps to call a smart contract on another chain, while CCTP allows dApps to route the value in the call.
This opens the door to multi-chain native dApps and enables for improved interoperability across multiple blockchain networks. For example, a dApp on Avalanche may now collateralize assets in Aave on Ethereum before executing other prescribed processes.
RWA can access DeFi tools and liquidity through CCTP x anyCall, enabling USDC assets to be traded. RWA might boost the DeFi ecosystem with this integration.
Advantages of CCTP X anyCall:
Streamlined User Experience
anyCall is free to use, with users only needing to pay the gas fee of the destination chain using the gas coin of the source chain. To further simplify the process, dApp teams can pre-deposit gas fees for their end users on the destination chain.
Multichain's MPC network, consisting of 21 nodes (available at https://scan.multichain.org/#/network), ensures that USDC is correctly burnt on the source chain before executing requests on the destination chain, in addition to Circle's CCTP.
Support for Heterogeneous Chains
Multichain protocol supports both EVM and Non-EVM chains, such as Solana, Cosmos, Cardano, and Near. As the CCTP expands to other Non-EVM chains, anyCall can expand and support seamlessly.
The Multichain Explorer (available at https://scan.multichain.org/) enables users to trace all transactions. Additionally, the developer guide https://docs.multichain.org/developer-guide/usdusdc-cctp-x-anycall offers easy-to-integrate instructions for developers.
CCTP x anyCall is developing additional use cases such as cross-chain lending, multi-chain native NFT issuance, and multi-chain native DEX with shared liquidity across multiple chains.
In essence, the integration of CCTP with anyCall empowers developers to streamline cross-chain value transfers that are both effortless and customizable, thereby enabling cross-chain user experiences that were previously unattainable.
About Circle
Circle is transforming the way money moves by making it more accessible, inclusive, and efficient increasing economic opportunity and prosperity around the globe.
About Multichain
Multichain was born as Anyswap to address the clear need for distinct and diverse blockchains to communicate with one another.Multichain is a cross-chain architecture that promotes interoperability and facilitates asset and value transfers, with a growing family of non-EVM and EVM chains.
SOURCE: https://medium.com/multichainorg/circle-cctp-x-multichain-anycall-the-value-router-of-web3-a04aff878ccd