Secure Investment and Earn Rewards with MetaBears on Amulet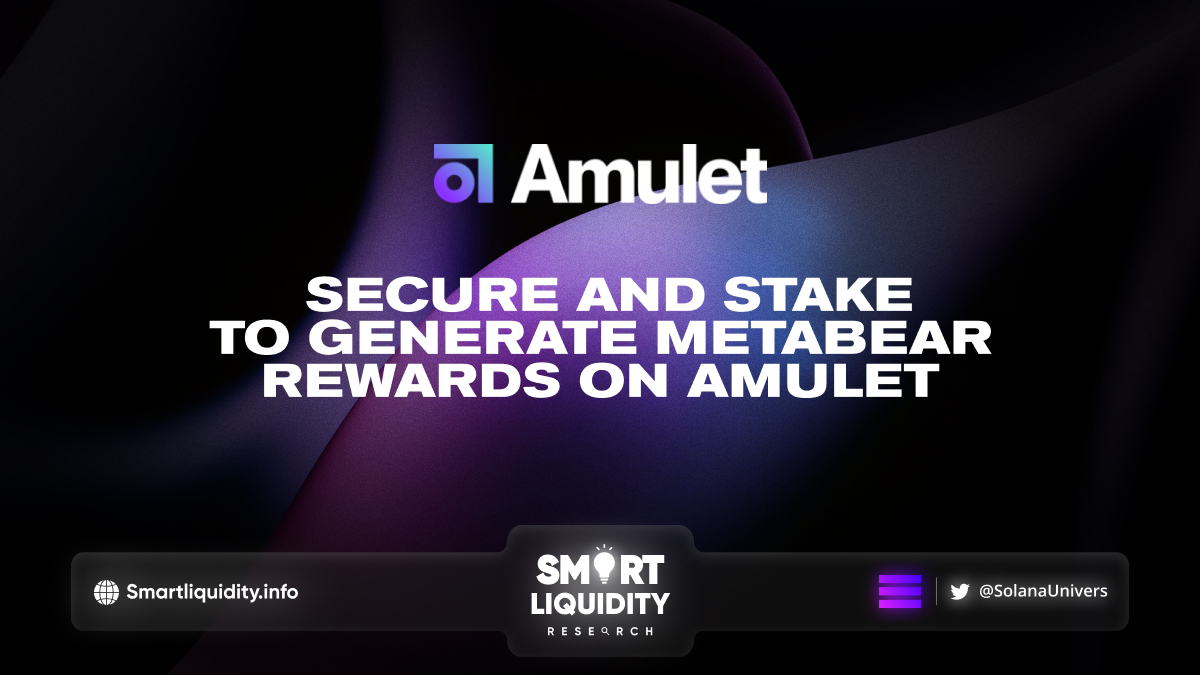 Amulet is a decentralized finance platform that empowers users to protect, grow, and transfer their wealth in a trustless and permissionless way. Built on top of the Solana blockchain, Amulet offers a suite of smart contracts that enable users to leverage various strategies for maximizing their returns, such as yield farming, liquidity mining, and staking.
Secure Investment and Earn Rewards with MetaBears on Amulet
One of the latest additions to Amulet's DeFi ecosystem is MetaBears, a digital asset that combines the benefits of a token and a non-fungible token (NFT). MetaBears represent fractional ownership in a collection of rare and valuable NFTs, which include artwork, music, games, and more. By holding MetaBears, users can participate in the appreciation of the underlying NFTs, as well as earn rewards through staking.
Staking is the process of locking up a certain amount of tokens or NFTs as collateral to secure the network and validate transactions. In return for their contribution, stakers receive a share of the network fees or inflation rewards. Staking is a way to earn passive income from holding digital assets, while also contributing to the decentralization and security of the blockchain.
Details of Amulet's Protect and Stake Campaign
Requirements:
Stake a minimum of 5 $SOL into $aUWT
Purchase a cover with a minimum value of 10 $aUWT
Cover must protect assets for a minimum of 10 days
Like and Retweet the announcement tweet of this campaign
Submit Microsoft Form with your confirmed details
Individuals who successfully fulfill these tasks will qualify to receive a fresh MetaBear NFT during an airdrop scheduled on May 24th, 2023.
By staking your MetaBears on Amulet, you not only earn rewards but also contribute to the growth and adoption of the MetaBears ecosystem. The more MetaBears are staked, the more valuable the underlying NFTs become, and the more benefits accrue to the MetaBears holders. Moreover, by staking your MetaBears, you reduce the circulating supply and increase the scarcity of the token, which can potentially drive up its price in the secondary market.
In summary, MetaBears on Amulet is a promising DeFi asset that combines the best of both worlds: the utility of a staking token and the uniqueness of an NFT. By holding and staking MetaBears, you can secure your investment, earn rewards, and participate in the vibrant community of decentralized art and culture. Start your journey with MetaBears on Amulet today!
About Amulet
Amulet is a decentralized cover protocol built for the Rust-based ecosystem, starting with the Solana blockchain. Amulet has designed an innovative and open cover model, which not only effectively addresses the common challenges of existing decentralized cover protocols, but also creates a new paradigm shift for the whole cover offering sector.
SOURCE
https://amulet.org/blog/protect-and-stake-to-earn-a-metabear/