Alibaba Cloud & Partners Deploy Avalanche Metaverse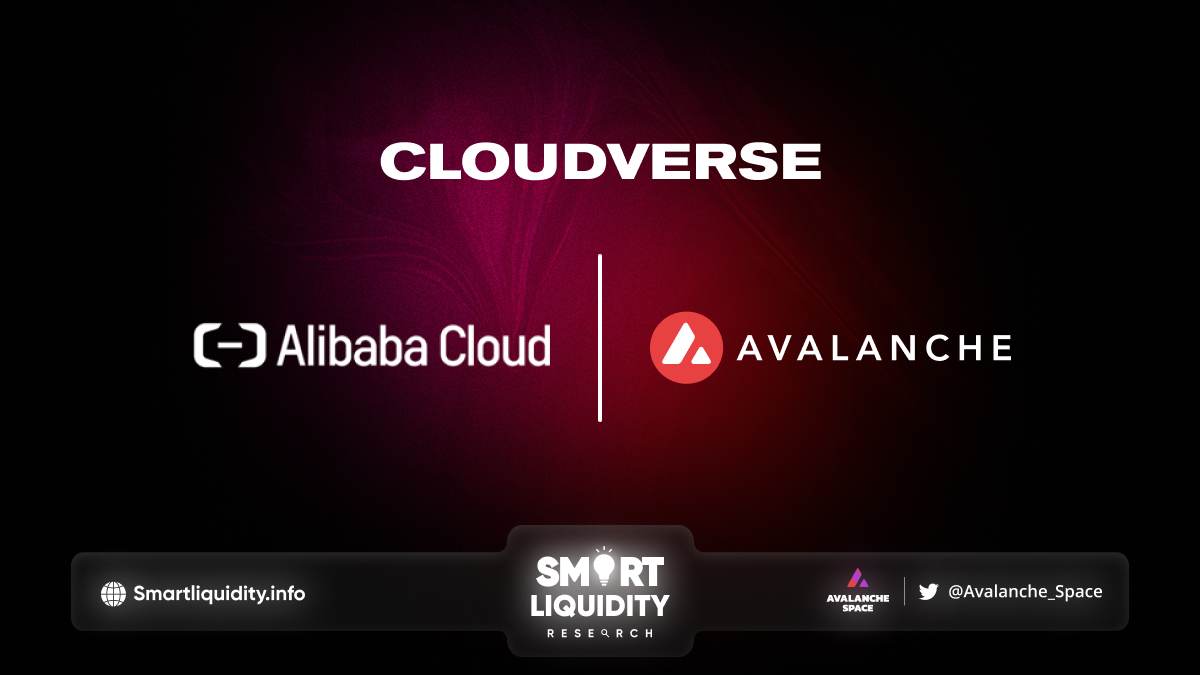 Alibaba Cloud & Partners Deploy Avalanche Metaverse, Cloudverse's blockchain elements are built on Avalanche, allowing for the creation of digital assets.
Cloudverse is an all-in-one solution that enables businesses to effortlessly customize, launch, and maintain their own metaverse space. This creates new opportunities for engaging customers and expanding their reach.
This metaverse solution stands out from others due to its quick development, large traffic volume, open ecosystem, and expert land planning and governance. Cloudverse uses top metaverse tech and is accessible to millions of Alibaba Cloud customers and billions of people globally.
For the provision of Cloudverse, Alibaba Cloud will provide scalable, highly efficient and secure cloud infrastructure offerings, including computing, storage, database and networking and intelligence operation platforms, while Avalanche and MUA DAO will provide solutions for building metaverse spaces.
The launch of Cloudverse reflects a deepening relationship between Alibaba Cloud and Avalanche. That partnership began in December 2022.  Alibaba Cloud & Partners Deploy Avalanche Metaverse. Alibaba Cloud provides infrastructure and tools to enable Asia users to launch validators on the Avalanche network, including plug-and-play and node-as-a-service initiatives. and Avalanche are powering blockchain adoption in Asia, where Avalanche has been developing more brand recognition and a greater presence.
With the release of Cloudverse, Alibaba Cloud, Avalanche, and the metaverse architect and middleware provider MUA DAO bring the industry a simple, high-touch, cost-effective metaverse solution.
"Alibaba Cloud and Avalanche continue to change how enterprises can create value and seize the opportunities of Web3," said John Wu, President of Ava Labs. "Cloudverse powered by Avalanche offers millions of consumer-facing businesses a quick, low-overhead, one-stop gateway into Web3. We look forward to seeing how businesses expand into the Cloudverse — and to continuing to build the future with Alibaba Cloud."
"With the rising popularity of blockchain technology and the metaverse, there is a strong demand from businesses in the Asia-Pacific region planning to enter the Web3 world", said Raymond Xiao, Head of International Web3 Solutions, Alibaba Cloud Intelligence. "Through the launch of the metaverse launchpad on Avalanche for CloudVerse, we are excited to offer businesses a way to kickstart their metaverse journeys and drive innovations and new possibilities for their businesses while elevating customer experiences. Our extensive offerings in cloud computing, storage and networking support businesses' entry into the Web3 ecosystem, in line with our focus at Alibaba Cloud to support an open digital economy."
Cloudverse business builders receive support on visuals, metaeconomics, interactive functions, events, continued metaverse operation, and more. The end-to-end process kicked off is straightforward:
Initial engagement.
Discussion of aesthetics, interactive functions, metaeconomics, and digital assets.
Production begins, taking 30+ days.
Launch of a new custom metaverse space.
Continual operation.
Depending on their scope, metaverse spaces can be ready for businesses as soon as one month from initial outreach. No land purchase is required for businesses to join Cloudverse. Cloudverse will be fully open, meaning anyone can join.
Alibaba Cloud provides scalable, highly efficient, and secure cloud infrastructure offerings for the provision of the Cloudverse, including computing, storage, database, networking, and intelligent operations platforms. Based on these, Avalanche and MUA DAO provide solutions to help build Metaverse spaces.
About MUA DAO
MUA is a Metaverse Middleware Infrastructure that provides a one-stop solution empowering enterprises and businesses in creating, operating, and managing digital assets compatible and programmable for multiple Metaverse platforms through unified interfaces in "MUAverse".
About Avalanche