WispSwap Upcoming IDO Launch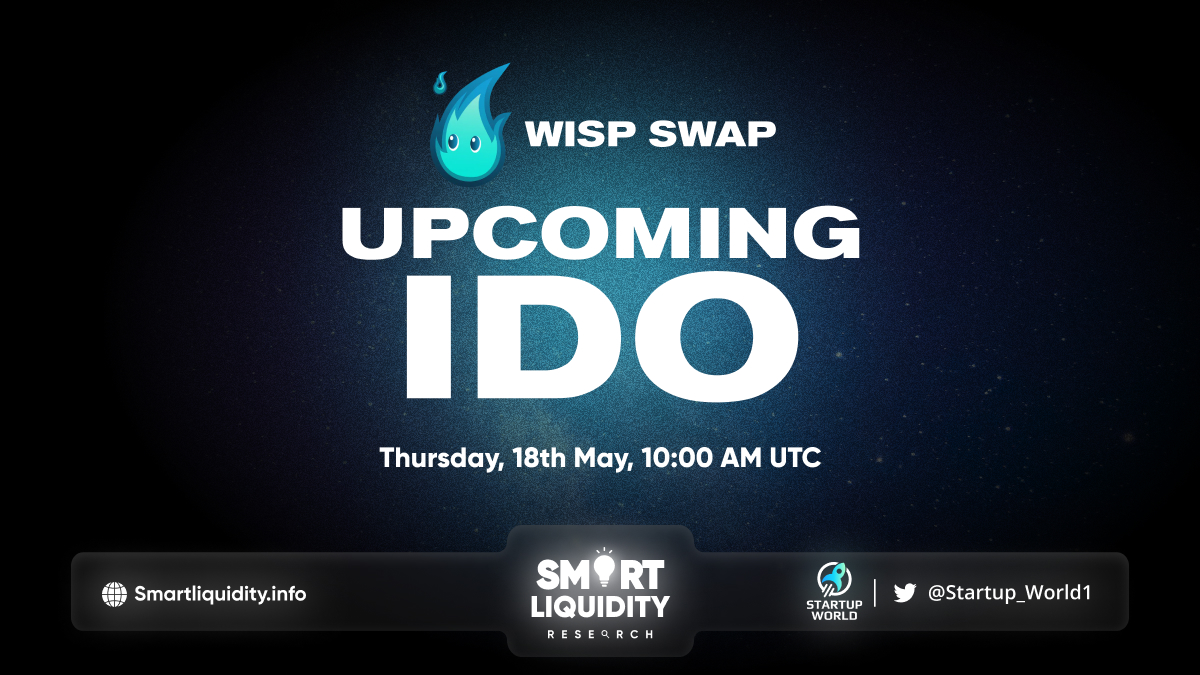 WispSwap has announce its upcoming IDO Launch on its own Launchpad, which would take place on Thursday 18th of May 2023 at 10:00 AM UTC.
TL;DR:
IDO Start Time: 10am UTC, 18th, May 2023
IDO End Time: 10am UTC, 23th, May 2023
The IDO consists of two rounds: Whitelist Round and Public Round
Total raise: 575,000 $SUI
Vesting schedule: 60% unlock at TGE, 40% unlock as veWISP
Background
WispSwap has been committed to prioritizing our community while relentlessly working to develop the best possible Defi project on Sui. For months, we have bootstrapped and built without any external funding to preserve the protocol's equity for future users.
Following our initial proposal and invaluable feedback we received from Wisp community on WispSwap governance forum, we have made the decision to reject VC funding and opt for a public sale to the community. We believe this is the way DeFi was meant to be.
This allows the team to have the necessary funding to further develop the project while adhering to our values of distributed ownership and participation. The funds raised from this round will be used for product research and development, smart contract audits for every additional feature, CEXs listings and initial liquidity adding for $WISP token.
At WispSwap, we believe that true ownership of a platform lies in the hands of our community. That's why we have allocated 10% of the platform's total supply to the community and implemented veWISP mechanism to connect token holders to the protocol's revenue. This way, WISP token holders become genuine owners of the platform, with a direct stake in its success and governance.
For additional information on WispSwap tokenomics, please read our whitepaper.
$WISP token will be issued natively on Sui mainnet and its IDO will be hosted on WispSwap own platform. Here are all the details of the IDO and whitelist policy.
IDO Details on Wisp Swap
Whitelist Round (Presale)
Start Time: 10am UTC, 18th, May 2023
End Time: 10am UTC, 19th, May 2023
Token Supply: 2,500,000 $WISP
Price: 1 $WISP = 0.05 $SUI
Total raise: 125,000 $SUI
Vesting schedule: 60% unlock at TGE, 40% unlock as veWISP
Eligibility: Whitelist pass
Public Round
Start Time: 10am UTC, 19th May 2023
End Time: 10am UTC, 23rd May 2023
Token Supply: 7,500,000 $WISP
Price: 1 $WISP = 0.062 $SUI
Total raise: 450,000 $SUI
Vesting schedule: 60% unlock at TGE, 40% unlock as veWISP
Eligibility: Everyone — FCFS
Listing
Following the completion of the public round, the token generation event (TGE) for $WISP tokens will take place. After the TGE, $WISP tokens will be listed on WispSwap DEX and other major exchanges with an initial price of 0.07 $SUI.
How IDO on Wisp Swap Works?
WispSwap IDO consists of two rounds: Whitelist Round and Public Round.
The Whitelist Round will start from May 18th 10am UTC to May 19th 10am UTC or until it's filled.
The Public Round will start either after the Whitelist round ends or on May 19th at 10am UTC and will end on May 23th at 10am UTC.
The Public Round will start on a first-come-first-serve basis. Each wallet can commit up to 2500 SUI.
How to get Whitelist pass?
We are reserving whitelist spots for our early contributors based on their roles in WispSwap Discord server. Members with the Master Wisp, Ancient Wisp and OGs roles will be guaranteed a whitelist spot. Sprout Wisp and Adept Wisp will also have the opportunity to obtain a Whitelist pass, with their WispSwap points taken into consideration during the selection process.
Snapshot will be taken before the IDO starts.
Additionally, due to the overwhelming support from our community, Wisp Swap will be organizing a series of events including Zealy program, community events and marketing collaboration to offer whitelists. Here's the breakdown:
(a) Community events
10 Whitelist spots for our Creative Video Event
Random selection of "Wisps of the Forest" NFT holders
Trivia Contests in WispSwap Discord Server
Twitter thread competitions
(b) Marketing collaboration
Remaining Whitelist spots will be distributed with our collaboration with
Media Platforms: Sui Global, Sui World, Sui Ecosystem and other big media partners
Partnered Protocols: WispSwap's strategic partners in Sui ecosystem and major protocols on other blockchain networks
About WispSwap
WispSwap is a decentralized exchange and DeFi platform on Sui blockchain. The platform provides a suite of financial products, including trading, lending, farming, staking, prediction markets and launchpad, making it a one-stop shop for DeFi users. The platform strives to enhance user experience and maximize returns by implementing innovative and meticulously designed mechanisms.
SOURCE:
https://medium.com/@wispswap/wispswap-ido-ea477463f69b