Arbswap and Fronkworld Investment Partnership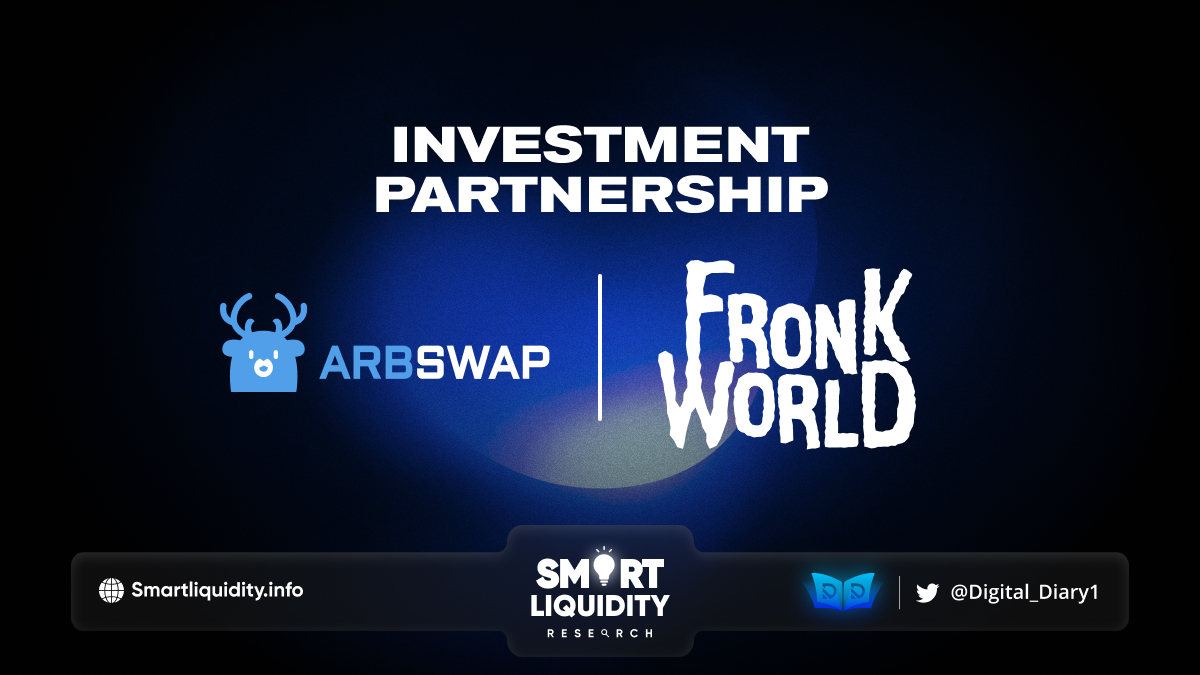 Arbswap has formed a groundbreaking strategic investment partnership with Fronkworld, a pioneering GameFi project on the Arbitrum Nova network.
As part of the Arbitrum Nova accelerator, Arbswap has made a substantial investment into Fronkworld, solidifying their commitment to fostering innovation and growth within the GameFi space.
Beyond the financial investment, Arbswap shall also share advisory support to Fronkworld. Leveraging its vast experience and network, Arbswap will actively engage in the development of Fronkworld and connect with valuable ecosystem partners. This synergistic partnership will accelerate Fronkworld's growth and amplify its impact in the gaming world.
Both teams at Fronkworld and Arbswap have also agreed to collaborate on co-marketing initiatives. This collaboration will involve varieties of social campaigns, showcasing Arbswap's involvement in Fronkworld's immersive gameplay and more!
More Partnership Highlights:
Furthermore, Fronkworld will be using Arbswap as a key launchpad for its highly anticipated FREG token, ensuring a successful token launch. To further enhance liquidity for both platforms, Fronkworld will establish a Liquidity Pool on Arbswap immediately following its token generation event as well.
Arbswap and Fronkworld share a common vision for the future of Arbitrum Nova and are committed to building it together. This collaboration is expected to generate synergistic effects within the network, propelling its growth and establishing it as a prominent force within the GameFi sector. As both Arbswap and Fronkworld gear up for their respective token launches, the strategic seeding of liquidity and the utilization of Arbswap's launchpad provide a strong foundation for their success.
Arbswap is particularly thrilled to announce that Fronkworld is the first gaming partner on the Nova network. This milestone partnership not only exemplifies Arbswap's commitment to fostering innovation. But also highlights the enthusiasm for collaborating with more game developers and builders on Nova.
Any builders on Nova who are interested in exploring potential collaborations are encouraged to reach out to them. As they eagerly welcome the opportunity to work with like-minded individuals and projects.
With an unwavering dedication to revolutionizing the GameFi landscape. Arbswap and Fronkworld are poised to reshape the gaming industry on Arbitrum Nova and create unparalleled value for their communities. This investment partnership marks a significant step toward realizing the shared vision and driving innovation in the emerging world of decentralized gaming.
About Arbswap
Arbswap is the only true Arbitrum-native DEX suite, offering the best Game-fi services on Nova
and the smoothest trading experience on One.
Website | Twitter
About Fronkworld
Fronkworld is an innovative gaming platform built on the Arbitrum Nova network, offering players captivating GameFi experiences. By blending blockchain technology with immersive gameplay. Fronkworld introduces a new era of gaming, enabling users to play-to-earn and participate in dynamic virtual economies.
SOURCE: MEDIUM