Trader Joe Partnership with Savvy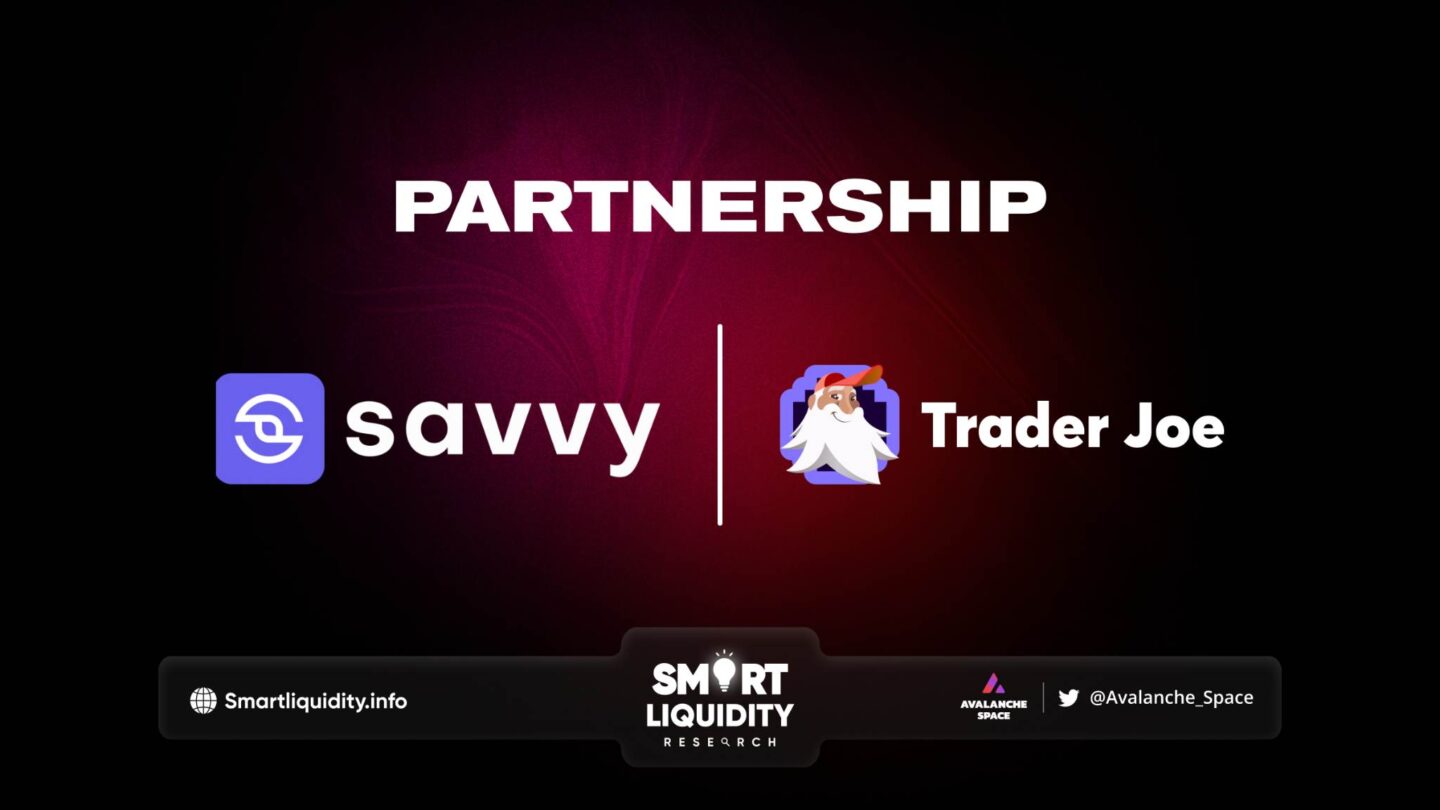 Trader Joe Partnership with Savvy to Utilize the Power of Liquidity Book and Leverage Zero Slippage Swaps.
Savvy will first use Trader Joe for exclusive liquidity provisioning, unleashing the unique and efficient architecture of Liquidity Book to generate improved capital efficiency for the $SVY token. Trader Joe Partnership with Savvy will also make use of zero-slippage trading opportunities for its synthetic soft-pegged assets.
What is Savvy?
Savvy users can take out auto-repaying, interest-free, non-liquidating lines of credit backed against the future yield of user collateral (ETH, WBTC, and stablecoins). This upfront credit line can be used in DeFi, purchase NFTs, play games, or whatever else and is backed against the future yield of the collateral. Savvy is ushering in a safe and reliable form of leverage.
The Savvy Trader
Savvy is an incredibly exciting innovation for the Arbitrum DeFi space and Trader Joe is very happy to closely partner with the team to provide liquidity provisioning for the native governance token $SVY, as well as support liquidity for the synthetically tied assets.
These pools will be supported initially:
svUSD-USDC
svETH-WETH
svBTC-WBTH
The Savvy team have embodied the values of Trader Joe with their hands-on approach to community building and NFT community outreach. They are passionate, driven and ushering in synthetic and highly capital efficient innovation for the DeFi space. That is everything Trader Joe loves to see. — Blue, Marketing and Community Lead at Trader Joe.
About Savvy
Savvy DeFi is a decentralized credit platform that lets anyone take out an auto-repaying, interest-free loan against their crypto (including BTC, ETH, and stablecoin derivatives) without liquidation risk. Savvy users can safely leverage their cryptocurrency holdings through a credit advance backed by their tokenized future yields.
About Trader Joe
Trader Joe is a leading multi-chain decentralized exchange and the inventor of Liquidity Book, the most capital efficient AMM in DeFi. Trade your favorite tokens, access one-click yield farming and shop for the latest digital collectibles at the Joepegs NFT Marketplace. DeFi has never been easier thanks to Trader Joe.
SOURCE: https://savvydefi.medium.com/trader-joe-partners-with-savvy-to-utilize-the-power-of-liquidity-book-and-leverage-zero-slippage-2e06e7fd64f5