Hector Network's Remarkable Progress in 2023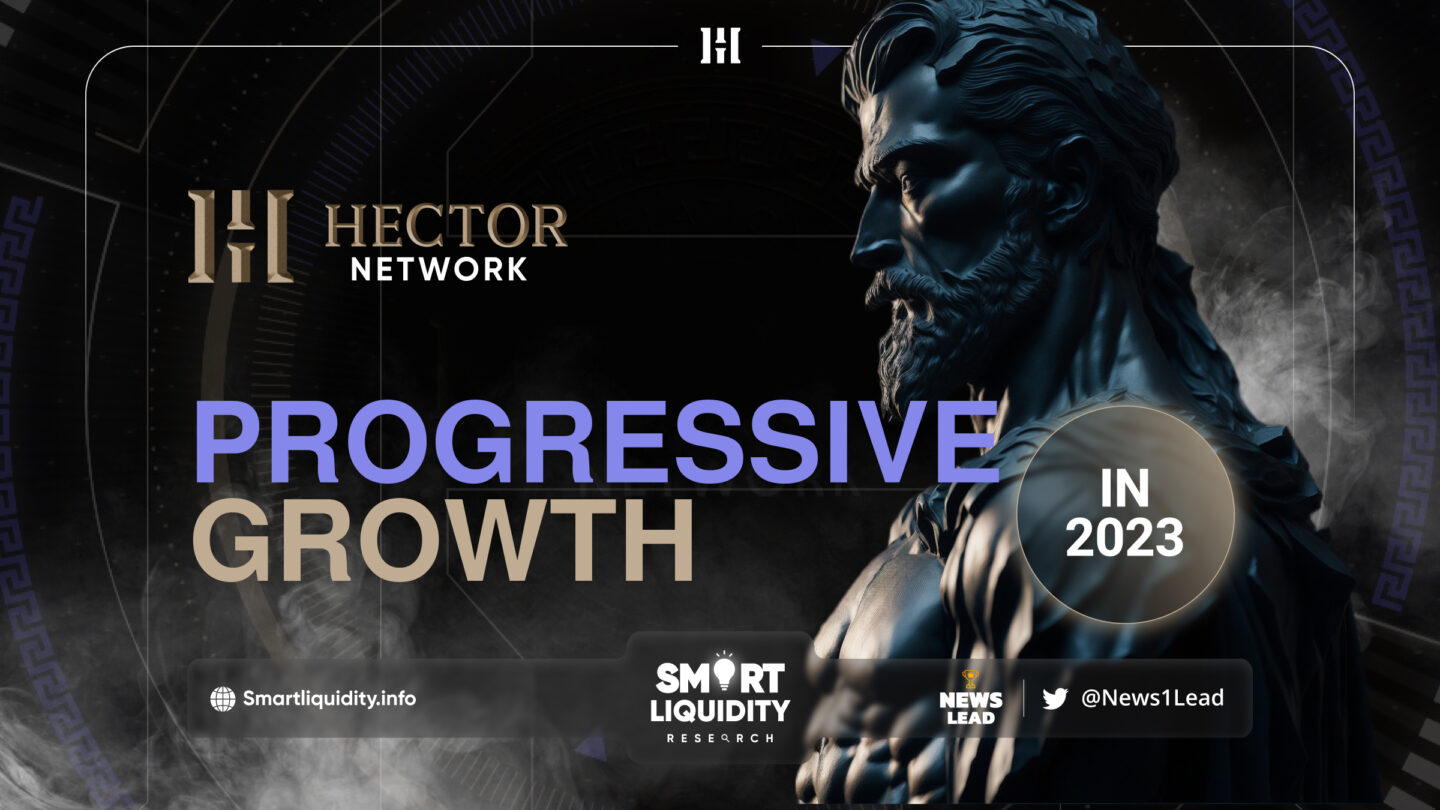 Hector Network, the groundbreaking ecosystem of blockchain products, continues to make significant strides in expanding the horizons of DeFi utility. Let's dive deeper into the exciting progress made by Hector Network in 2023 and explore the developments that have propelled them forward.
Overview: Unlocking the Full Potential of DeFi with Hector Network
Hector Network is a dynamic ecosystem of blockchain products, spearheading the expansion of DeFi utility and cross-chain functionality. Built on the lightning-fast and cost-efficient Fantom Opera Chain, Hector Network is committed to revolutionizing the blockchain industry and empowering users with seamless access to decentralized finance. With a comprehensive suite of subprojects, ongoing developments, and a dedication to security and innovation, Hector Network has emerged as a prominent player within the DeFi landscape.
At the heart of Hector Network's mission is the belief that cross-chain interoperability is the key to unlocking the full potential of blockchain technology. By facilitating seamless communication between different blockchain networks, Hector Network is enabling users to harness the benefits of various platforms, expanding opportunities for decentralized finance. This vision of interconnectedness drives the development and evolution of the ecosystem, propelling it towards new heights.
🔹 Expanding Cross-Chain Functionality:
As a firm believer in the power of cross-chain functionality, Hector Network has been working diligently to broaden its compatibility with other blockchain networks. In July 2022, they successfully expanded their offering to the Binance Smart Chain (BNB). This strategic move marked the beginning of their journey towards multi-chain interoperability, unlocking new opportunities for users to seamlessly interact with various blockchain ecosystems. This expansion allows Hector Network to tap into the vibrant BNB ecosystem and bring its innovative solutions to a wider audience.
🔹 Exciting Launches of 2023:
Hector Network introduced several groundbreaking projects to the ecosystem, further enriching the user experience and expanding the possibilities of DeFi. Keep an eye out for the following launches:
Hector SaaS Bonding: Unlock Discounts on SpookySwap's $BOO Token
Introducing Hector SaaS (Software As A Service) Bonding, a groundbreaking initiative that allows users to access discounted tokens by depositing their $DAI or $USDC into bonding. In collaboration with bonding partner SpookySwap, users can receive future-dated $BOO tokens at a discounted rate. These tokens are locked for a fixed period and gradually released, providing participants with attractive incentives. This innovative bonding mechanism strengthens the partnership between Hector Network and SpookySwap, while offering users an opportunity to obtain discounted $BOO tokens and participate in the vibrant Fantom ecosystem.
Introducing Hector Swap: Empowering the Fantom Ecosystem
To cater to the growing demands of the DeFi community, Hector Network has launched Hector Swap, a cutting-edge and user-friendly trading platform designed to empower the Fantom ecosystem. With enhanced security measures, a seamless interface, and lightning-fast transaction speeds, Hector Swap offers users the best available rates for trading on the Fantom Opera Chain. By providing an intuitive and efficient trading experience, Hector Swap aims to further stimulate the growth and liquidity of the Fantom ecosystem, making it more accessible to traders and crypto enthusiasts alike.
🔹Unveiling Key Milestones and Exciting Developments
Enhanced Collateral Cap and Emission Plan
Hector Network has raised the Active Collateral Cap (ACC) for wsHEC in the Hector Institute, With the ACC now set at $150,000, users can maximize the potential of their spare HEC by staking and wrapping it into wsHEC, using wsHEC as a collateral and expanding borrowing opportunities within the ecosystem. 
Additionally, the introduction of the HEC/TOR Farm in the Emission Plan allows users to stake the HEC/TOR Liquidity Pair and earn $HEC.
Strengthening Community Engagement and Expanding Accessibility: Farm Voting Power and Fiat Onboarding Partnership
To further empower the community, Hector Network has introduced Farm Voting. With FNFTs, users can vote for their preferred lock farm, exerting influence over the reward distribution among different farms. This democratic approach ensures that community voices are heard and valued.
In their commitment to enhance accessibility, Hector Network has partnered with Banxa, enabling users to onboard fiat currencies for $HEC, $TOR, and $FTM tokens. This collaboration simplifies the process for newcomers, allowing them to seamlessly participate in the ecosystem and unlock the potential of decentralized finance.
Verified Business Account 
Hector Network's official Twitter account has achieved verification as a verified business account, enhancing Hector Network's credibility and establishing it as a trusted entity within the industry. This verification strengthens the community's trust in Hector Network and encourages a higher level of community engagement.
OKX Partnership: Integrated OKX Wallet and Listed on OKX Discover
Hector Network has forged a strategic partnership with OKX Web3, integrating OKX Wallet into its dApp and securing a spot on OKX Discover. OKX Wallet offers users a noncustodial, multichain digital asset storage and management tool, supporting over 40 networks, including Ethereum, OKC, BSC, Arbitrum, zkSync, and Aptos. The integration of OKX Wallet with Hector Network's dApp enhances the user experience by providing a convenient way for OKX Wallet users to connect their wallets, explore the platform's features, and engage in seamless transactions. Furthermore, being listed on OKX Discover exposes Hector Network to a wider audience, enabling users on the OKX platform to discover and explore its decentralized applications.
Strategic Exchange Transition: Hector Network &  Bitrue
In a strategic move to consolidate its trading capabilities and provide an enhanced user experience, Hector Network has strengthened its position on Bitrue, a prominent cryptocurrency exchange. This decision aligns with Hector Network's vision and requirements, ensuring a secure and reliable trading environment for the community. Bitrue offers a wide range of benefits, including a robust selection of cryptocurrencies, competitive trading fees, and a user-friendly interface. 
Elevating DeFi Trading Experience: Hector Network Enhanced Hector Swap through ParaSwap Integration
Hector Network partnered with ParaSwap, a leading DeFi aggregator, and further enhanced the functionality of Hector Swap. As one of the integrated aggregators on Hector Swap, ParaSwap contributes to fast transaction processing and brings access to some of the most competitive rates. This partnership strengthens the capabilities of Hector Swap, ensuring users can enjoy seamless and efficient token swaps with favorable rates. By leveraging the expertise and services of ParaSwap, Hector Network provides an exceptional trading experience within the DeFi ecosystem.
Expanding Possibilities: Hector Network Included in Fantom's Gas Monetization Program
Hector Network's selection to join the Fantom Gas Monetization Program is a testament to its role and influence within the Fantom blockchain ecosystem. This program provides a valuable opportunity for high-quality dApps, like Hector Network, by offering them a 15% share of the gas fees they generate. By being included in this program, Hector Network not only gains a new revenue stream but also further establishes itself as a significant player in the Fantom blockchain space. This recognition highlights the platform's commitment to innovation, community support, and contributing to the growth and sustainability of the decentralized finance landscape on Fantom. 
As Hector Network continues to forge ahead, these updates underscore its commitment to innovation, community engagement, and the advancement of decentralized finance. By expanding collateral options, empowering community voting, fostering partnerships, and prioritizing user accessibility, Hector Network sets a new standard for a thriving DeFi ecosystem.
🔹 Future Developments:
Hector Network has ambitious plans for future developments, aimed at further enhancing its ecosystem and driving innovation within the DeFi space. Here are some exciting products launched in beta version as part of Hector Network's beta dApp:
MultiPay, is a state-of-the-art payment streaming solution that enables businesses and projects to automate the manual, time-consuming, and error-prone blockchain payments process. With MultiPay, users can easily manage their own payment treasury and system for tasks such as salaries, partner fees, and services. It's also multichain and supports token airdrops, with plans to support NFTs for airdrops in the near future.
Tax Reports is a powerful product that allows individuals and businesses to retrieve a full audit of their transaction history from supported top-tier exchanges and digital wallets. Hector Network continually works to improve Tax Reports and plan to offer api-based and sdk-based integration flexibility to empower traditional financial/accounting systems in bridging the web2 and web3 gap.
Hector Bridge
🔒 Commitment to Security:
Hector Network places utmost importance on the security of its users' funds and assets. To ensure the integrity and safety of its ecosystem, Hector Network submits all major contracts to Certik, a trusted auditing service renowned for its rigorous evaluation processes. Users can review the audit results, instilling confidence in the platform's robustness and reliability.
🌟 Shared Goals:
Hector Network is determined to become a major player within the DeFi community, contributing to the growth and success of the Fantom Opera Chain and the broader blockchain ecosystem. By promoting innovation, fostering accessibility, and supporting new users entering the DeFi space, Hector Network aims to create a brighter future for all participants.
💡 Making a Meaningful Impact:
Recognizing the trust placed in the project and team, Hector Network never takes it for granted. Every decision is made with a long-term growth mindset, with a focus on building better and more useful products for the community. Through continuous improvement and the pursuit of excellence, Hector Network strives to make a meaningful impact within the blockchain industry.
STAY CONNECTED WITH HECTOR NETWORK