Notifi Integration with Delta Prime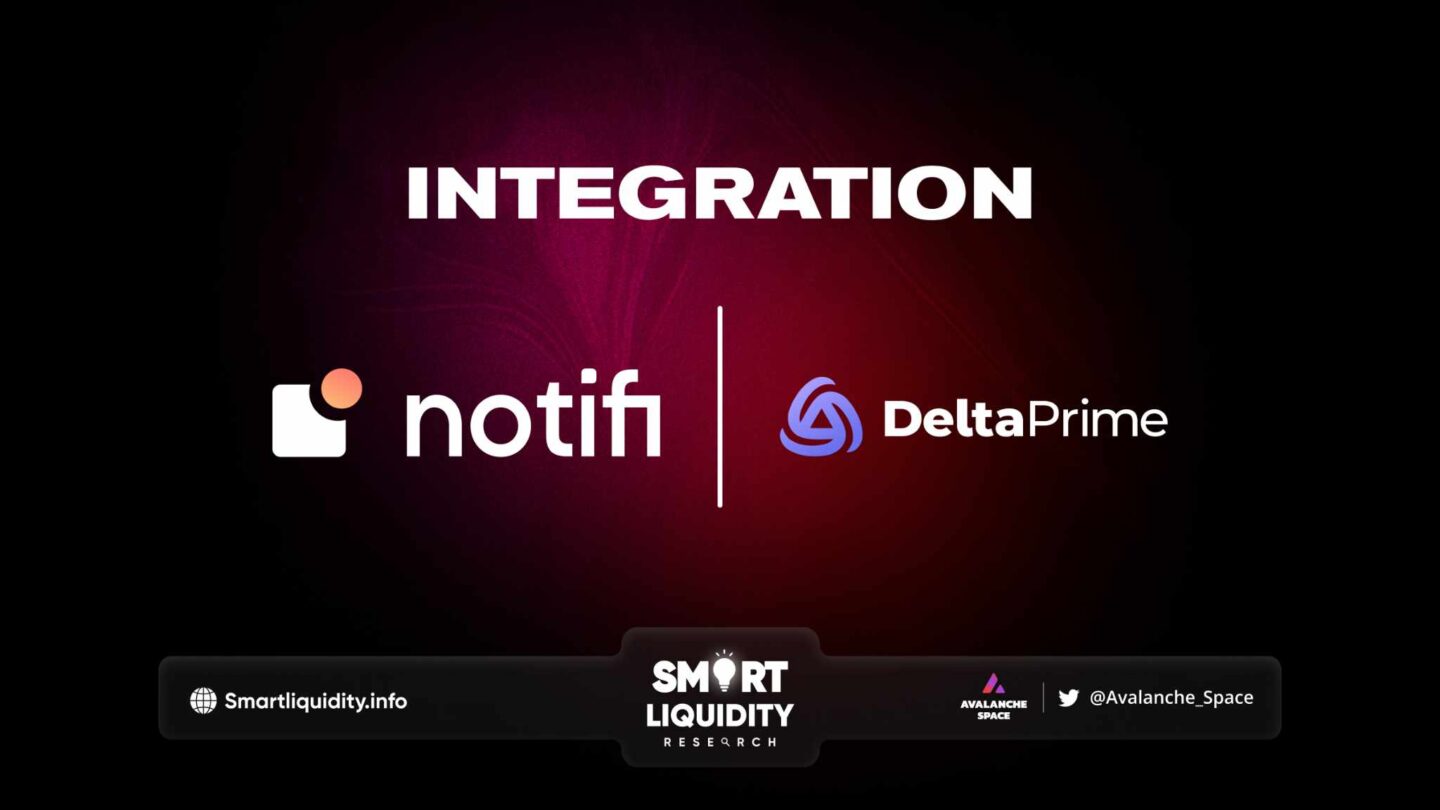 Notifi Integration with Delta Prime users will now receive real-time updates and alerts for decentralized lending and borrowing.
Users of Delta Prime will now get real-time information and notifications through email and Telegram, enabling them to keep up with their loans and investments, Notifi Integration with Delta Prime.
Notifi has been integrated with Delta Prime, consumers will be able to get individualized notifications about their loan health score, interest rates, and deposit rates. In addition, they have the ability to pre-set notifications for alerts on major announcements and other matters, such as the impending closure of a business.
"We believe that notifications and real-time alerts are crucial for DeFi investors to stay informed in the rapidly evolving ecosystem. Our integration with Delta Prime will provide their users with the necessary information they need to make informed decisions and take action at the right time." — Paul Kim, CEO and Co-Founder at Notifi.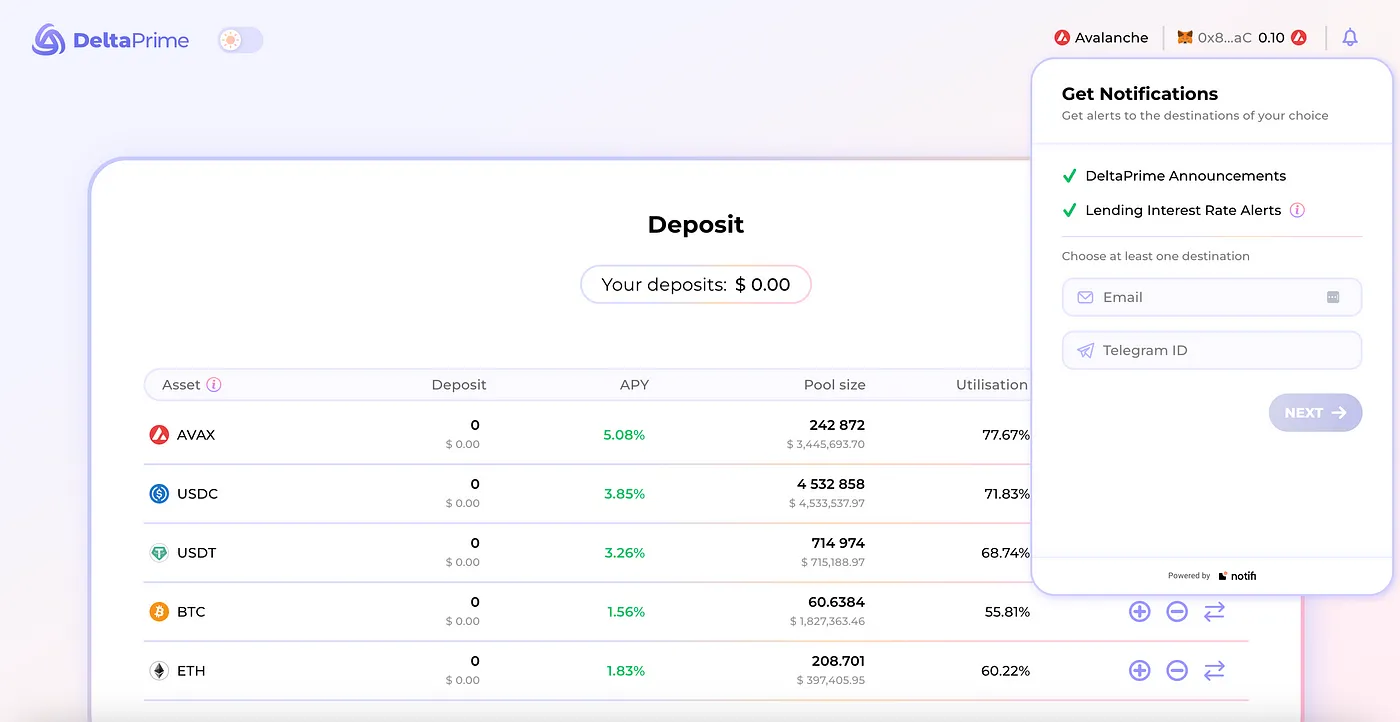 Notifications and Real-Time Alerts
Delta Prime Announcements: Receive notifications when there are important announcements.
Loan Health Alerts: Be notified when your loan health score goes above the LTV threshold.
Liquidation Alerts: Get alerted when you are at risk of liquidation.
Borrowing Interest Rate Alerts: Receive notifications when borrowing interest rates change.
Deposit Interest Rate Alerts: Get notified when deposit interest rates change.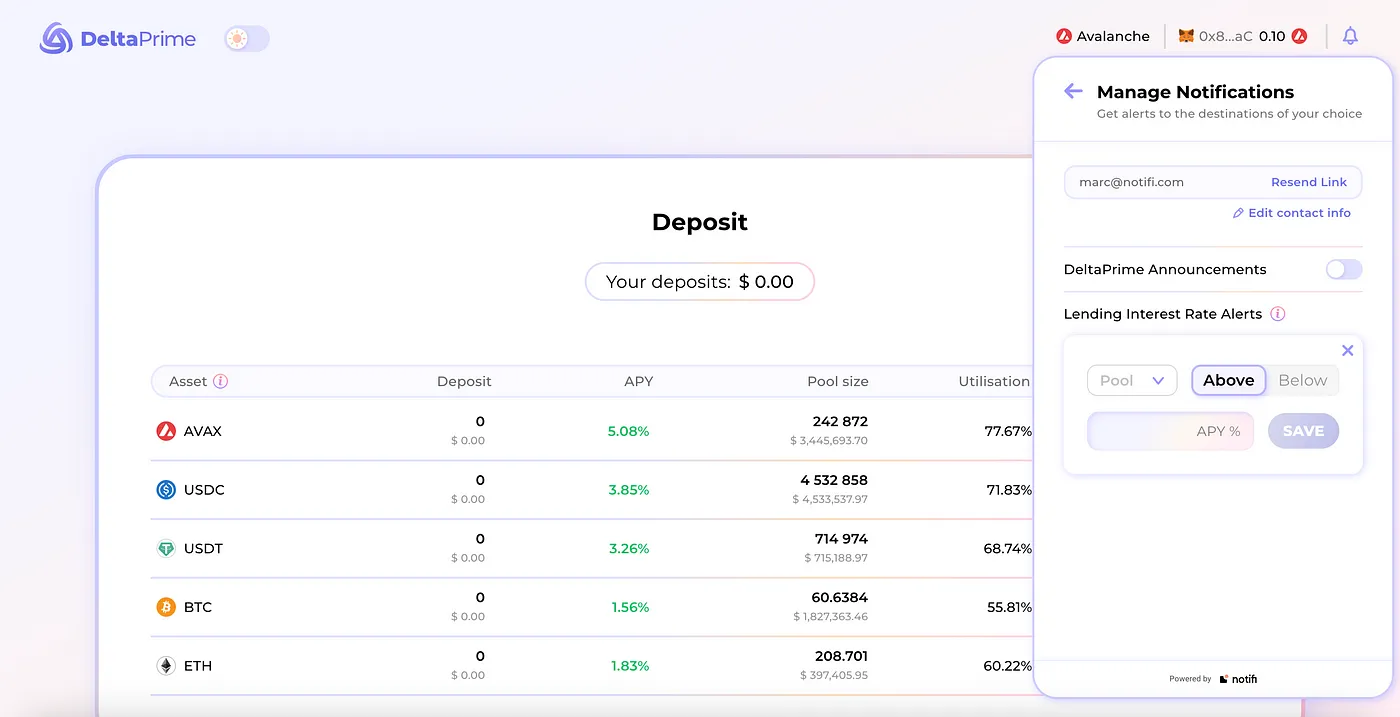 Interested in adding alerts to your project?
Whether you're building a DeFi protocol, wallet, DAO, marketplace, or next-gen gaming dApp, you can seamlessly integrate notifications into your project with their developer friendly SDK. Below are some notifications that developers have enabled:
Wallet Transactions and Balance Changes
NFT and Marketplace Auction Alerts
Multi-Sig Proposal Updates and Signer Reminders
DAO Proposal Updates
Staking Reward Reminders and Rate Updates
Liquidation Alerts and Loan Repayment Reminders
Price Change Notifications
Marketing Announcements, and more!
About Delta Prime
DeltaPrime is your prime broker on a mission to unlock the full potential of DeFi. Providing secure undercollateralized loans, and redistributing assets with a focus on maximum capital efficiency, built on the strong foundation of the Avalanche network.
About Notifi
Notifi offers flexible support and simplified communication across all web3 messaging channels, including Discord, Telegram, SMS, and email, for any web3 project.