Neon EVM Strategic Partnership with Covalent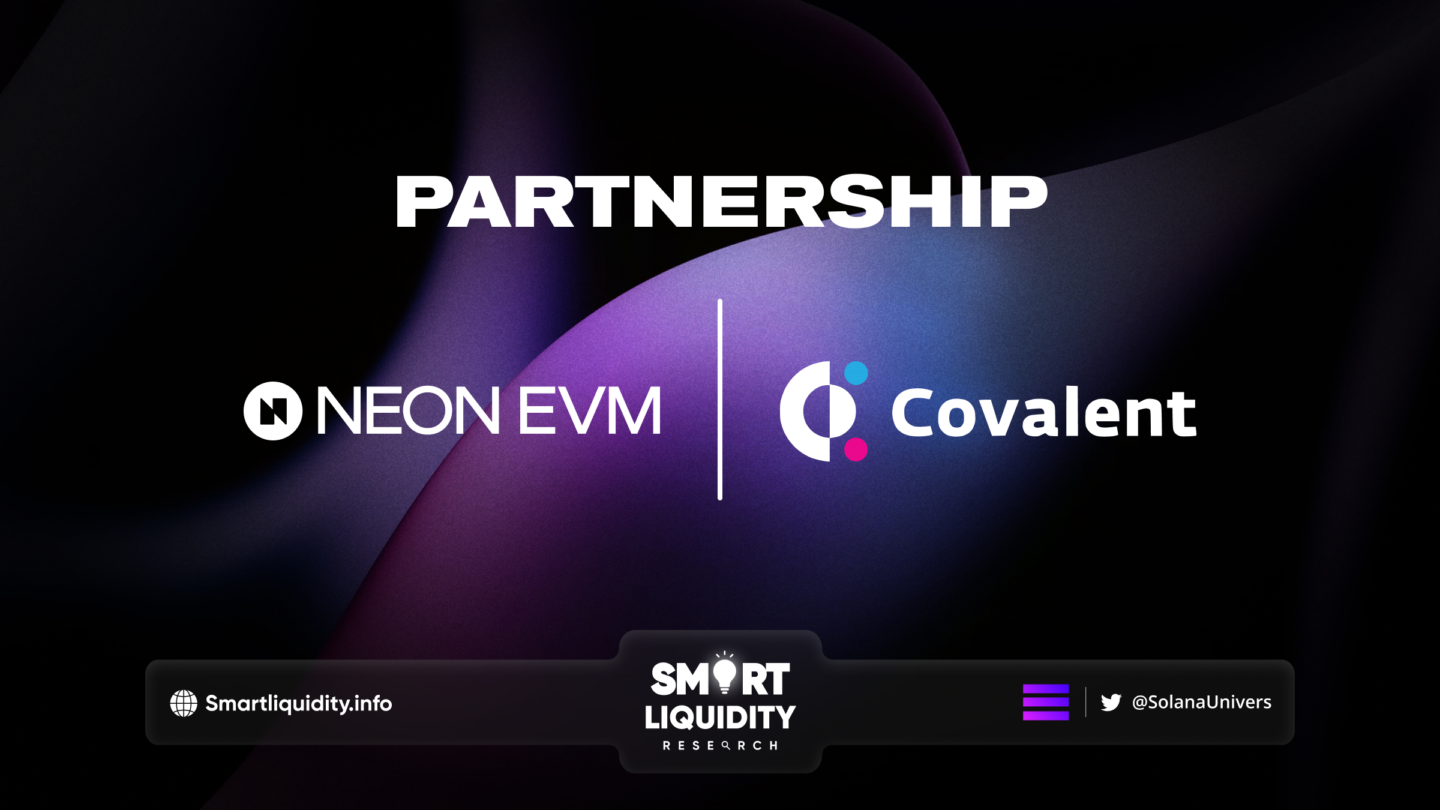 In a significant milestone for the blockchain ecosystem, Neon EVM has joined forces with Covalent, leading to an exciting partnership that aims to revolutionize data accessibility within the Neon EVM platform.
Neon EVM Strategic Partnership with Covalent
This strategic collaboration seeks to empower developers and users with seamless access to blockchain data, opening up new possibilities for decentralized applications (dApps) and smart contract development. Through this alliance, Neon EVM and Covalent are set to pave the way for a more transparent, efficient, and user-friendly blockchain experience.
Neon EVM is excited to unveil its strategic collaboration with Covalent, marking a significant milestone for the platform. By integrating with Covalent's API, Neon EVM bridges the gap between Solana and Ethereum ecosystems, enabling developers to leverage EVM developer tools and Ethereum's compute layer for transactions on Solana. Covalent's powerful Unified API brings unparalleled transparency and visibility to assets across various blockchain networks, supporting a vast dataset of over 25 billion transactions, 30,000+ price feeds, and 200,000+ smart contracts. This partnership ushers in a new era of seamless connectivity and data accessibility for the blockchain community.
Covalent plays a crucial role in Neon EVM's data ecosystem by indexing essential information from Neon transactions, including log events, trace events, and more. Through their convenient API service, Covalent not only offers easy access to this data but also supports customizable dashboards. These user-friendly dashboards require no coding and provide end users with tailored high-level analytics.
This partnership brings about extensive data access and insights within the Neon EVM ecosystem, tapping into Covalent's vibrant community of Web3 developers, analysts, and dApps. Thanks to Covalent's flexibility, developers can seamlessly configure multichain development by adjusting the ChainId parameter in API calls, facilitating the smooth transfer of data between Neon EVM and other blockchain networks. The collaboration between Neon EVM and Covalent opens up new possibilities for data analysis and enhances the overall user experience.
The Neon EVM and Covalent roadmap encompasses the following key elements:
Decentralization of the Neon EVM Data Stack: The roadmap aims to achieve the decentralization of the Neon EVM data stack, ensuring redundancy and enhanced reliability. By distributing data across multiple nodes and networks, this step will bolster the platform's resilience and minimize the risk of data loss or downtime.
Customizable Endpoints for Developers: One of the primary objectives is to empower developers by enabling them to build their own customizable endpoints. This feature will provide developers with greater flexibility and control over the data they access, allowing them to tailor their endpoints to specific use cases and requirements.
No-Code, Intuitive Dashboards for Analysts: The roadmap includes plans to offer analysts easy access to no-code, intuitive dashboards. These user-friendly dashboards will grant analysts the ability to access and visualize data seamlessly, streamlining the analysis process and empowering them with valuable insights.
By implementing these roadmap milestones, the collaboration between Neon EVM and Covalent aims to foster a thriving and dynamic ecosystem where data accessibility, customization, and analytical capabilities are at the forefront. This partnership will undoubtedly contribute to the growth and adoption of Web3 technologies, benefiting both developers and analysts within the blockchain community.
About Neon
Neon EVM is an Ethereum Virtual Machine (EVM) that harnesses the scalability and liquidity of Solana in a fully Ethereum-compatible environment, revolutionizing the decentralized ecosystem by combining the best of both worlds. With a throughput of 2,000+ TPS and gas fees as low as 0.000015 SOL per transaction, Neon EVM empowers developers to create cutting-edge applications and experience the future of interoperability.
DApp developers are able to use the tools they're familiar with from the Ethereum ecosystem to bring end-users the dApps they know and love — faster and cheaper.
About Covalent
Covalent provides the industry-leading Unified API, bringing visibility to billions of Web3 data points. Developers use Covalent to build exciting multi-chain applications like crypto wallets, NFT galleries, and investor dashboard tools utilizing data from 100+ supported blockchains. Covalent is trusted by a community of 35,000+ developers and 5,000+ applications, including 0x, Zerion, Rainbow Wallet, Rotki, Bitski and many others.
SOURCE
https://medium.com/@neon_evm/neon-evm-partners-with-covalent-bringing-data-accessibility-to-the-neon-evm-platform-3a6310cd2d57