Balancer Deployed on Avalanche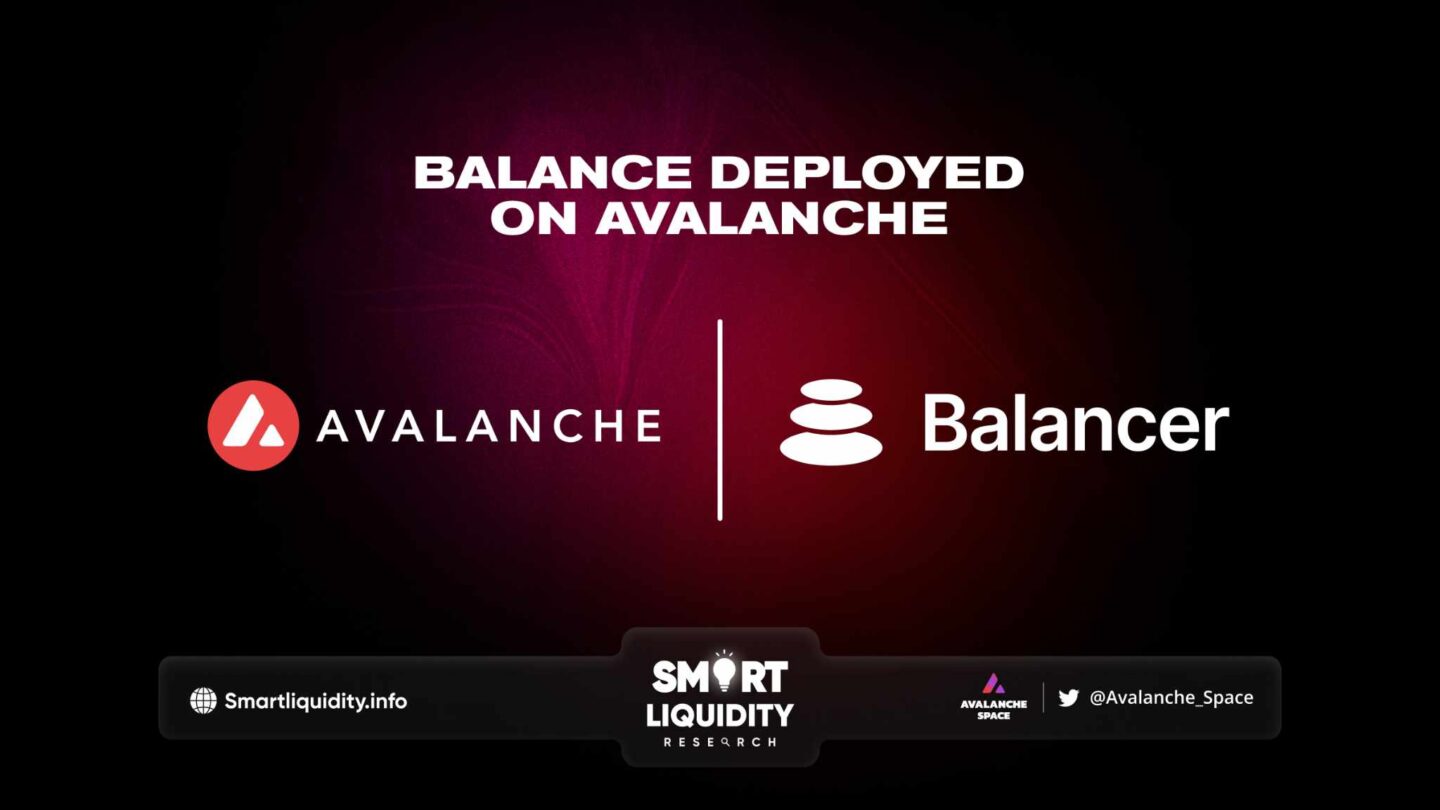 Balancer Deployed on Avalanche and is deploying its technology to offer participants a more flexible DeFi tech stack. 
Balancer will be collaborating with four key Avalanche LST protocols, giving the Avalanche Liquid Staked Token (LSTs) market a place to unite under one hood.
Avalanche offers high throughput, fast finality, impressive energy efficiency, and the ability to scale through custom Subnets. Balancer, as a core building block of Web3 infrastructure, has recognized the potential of Avalanche and is deploying its technology to offer participants a more flexible DeFi tech stack. Balancer Deployed on Avalanche
How Could Balancer Supercharge LST Growth?
Balancer strives to establish itself as one of the most efficient DeFi infrastructures for hosting LSTs. In contrast to the typical stable pool found in most DEXs for LSTs, Balancer's Composable Stable Pools are specifically designed to ensure that liquidity providers receive the maximum benefits from yield-bearing tokens.
These unique pools harness an inbuilt rate provider that constantly queries the blockchain, updating the token to the correct ratio and feeding the yield accrual back to LPs. Without rate provider technology, the two assets trade at 1:1, with any appreciation in staking yield filtered out to arbitrage traders. Integrated into core pool mechanics and efficient liquidity flywheels, Composable Stable Pools offer users and protocols one of the most efficient technologies to host and increase their token use.
Balancher's Boosted Pools intertwine its Liquidity Pools and single-sided yield markets into one powerful LP position. In a typical Liquidity Pool, less than 20% of the liquidity facilitates swaps. Boosted Pools wrap and route idle liquidity to external yield-generating protocols such as Aave, unlocking an additional source of Liquidity Mining incentives for users.
Avalanche LST protocols will collaborate with Balancer to enhance their LST capabilities, hosting liquidity from various exchanges like BENQI, Ankr, Yield Yak, and GoGoPool.
"Balancer has emerged as a keystone for LST liquidity, and its novel features will directly benefit BENQI's more than 41,000 sAVAX users," said Dan Mgbor, Co-founder, BENQI. "From facilitating more efficient trades to enabling liquidity providers to earn higher yields, our combined efforts aim to enhance the utility of sAVAX and turbocharge its adoption. With the launch of Balancer, a new chapter begins for LSTfi on Avalanche, and we're thrilled to be at the forefront of this journey together."
"Avalanche's established ecosystem, which includes several liquid staking tokens and sAVAX with nearly $100M TVL, are strong liquidity sources Balancer LPs can tap into," said Luigi D'Onorio DeMeo, Head of DeFi at Ava Labs. "With this deployment, Balancer has the opportunity to become the main destination for staked derivatives on Avalanche."
About Balancer
Balancer is a decentralized automated market maker (AMM) protocol built on Ethereum that represents a flexible building block for programmable liquidity.
About Avalanche
Avalanche network is the blockchain industry's quickest smart contracts platform digital asset. Avalanche is blazingly fast, low cost, echo-friendly Any smart contract-enabled application can outperform its competition by deploying on Avalanche.
SOURCE: https://www.avax.network/blog/balancer-deploys-on-avalanche