A non-fungible token is a unit of data stored on a digital ledger, called a blockchain, that certifies a digital asset to be unique and therefore not interchangeable. NFTs can be used to represent items such as photos, videos, audio, and other types of digital files.
INTRODUCTION
SmartLiquidity Network does not rest on its laurels in gathering information about projects with great potential that can provide an opportunity for the public to have a source of income. We have written various cryptocurrency navigation guides so that our readers especially those who are novice in crypto can better understand how this industry works. Some of our articles published in this category are KardiaChain, Ramp DeFi, Qtum, OVR Reality, ThreeFold and many more. Today we are thrilled to present another interesting project that we know will be enjoyed by anyone who reads it. This project is all about Non-Fungible Token(NFT)
SmartLiquidity Network Presents "PolygonPunks Navigation Guide"
WHAT IS POLYGONPUNKS?
Polygon Punks are non-fungible-tokens (NFTs) on the Polygon blockchain. Each of these 10,000 Polygon Punks has attributes that make them unique according to a defined rarity system. It is the fastest punk on blockchain. By minting a Polygon Punk, you become the proud owner of the very first punk NFT on the Polygon Network. When you decide to mint one, you will receive a unique-one-of-a-kind PolygonPunk with proof of ownership stored on the polygon network.
WHAT MAKES POLYGONPUNKS SPECIAL?
Polygon Punks have properties such as speed, supply, and scarcity. Once the 10,000 punks are minted, there will never be an opportunity to get your hands on one unless you buy one on the market.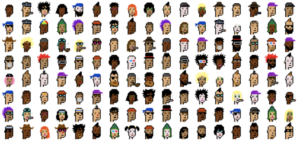 (Photo courtsey of Polygon Punks)
HOW TO ACQUIRE POLYGON PUNKS?
Anyone can have an opportunity to acquire Polygon Punks NFT as long as they have in their custody a $MATIC token, Polygon Network native currency. $MATIC is the only passage for them to purchase Polygon Punks NFT. To get a Polygon Punks NFT, you just need to connect your Metamask wallet to the website and confirm the appropriate amount, then approve the transaction.
NOTE! Double check your transactions if you have $Matic on the right mainnet (Polygon Main Network) to avoid losing your funds.
HOW TO ADD PolygonPunks to Metamask NFTs?
1. Connect to Polygon/Matic Main Network
2. Click Tab NFT's
3. Click ADD NFTs
4. Fill in Contract Address: 0x9498274b8c82b4a3127d67839f2127f2ae9753f4
5. Input ID: Its your punk id, then use the ADD button
6. Receive A Fresh PolygonPunk in your Metamask NFT Collectibles
Polygon Punks can be purchased on the website as well as can be minted and traded on Opensea the world's first NFT trading platform.
FOLLOW POLYGONPUNKS SOCIAL MEDIA FOR MORE UPDATES
Twitter | Medium | Telegram | Discord
PURCHASE POLYGONPUNKS
Website 
MINT AND TRADE
Opensea
FRIENDLY REMINDERS:
"We deliver the news article base on our own thorough research. We want to preserved some important information regarding with the project that are presented in our column. We value our reader's opinion and we thank you for your valued respect to us. We also don't advice our readers to invest. As we always say " Invest at your own risk and only invest what you an afford to lose ".