Alpha Quark Complete The Audit By Beosin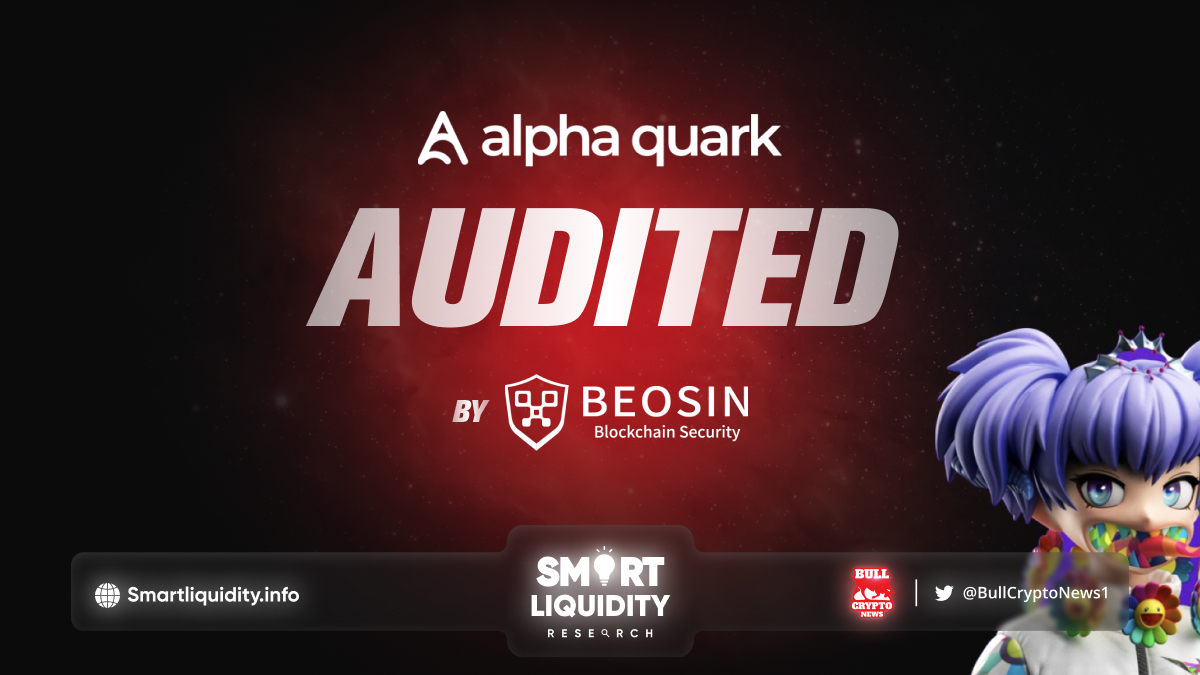 Alpha Quark has been successfully completed the audit by Beosin, the Blockchain Security Audit Service platform.
Audit Results
After auditing, 4 Low-risk and 2 Info items were identified in the NFTAQ721 project. No Critical, High or Medium risk issues were found during the auditing process. The final audit results are available in the audit report.
Audit Workflow
Beosin has focused on the core security issues such as contract permission control, execution of business logic, and signature data replay during the audit process. The auditing workflow is mainly as follows:
Conduct preliminary source code review;
Use Beosin's self-developed automatic smart contract formal verification platform — VaaS to conduct an in-depth detection of the contract codes in all aspects;
Practical deployment and validation via sandbox simulation;
Manual line-by-line code review by security experts;
Complete the final audit report.
About Alpha Quark
Alpha Quark deals with intellectual property based NFT and metaverse. Alpha Quark provides NFT marketplace and metaverse experience for users. So that Alpha Quark token can be used as utility token in the ecosystem.
The NFTAQ721 of Alpha Quark is a lending platform where users can pledge their NFTs to borrow BEP20 tokens. The signatures of both lender and borrower are required at the beginning of the loan. And the NFT pledged in the loan and the BEP20 of the loan need to be whitelisted by the NFTaq contract. After the verification is passed, the borrower's NFT is pledged to the NFTaq contract, and the lender's BEP20 is transferred to the borrower.
The NFTaq contract will mint the NFTAQ721 for the lender, and then the lender can transfer NFTAQ721 to other users to realize the creditor's rights transfer. When the loan is not liquidated, the borrower needs to redeem the pledged NFT with the principal and interest of the corresponding BEP20 token. If the loan is not repaid beyond the loan period, everyone can liquidate the loan, transfer the NFT pledged in the contract to the owner of the NFTAQ721, and burn the NFTAQ721.
About Beosin
Beosin is a leading global Web 3.0 blockchain security brand co-founded by several professors from world-renowned universities. The team consists of 100+ security experts, including 40+ PhDs and postdocs. With the mission of "Securing Web3.0 blockchain ecosystem", Beosin provides integrated blockchain security services and products to serve 1 million+ users in the global blockchain ecosystem.
SOURCE: